Lucky 2017's Lineup Will Bring in Aly & Fila For a Future Sound of Egypt Stage
Each year, Lucky delivers a St. Patrick's Day celebration like no other, bridging the considerable gap between March and the summer festival season. Past iterations have given us the likes of Pretty Lights, Dada Life, and Steve Angello, and 2017's lineup brings us a collection of artists that exceeds even that.
With tickets about to go on sale, we can now officially prepare for what's sure to be the best and brightest Lucky to date. This year's lineup will include Knife Party,Audien, Liquid Stranger, and Borgeous, as well as a full-blown Future Sound of Egypt Stage, hosted by Aly & Fila themselves! To top it off, USC Events will also be announcing an additional special headliner in the coming days. So with that, what are you waiting for? It's time to strap on those green suspenders; the countdown to Lucky 2017 begins now!
Tickets go on sale here on 1/21, at 10am sharp!
The Full Lineup:
SIGN UP FOR ALERTS
Dance Music NW will notify you when there is breaking news in the Pacific Northwest nightlife industry.
Sours: https://www.dancemusicnw.com/lucky-2017/
Lucky 2017
Links:
Purchase presale tickets online
Facebook event page
luckyfestival.com
Schedule: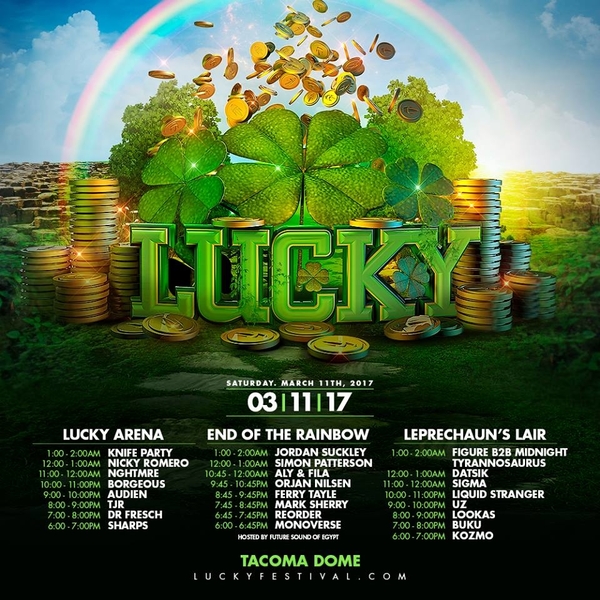 Full Lineup:
ALY & FILA
AUDIEN
BORGEOUS
BUKU
DATSIK
DR FRESCH
FERRY TALE
FIGURE b2b MIDNIGHT TYRANNOSAURUS
JORDAN SUCKLEY
LIQUID STRANGER
LOOKAS
MARK SHERRY
MONOVERSE
NGHTMRE
Nicky Romero
KNIFE PARTY
ORJAN NILSEN
REORDER
SIGMA
SIMON PATTERSON
TJR
UZ
USC Events presents Lucky 2017 at the Tacoma Dome on Saturday, March 11th:
Spring is the time to welcome new beginnings and to breathe new life and luck into the world around us. It's a time of renewal, rebirth and regrowth. There's no better place to celebrate the arrival of springtime than in the Evergreen State! We invite you all to gather on March 11, 2017 as we enter our Celtic-inspired land of whimsical creatures and boundless good fortune. With a little luck of the Irish and the leprechaun's blessing, we set off to witness the sounds of mystical musicians from far and wide. The time has come to descend into the gleeful realm of green and gold – at the end of the rainbow lies the world of: Lucky!
Retail Ticket Outlets: A limited number of retail outlet locations are selling hard copy tickets for $72 cash, but most locations are already sold out. Call ahead to confirm that the outlet is not sold out, and find the full listing of retail outlets here.
6pm – 1:30am
18+ with bar areas for 21+
Tacoma Dome
2727 E D Street
Tacoma, WA 98421
Packages including tickets & transportation, or all three (travel, tickets and hotel), are available NOW from Unity Travel!

Enter to win a pair of tickets to this show:
Stay up to date on upcoming EDM events in the Seattle area by following the EmeraldCityEDM Event Calendar, and enter to win free tickets to local EDM shows on the EmeraldCityEDM Contests & Giveaways page.
Sign up for our email update list to emailed about new releases from local producers, show announcements, Seattle area EDM news & free show tickets.




Tagsfree edm show ticketsluckyNicky Romeroticket giveawayusc eventswin tickets
Sours: https://www.emeraldcityedm.com/lucky-2017/
M. WARD, THE FELICE BROTHERS, VALERIE JUNE, RAY BENSON, PAUL CAUTHEN & MORE
JOIN WILLIE NELSON IN HIS BACKYARD @ LUCK, TX
Presented By Southwest Airlines
ADDITIONAL SURPRISE GUEST ARTISTS + ANNOUNCEMENTS TO COME
AUSTIN, TX | THURSDAY, MARCH 16 | WILLIE NELSON'S "LUCK, TX"
Austin, TX – Luck Reunion is thrilled to announce the full lineup for the 2017 festival, celebrating five years of entertainment on Nelson's iconic "Luck, TX" property. The one day event will showcase more than forty artists alongside specialty pop-up shops and local food & beverage purveyors. Ticket sale dates and special codes will be announced through Luck Reunion social media pages, e-mail lists, and at www.luckreunion.com.
Luck Reunion gathers a wide-ranging roster of Americana, country, rock, and folk performers who will join headliner and host Willie Nelson in the festival's mission of continuing the American roots music narrative. Artists will perform across three stages: the World Headquarters Stage overlooking Nelson's private "headquarters" hangout; the Revival Tent, a camp meeting-style performance space; and the Chapel Stage, situated in the town's intimate 40-seat church. The lineup is as follows:
World Headquarters Stage:
Willie Nelson & Family; an exclusive "Conor Oberst & Friends" performance featuring M. Ward, and The Felice Brothers; Margo Price; Valerie June; Big Thief; Lukas Nelson & Promise Of The Real; Insects Vs. Robots; Devon Gilfillian; Indianola; Bee Caves; plus a special surprise headlining guest.
Revival Tent:
Parker Millsap; Aaron Lee Tasjan; Brent Cobb; Wild Reeds; Valley Queen; The Texas Gentlemen's "Texas Review" featuring: Ray Benson, Ray Wylie Hubbard, Paul Cauthen, Kirby Brown, Jonathan Tyler, K Phillips, Wesley Geiger, Dan Dyer & more; Paul Thorn & The McCrary Sisters; and several surprise guests.
Chapel Stage:
Lillie Mae; Andrew Combs; Twain; Kelsey Waldon; Frankie Lee; The National Reserve; Red Shahan; and more.
Additional special acts include: The Mastersons, The Deslondes, and more.
"We are extremely excited about this year's lineup. Not only are we personally fans of each act coming out, but we are also lucky to call many of them friends," said the Luck Productions team. "The Luck family is growing every year, and we are proud to announce the newest additions."
Between sets, attendees can sip craft cocktails in the Tito's Handmade Vodka saloon and at the event's several bars which will also be serving Lagunitas, the official beer of Luck Reunion. The definitive getaway during SXSW, Luck Reunion offers a one-of-a-kind opportunity to experience Nelson's beloved hill country property that served as the set for his Red Headed Stranger film; repurposed for this exclusive event to showcase boutique vendors; artists; and chefs for a day of entertainment.
The entire experience will be captured live by SiriusXM's "Outlaw Country" channel for an exclusive broadcast following the festival.
On the eve of the concert event Luck will host the third annual Chefs' Pot Luck dinner benefitting Wholesome Wave, a national nonprofit empowering under-served consumers to make healthier food choices by making produce more affordable. Guests will enjoy a seated, multi-course meal by Wholesome Wave CEO and founder Chef Michel Nischan and an all-star chef lineup including: celebrity chef and restaurateur Scott Conant, Chef Dean Fearing, fondly recognized as the "father of Southwestern cuisine," and James Beard Foundation-nominated chefs Bruce Kalman from Los Angeles and David Bancroft of Alabama. Local participating talent includes James Beard Award-winning chefs Bryce Gilmore and David Bull, Andrew Wiseheart of Contigo, and Alma Alcocer-Thomas of Alcomar. As the suns sets, 200 guests will gather family-style at farm tables to enjoy a menu by this talented lineup that highlights fresh, sustainable ingredients. Tickets are now available at www.luckreunion.com/potluck.
For more information, please visit www.luckreunion.com or Facebook.com/LuckTexasReunion. Follow us on Twitter and Instagram at @luckreunion for ticket sale announcements and exclusive offers.
Sours: https://www.thecountrynote.com/in-the-news/luck-reunion-reveals-full-talent-lineup-for-2017-festival/
USC Events Announces Lucky 2017 Lineup
by Grant Austin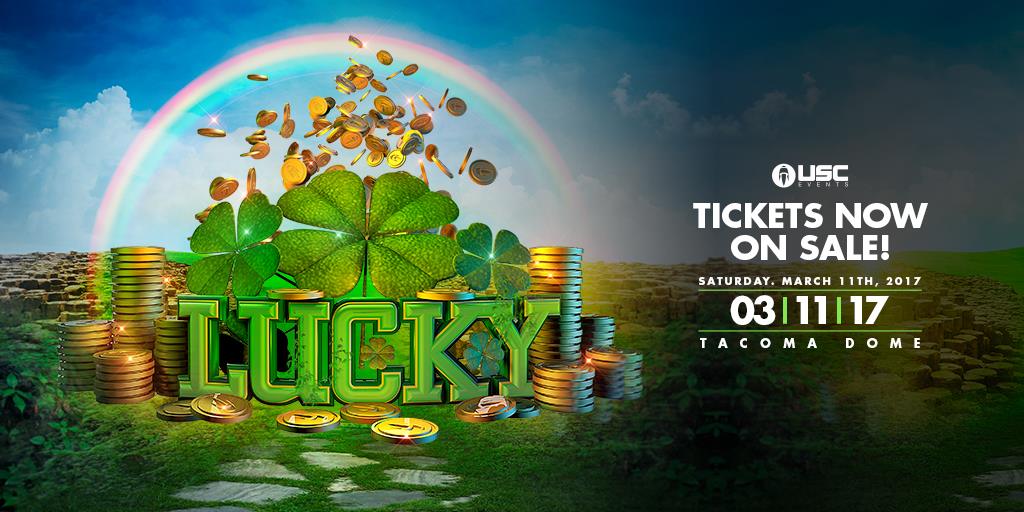 USC Events always throws some of the wildest events the West Coast has ever seen. This Saint Patrick's Day is going to be no different. They want the the spring time to breath life and luck into us while providing the best artists to do so. On March 11th, 2017, artists such as Knife Party, Audien, Liquid Stranger, UZ, Datsik, NGHTMRE, and many others are going to take over the Tacoma Dome in Tacoma, Washington! I would especially look forward to Figure going back to back with Midnight Tyrannosaurus. This is a festival that is going to have the luck of the Irish so you better purchase tickets now! Check out the lineup trailer below!
About Grant Austin
The Embarrassing Rowdy Gentlemen who befriends the worthy. I love going to shows. I love all music. I love having a good time. You can always find me at a bar or club. My drink of choice: Double Maker's Mark on the rocks. Feel free to follow me on Twitter: @ByTheWavs
Leave a Reply
Filed Under: FestivalsTagged With: Aly & Fila, Audien, Borgeous, Buku, Datsik, Dr. Fresch, Ferry Tayle, Figure, Jordan Suckley, Knife Party, Liquid Stranger, Lookas, Lucky, Mark Shery, Midnight Tyrannosaurus, Monoverse, NGHTMRE, Orjan Nilsen, ReOrder, Sigma, Simon Patterson, TJR, USC Events, UZ
Sours: https://bythewavs.com/usc-events-announces-lucky-2017-lineup/
Lineup lucky 2017
Where am I without you my dear ones. Irka said behind my back. The girl came up to me from behind, and hugged me with her whole body, kissing me on the back.
Lucky (2017) · Last Scene
The man without haste, put his hands under his thighs, and carefully laid her shins on his shoulders. Pressing them to his body, he began to methodically take possession of her flesh, still afraid to pour out ahead of. Time into the bowels of the vagina.
You will also be interested:
There was no one around. She stood over Alla, towering and pressing her to the wall. - Well, now explain what it means. Xenia frowned, her face was hard and angry. - Well, you know.
1537
1538
1539
1540
1541