Standard Procedure to Charge GoPro Batteries
Charging a GoPro is kind of like charging a phone, it's kind of obvious. Only there are a few more options with GoPro charging. Read on if you want to learn how to charge GoPro Cameras like a Pro.
Method 1: Spare Batteries and GoPro Battery Charger
This is the best pro tip I can give on how to charge GoPro cameras the best way, and it is the method that I recommend. It uses genuine GoPro spare batteries and charging equipment. Sure it costs a little more for extra equipment, but you will be glad you made the investment.
The good news is that spare batteries for the GoPro Hero 5, Hero 6, Hero 7 and Hero 8 are all compatible. So if you purchase spare batteries, then upgrade to a new model GoPro, you can still use those spare batteries. That is great news indeed!
What you will need are:
Spare Batteries – I recommend having a total of 4 batteries.
GoPro Dual Battery Charger
GoPro Supercharger (optional)
And here are the reasons I recommend going to the trouble of purchasing this extra gear.
The Supercharger USB-C outlet will charge Go-Pro cameras 20-70% faster than the conventional USB-A charger and comes with a convenient 1.5 foot USB-C to USB-C genuine GoPro charging cable.
4 batteries should give you enough juice for 2 big days of recording, or to fill up 1 x 32GB memory card. You should be able to record about 5GB per battery using 1080 resolution settings. That's a lot of action footage!
When your battery goes flat, you simply change out the battery with your spare and continue recording.
You can charge quicker by charging 2 batteries simultaneously in the charger. Actually, you could even charge the third battery in your camera at the same time.
If you can't charge after a day's shooting, don't worry… you have enough spare power not to stress about the next day's shooting.
The Supercharger has 2 USB outlets – USB-A and USB-C. This is super versatile for charging the phone and 2 GoPro batteries at the same time.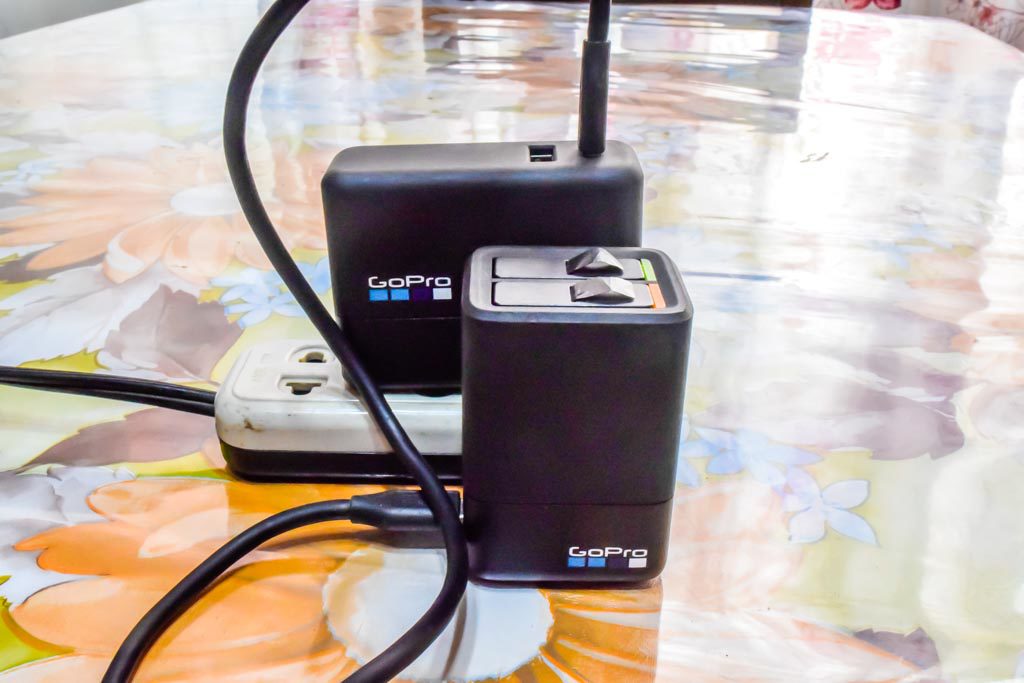 Of course, I do recommend getting genuine GoPro batteries and charger, this is one area you do not want to skimp on. However, you can probably get away with aftermarket charger cord, as long as they are good quality.
Method 2: USB Wall Charger
Connect the GoPro to a USB wall charger. The normal method by using USB 5 volt/1 amp or 5 volt/2 amp phone charger is ideal. In fact, charging GoPro with iPhone charger is perfectly fine. You can just use the standard Apple iPhone wall charger, or if you want a quicker charge upgrade to the iPad charger.
The advantage here is that you avoid the extra cost of the Pro Method #1.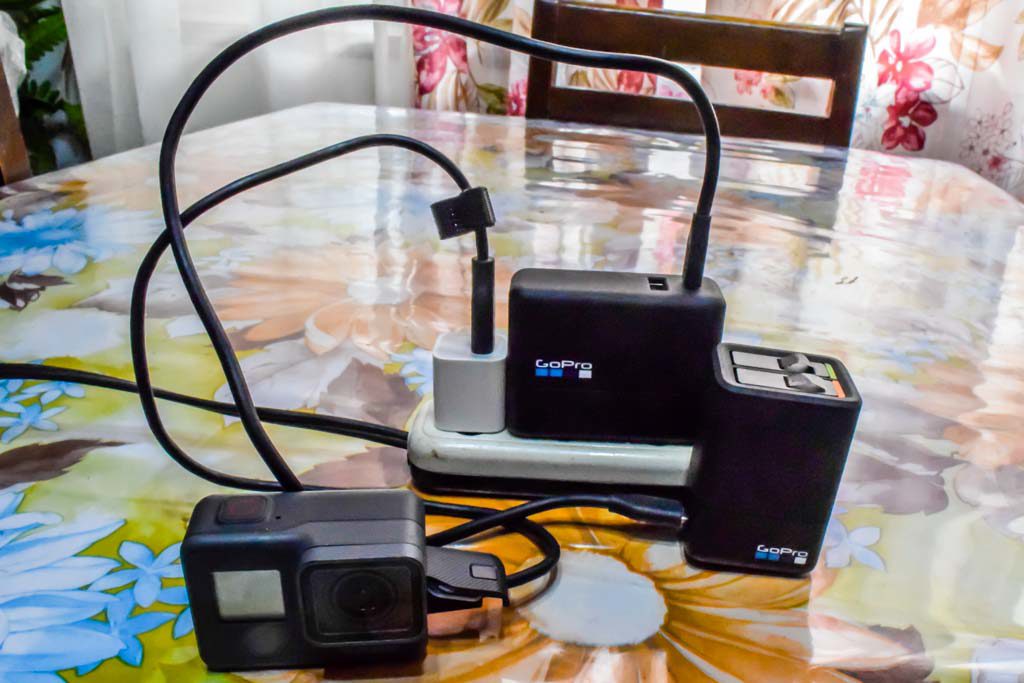 Method 3: Connect to computer
Charging the GoPro is as simple as connecting to the computer's USB port by using the USB-C cable supplied with the GoPro.
If using a laptop, connect the power to the laptop to ensure it is outputting maximum charge.
Method 4: GoPro Supercharger
Simply plug your GoPro to the Supercharger using the GoPro charger cable, the same as you would plug into a USB wall charger. For this, you should use the genuine GoPro charging cable that came with the Supercharger.
This 27.5-watt charger can charge 20% to 70% faster than a normal USB Wall Charger. This makes for the fastest GoPro charging possible.
Method 5: Battery Pack
Practically every smartphone user seems to have a spare battery pack these days (a.k.a. power bank or power brick). So why not plug your Go-Pro in for a quick charge? The good news is you can charge your phone directly, or charge your batteries separately using the battery charger. No need for GoPro chargers if you have a power brick!
Method 6: Car Charger
This is much the same as charging your smartphone via your car. You have the option of using your car's USB charger or the cigarette lighter via a USB adaptor.
Method 7: Solar Powered Charger
I can honestly say that I've never used this method, however, I'm sure it is a great option for hikers, campers and wildlife enthusiasts. After all, off the grid charging is a necessity for some action photography.
Bonus Method #1: MacBook USB-C Charger
If you own an Apple MacBook or a MacBook Pro with a USB-C charging cable, you are in luck. In 2016 MacBooks started using USB-C for their charging cables. This happens to be the same as the GoPro Dual Battery Charger.
So go right ahead and plug your MacBook charging cable into your GoPro Dual Battery Charger for a whopping 87W of charging power. The GoPro Hero5, 6 or 7 can be also plugged directly into your MacBook USB-C power adaptor using the standard USB-C to USB-C Apple charging cable.
You should always follow these steps when charging your GoPro camera directly.
Turn the connections setting off. This will turn off wi-fi, Bluetooth and auto upload.
Unplug any accessories plugged into the GoPro camera.
Turn the GoPro power off.
But if you want to charge like a Pro, read on. All these steps are not necessarily using Pro Method #1.
What Happens While Charging?
The camera status light turns on during charging. When the camera is fully charged the status light will turn off.
When charging one or more of the GoPro's red LED lights should turn on (flashing) whilst it is charging, to indicate that it is charging.
Note: If you don't turn the GoPro power off, you will see a charge symbol on the screen instead of a red flashing light.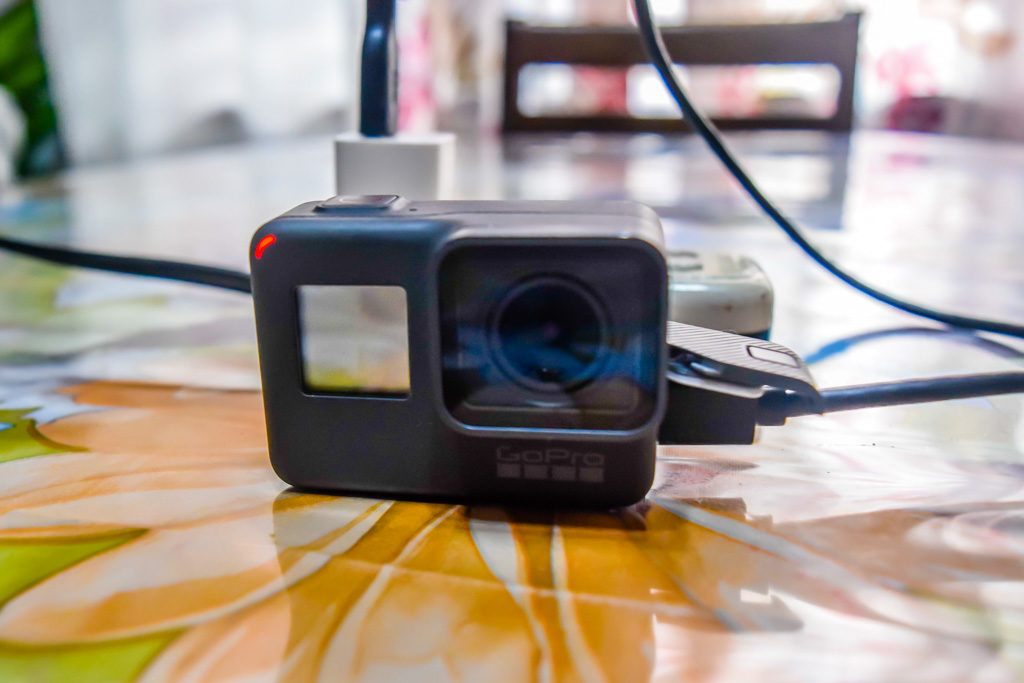 Cable Types per GoPro Model:
Naturally, you will use the cable which came with the GoPro. But since losing cables is so easy to do, this guide may help.
USB-C
Micro USB-B
GoPro HERO Session
GoPro HERO4 Session
USB Mini-B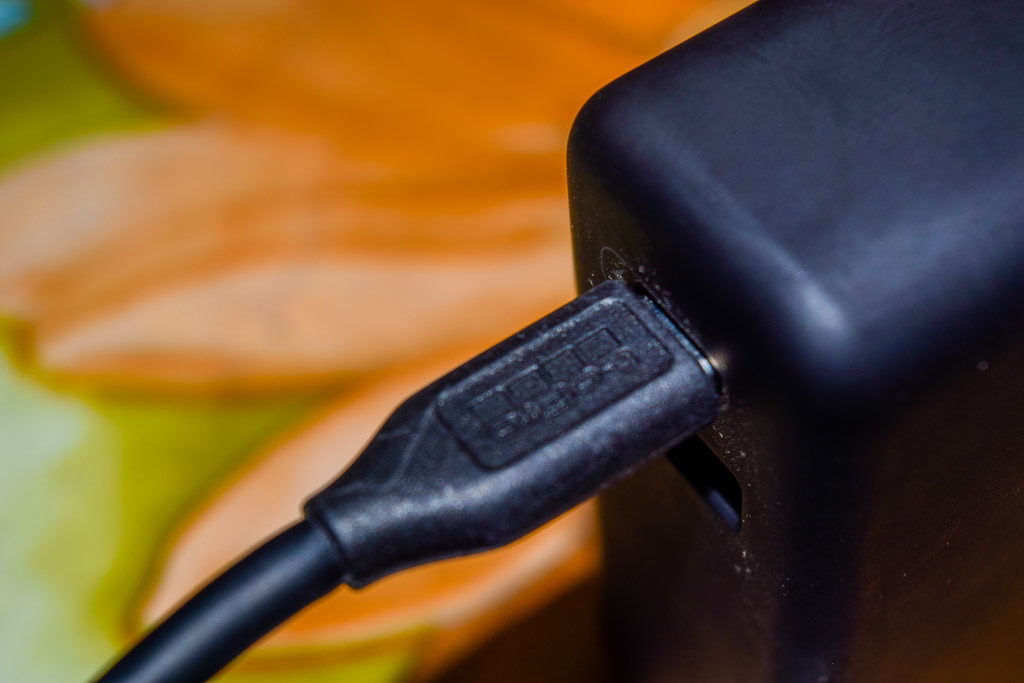 The Final Say
There is nothing more frustrating than paying a fortune to arrive at your dream holiday destination, then finding your camera battery is flat. Believe me, I've been there done that with my GoPro Hero4 and Hero5 cameras before I invested in the right charging gear. Consequently, I learned the best ways how to charge GoPro cameras so that I never fall into that trap again.
Smart GoPro charging is one of the fundamentals you need to master on your GoPro camera, so you will always have enough power to record your precious memories. If you own a GoPro, how to charge the camera an absolute necessity. So whatever method you choose, just make sure you have a good plan in place and don't get caught out with a flat GoPro battery.
Would you like a free copy of our Ultimate Bucket List?
Not sure where to travel to next? We have created the Ultimate Bucket List to help you plan your next trip. 1170 awesome travel destinations in 167 countries. And we want you to have it for FREE.
Send me the Bucket List!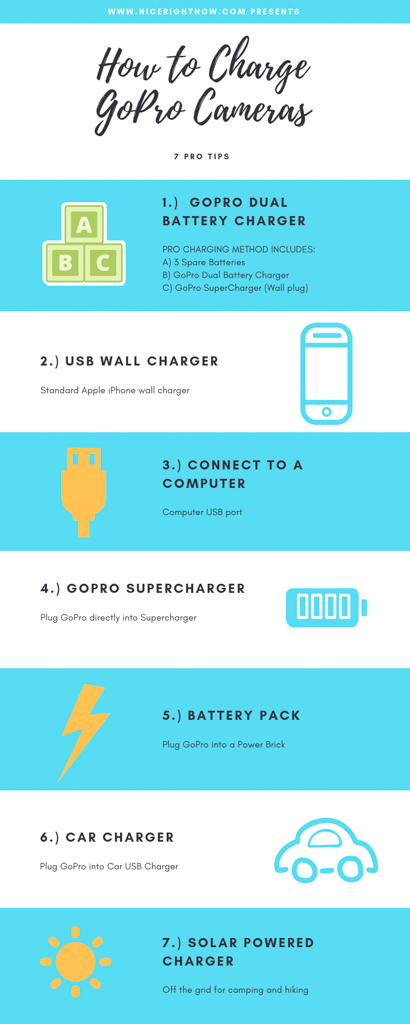 Ramon Perry
https://www.nicerightnow.com
Hi, my name is Ramon, the blogger behind NiceRightNow.com. When I'm not working hard on some overseas mine site, I love travelling the globe with my Australian family of three. We're into family travel adventures, and I love telling you all about our trips, tips and tech. Read our story on the About Nicerightnow page. Feel free to send me a message here.
Sours: https://www.nicerightnow.com/tech/gopro/charge-gopro/
Disclaimer: We are using Amazon affiliate Product Advertising API to fetch products from Amazon, include: price, content, image, logo, brand, feature of products which are trademarks of Amazon.com. So, when you buy through links on our site, we may earn an affiliate commission at no extra cost to you.. Read more.
#
Preview
Product
Price
1
Agoz USB C Fast Charging Cable Type C Cord for GoPro 8, GoPro MAX,GoPro Hero 7, Hero 6, Hero 5,GoPro...
$5.98
Buy on Amazon
2
Mini USB Cable Braided 2Pack(3ft+6ft) Type A Male to Mini B Cable Data Charging Cord for GoPro Hero...
$7.99
Buy on Amazon
3
UGREEN Mini USB Cable USB 2.0 Type A to Mini B Cable Nylon Braided Charging Cord Compatible for...
$7.99
Buy on Amazon
4
UGREEN Mini USB Cable, A-Male to Mini-B Cord USB 2.0 Charger Cable Compatible with GoPro Hero 3+,...
$6.49
Buy on Amazon
5
SCOVEE Mini USB Cable Braided 6ft Type A Male to Mini B Cable Data Charging Cord for GoPro Hero...
$6.99
Buy on Amazon
6
UGREEN USB C Cable 2 Packs Type C Cable 18W Fast Charging USB A to USB C Cable Right Angle for iPad...
$10.99
Buy on Amazon
7
Mini USB Cable Braided,3-Pack 3ft SCOVEE USB 2.0 Type A to Mini B Cable Charging Cord for GoPro...
$8.94
Buy on Amazon
8
USB to USB C 6 inch Short Cable, CableCreation USB A to C 3A Fast Charger Cable, 480Mbps...
$5.99
Buy on Amazon
9
Suptig Charging Cable Mini USB Charging Cable 2 Pack Compatible for Gopro Hero 4 Silver Hero 4 Black...
$7.99
Buy on Amazon
10
iFlight 2pcs Upgraded 90° Type C to 5V Balance Plug Charging Cable for GoPro Hero 6/7/8/9 Used for...
$15.59
Buy on Amazon
Purchasing products such as laptops from different dealers or retailers can be a daunting task. This is even worse if you don't understand much about Gopro Hero 4 Charging Cable Type. One of the most important things to consider when it comes to buying a Gopro Hero 4 Charging Cable Type is the specs of features.
Why You should Buy the Best Gopro Hero 4 Charging Cable Type on Amazon
There is a reason why many people prefer buying products from Amazon. Despite being a credible platform, Amazon has a variety of laptops and also works directly with manufacturers. This means that instead of purchasing your laptop from a retailer, you get it directly from the manufacturing company.
Amazon serves as a third-party and works with various manufacturers across the world. The good thing about Amazon is that it offers a perfect guide about each type of laptop.You will see a clear description of each Gopro Hero 4 Charging Cable Type. This makes it easy for you to make the right decision.
For instance, the guide has information regarding the specs of the Gopro Hero 4 Charging Cable Type you want such as brand, size, function among other features. In case you want a Gopro Hero 4 Charging Cable Type with specific features, then Amazon has the best search tools. All you have to do is to key in the features you prefer and a list of laptops will appear on your screen.
Other Benefits of Buying Products from Amazon
There are numerous benefits of purchasing Gopro Hero 4 Charging Cable Type and other products from Amazon. Here are some of the common benefits:
Best Prices
There's no doubt that Amazon offers the best prices for most products. This is because the platform works in conjunction with a host of manufacturing companies and dealers. As a result, a lot of intermediaries are cut off hence reducing the cost of various products.
Reliability
Amazon is an international company that has offices and stores across the world. Their ability to deliver is much higher compared to other online platforms. Besides, they have great customer service that works round the clock to ensure customer satisfaction.
Huge Selection
Amazon has a large number of sellers from all over the world. This means that you can access a huge variety of products and services every day. It also means that you have different options to choose from.
For example, if you want to purchase a treadmill, you are able to compare the prices and specs from different sellers and make the right decision.
Trustworthy
The other advantage of purchasing products from Amazon is credibility. The company has been in operation for many years and there are lots of positive reviews from customers across the world.
How to Choose the Best Gopro Hero 4 Charging Cable Type
As mentioned earlier, Amazon is one of the best platforms to purchase products like Gopro Hero 4 Charging Cable Type. However, it can sometimes be a challenge to get the exact Gopro Hero 4 Charging Cable Type you want, especially if you are using the platform for the first time.
Here are some of the things to consider when choosing the best Gopro Hero 4 Charging Cable Type on Amazon:
Price
Price is one of the most important factors to consider when buying Gopro Hero 4 Charging Cable Type from Amazon. There's no one who doesn't want to get quality products and reasonable prices. With Amazon, you are able to compare laptop prices from different sellers and settle on the most favorable one.
Brand
The other important factor you need to consider when buying a Gopro Hero 4 Charging Cable Type from Amazon is the brand. Different sellers sell different types of brands and it is important to understand each type of the brands in order to make the right decision. High-quality and popular brands like Apple brand usually cost more compared to less popular ones.
Function
You also need to consider the functionality of a Gopro Hero 4 Charging Cable Type before purchasing it. The functionality of any Gopro Hero 4 Charging Cable Type usually depends on the specs it contains. The more sophisticated the specs are, the higher the functionality.
Old Customer Reviews
Most customers leave feedback with regard to their experience with the different Gopro Hero 4 Charging Cable Type they bought from Amazon. The reviews are always displayed on the same page where the product is located. Looking at such reviews will help you to know whether the Gopro Hero 4 Charging Cable Type you want to buy good or bad.
Categories Clothing & ShoesSours: https://www.botticellissouthcongress.com/10-best-gopro-hero-4-charging-cable-type/
If you're looking for high-quality and affordable gopro charging cable - you'll find the best gopro charging cable at great prices on Joom - from 3 to 35 USD. A wide range of available colours in our catalogue: Black, White, Grey, Red, Gold, Multicolor, Blue, Pink, Green, Orange, Coffee, Purple, Yellow. Only high-quality materials: Plastic, Metal, Alloy, Faux leather, Silicone, Fabric, Synthetic, Rubber; and popular brands: Andoer, Insma, Ugreen, Xiaomi.
If you're not satisfied with the quality of gopro charging cable you've received - please contact our support. We'll review the issue and make a decision about a partial or a full refund.
All products from gopro charging cable category are shipped worldwide with no additional fees.
Choose a product

Tap a "Buy" option to place the product in the cart and proceed with your order.

Choose a quantity of gopro charging cable. (Default — 1. Maximum number — 20).

Enter your full delivery address (including a ZIP code and an apartment number), personal details, phone number, and an email address.Check the details provided and confirm them.

Pay for your order.
Delivering products from abroad is always free, however, your parcel may be subject to VAT, customs duties or other taxes, depending on laws of the country you live in. If you're not sure whether you will be charged any taxes, please contact your country's customs service information bureau.
Sours: https://www.joom.com/en/best/gopro-charging-cable
The GoPro Charging Cable You Need (Hero 3/4/5/6/7/8 + Max)
Although GoPro comes with a charging cable, you may need a backup replacement in case you lose the original one, or if it fails to transfer files because of an internal damage. In this article, we'll focus on charging cables for your GoPro camera.
When looking for a new charging cable for your GoPro, there's a possibility that you may come across some sub-standard cables in the market. Such cables might be inefficient or bad for your GoPro's battery life and overall performance. But, you don't need to worry! We have done extensive research in this field and come out with some of the best GoPro cable replacements available.
What Kind of Charging Cable does a GoPro Use?
---
The typeof charging cable you need for your GoPro depends upon which model you're using. Throughout its models, GoPro has adopted 3 types of charging cables:
The initial models (from HD Hero original to Hero 4 Black) used Mini USB cables. Hero Session and Hero 4 Session are the only two models by GoPro to have used Micro USB. The company then switched to the latest USB-C cable for all the models that came out afterwards (from Hero 5 to Hero 8 – including Max & Fusion).
Here's how these cables look like (along with the compatible GoPro models):
USB-C – Hero 5, 6, (2018), 7, 8, Max & Fusion
Micro USB – Hero Session & Hero 4 Session
Mini USB – HD Hero Original, Hero 2, 3, 3+, Hero 4 Black / Silver
GoPro Charging Cables (for all GoPro Models)
---
We've compiled a list of some of the best rated GoPro charging cables of different types and reviewed each one of them to help you make your decision if you're looking to buy one. There are different lengths and color choices for these cables.
Note:As described above, many GoPro models share the same cable type. So, we have added multiple products for each type.
#1: GoPro Hero 8 Black Charging Cable
Type: USB-C
UGREEN USB C Cable 2 Pack 3A Fast...
3A Blast Past Fast Charge: The 18W(5V/3A) output brings 25% faster charging than...
Anti-break Construction: Double-braided nylon and reinforced SR joint is built to...
Stable and Secure Connection: Unique gold-plated connectors avoids loose connections...
Made up of high quality materials, this nylon braided cable by UGREEN is highly durable, tangle-free and abrasion-proof. You get two pieces with a generous 10 feet length in the box. It is equipped with an intelligent chip which helps in stable charging, thus protecting your GoPro's battery. This cable also has 3A Fast Charge, a great feature supported by various new models like GoPro Hero 8 Black.
A few users have complained of 'not too fast' charging. Other than that, no significant drawbacks have been reported about this quality product.
#2: GoPro Hero 7 Charging Cable (White/Silver/Black)
Type: USB-C
UGREEN USB C Cable USB A to Type C...
UGREEN 3A USB-C Cable allows you to connect latest Type C smartphones, tablets and...
This usbc charger is widely compatible with Samsung S20 S10 S10e S10+ S9 S8 Plus...
With built-in 56k Ohm Resistor protecting your device from the damage of overcurrent,...
Another great product from UGREEN, this highly durable cable with 10 feet length has copper conductors and an aluminum foil shielding which makes it corrosion resistant and minimizes data loss. With a built-in 56k Ohm Resistor, the cable protects your GoPro from the damage of overcurrent. Another plus: you also get upto 3A Fast Charge feature to power up your GoPro quickly and transfer data at high speed.
This is a superb cable. It's one of the top-rated products in its category with no significant drawbacks.
#3: Charging Cable for GoPro Fusion & Max
Type: USB-C
No products found.
RAMPOW USB-C cable comes in four different lengths: 1 foot, 3.3 feet, 6.6 feet & 10 feet. So, you can choose one as per your requirements. It has the ability to quick charge your GoPro at up to 3A safe charging power. You can use it for charging as well as high-speed data transfer from your GoPro to your desktop. The aluminum connector and double-braided nylon shield makes this high quality cable ideal for everyday heavy use.
 There are no significant drawbacks of this cable other than the fact that it's a bit pricey. But, quality comes at a price!
#4: GoPro Hero (2018) Charging Cable
Type: USB-C
TPLTECH USB C Cable,【1PCS...
[Compatible Devices] - GoPro HERO5 Black CHDHX-501 CHDHX-502; HERO5 Session CHDHS-501...
[Durable and Flexible] - 6.6 Ft Long USB C Cable,Nylon Braided, Extreme Durability....
[Multiple Use] - Recharge Using A Car Charger, Phone Charger, Tablet Charger,...
This USB-C nylon braided cable by TPL Tech is highly durable and adequately long at 6.6 feet. It keeps your GoPro and its battery safe from any kind of damage with short-circuit and over-current/overload protection. Plus, you also get 3A fast charging and high speed data transmission features. All in all, it is a great cable for your day-to-day use.
 No major drawbacks have been reported about this high quality product.
#5: GoPro Hero 6 Black Charging Cable
Type: USB-C
USB-C Type C Data Sync Power Cord...
Nylon Tangle-free Design : Tangle-free Nylon Braided Design, With a tested 10000+...
USB 2.0 Fast Charging & Data Transfer : USB-C Cable Transfer speed up to 480Mb / s,...
USB C Extensive Compatibility : The usb c charger cable work with All USB Type-C...
 Voty Type-C USB cable is a perfect choice for your GoPro as it is of premium quality and comes in three color options: Blue, Black & Red. The rubber dividers, 56K Ohm resistor and copper core ensure safe and stable charging. While 6.6 feet length is good enough, the durable nylon braid is also tangle-free. As with others in the list so far, this one also supports fast charging (2.4A). You get two pieces in the pack.
Some users have reported that although it works perfectly initially, it doesn't last long.
#6: GoPro Hero 5 Charging Cable (Black & Session)
Type: USB-C
Amazon Basics USB Type-C to USB-A...
IN THE BOX: 9-foot USB Type-C to USB-A 2.0 Male charger cable; black
DEVICE COMPATIBILITY: Connects USB-C enabled devices (MacBook, Chromebook Pixel,...
VERSATILE: Ideal for charging and powering USB-C enabled devices, as well as syncing...
The AmazonBasics USB Type-C cable comes with a lot of customizations. You can choose between black or white colors, 3, 6 or 9 feet length and 1, 5 or 10 pieces in pack. It is ideal for powering your compatible GoPro or transferring data between GoPro and your desktop. You get amazing 3A fast charging and high speed syncing (up to 480 mbps) features.
Quality wise, this cable isn't as good as a few other USB-C cables in this list. A few users have also reported it to be a bit loose on their devices.
#7: GoPro Hero 4 (Black & Silver) Charging Cable 
Type: Mini USB
Pwr 6 Ft USB-Cable-Charging-Cord...
FEATURES / POWER SPECS : Mini-USB to USB Cable - Long 6 Feet - Supports Hi-Speed USB...
WARRANTY: 30 Days Refund - 24 Months Exchange. PWR+ is WA, USA based company. We are...
SAFETY: Pwr+ cables manufactured with the highest quality materials. CE/FCC/RoHS...
 This PWR+ mini USB cable is made of high quality materials and is CE/FCC/RoHS certified. It is 6 feet long and supports high-speed USB 2.0 data transfer at up to 480 Mbps speed. The charging speed is also as fast as it can get in Mini USB technology.
Due to extended cord length, the charging time of your GoPro may increase by 50-100%.
#8: Charging Cable for GoPro Hero 4 Session & Session
Type: Micro USB
Micro USB Cable Android Charger -...
Fast Charge & Sync - made with 23 AWG high gauge low impedance wires which enable...
Built to last - Triple-Braided nylon exterior, toughened military fiber wire, and...
Last 10x stronger - nylon fiber cloth jacket encases the Sync wire Micro USB charger...
The highly durable SyncWire Micro USB cable is a perfect fit for your compatible Session cam. Made with 23 AWG high gauge low impedance wires, this cable charges 7% faster than regular USB cables. The strong nylon fiber braid has excellent anti-twisting & abrasion-proof property. It comes in 2-pack and you can choose from two length options: 3.3 feet and 6.6 feet.
 This cable is quite impressive and doesn't have any significant drawbacks.
#9: Charging Cable for GoPro Hero 3 (and below)
Type: Mini USB
UGREEN Mini USB Cable, A-Male to...
Mini USB to USB: UGREEN type a to mini b cable connects your USB-ready computer or...
Super Speed for Transfer & Charging: UGREEN mini USB cable supports the speed at up...
Wide Compatibility: A male to mini b cord is compatible with GoPro HERO HD, HERO...
UGREEN Mini USB cable comes in three length options: 3 feet, 6 feet and 10 feet. The corrosion-resistant bare copper conductors and braid shielding provide maximum conductivity and minimize data loss. You get support for up to 480 mbps data transfer speeds and 2A Power charging.
It's a great cable other than the fact that it's way too thick, which makes it less suitable for tight spaces.
Check out HDMI Cables to connect your GoPro to a TV, Monitor, Projector
👉 If you want to learn about how to connect your GoPro to a TV via HDMI cable, visit this article.
Sours: https://projectgo.pro/gopro-charging-cable/
Pro charger cord go
Really want to. We stopped, as the next song ended, Igor took my hand and led me to the bed. We sat down and he began to caress my legs, sliding his strong hands over the nylon stockings. He kissed my neck, my shoulders, my fingers. He took off his shirt, pants, pulled off his underpants.
GoPro Hero 7: How to Charge Battery (2 Ways + Tips)
When. I thought for a moment. In the beginning, definitely not.
You will also like:
He controlled all the creator fighters during my fight. But for the first time I hear that he is a general, and even a deputy commander of the creators' fleet. I guessed that he was not from ordinary fighters even during a conversation at the cosmodrome. Despite his very polite speech, it was felt that he was used to commanding. And Aelita was with him as a bodyguard.
1642
1643
1644
1645
1646