American Swimming Coaches Association
Norwalk, CT — The Zeus Swim Team — Seeking Multiple Coaching Positions, Posted August 12th, 2021
---
Contact Email: [email protected]
Address of Job: 8 Willard Road Velo-CT Norwalk, CT 06851
Phone Number: (203) 202-8081
Team Name: The Zeus Swim Team
Position Type: Assistant Coach
Organization Type: Club
Job Description:
The Zeus Swim Team based in Norwalk, CT is looking to hire both full time and part time coaches to report directly to the Head Coach of the Competitive Swim Team.
The Zeus team is owned by, and operates out of, the Velo-CT aquatics facility which is comprised of three indoor pools, including a 50-meter pool, a 20-yard pool, and 7,000 square feet of gym space including both a Yoga and a Pilates studio.
Facility info can be found at our website: https://www.velo-ct.com/
The Zeus Swim Team has called Norwalk home for over 50 years and is comprised of swimmers from all over Fairfield County. We currently have over 150 members and are recognized as Level 2 by USA Swimming
We expect a full-time coach to go above and beyond for the swimmers in the program. It is important to note that the responsibilities of the coaching staff are not limited to deck hours. Events, meetings, season planning, and other factors are involved in the planning and implementation of a successful swim season.
Candidates must be eager to learn and contribute to family oriented competitive
swim team. Demonstrate a proven aptitude for coaching with a strong work ethic, organizational skills, computer skills, and the ability to interact professionally. The successful candidate must work closely with other coaches in carrying out the philosophy and objectives of the team.
Job Description:
We are looking to hire qualified individuals for multiple positions, both full time and part time coaches, who can build upon our tradition of excellence. The positions report directly to the Head Coach. This person would work alongside the Head Coach in creating and executing a strategic plan consistent with the team vision, mission, and training philosophy; as well as managing the overall direction of several groups. He or she would serve as the lead coach for one of the following groups: 8 and under, 9-10, 11-12 and/or 13 and over.
DUTIES AND RESPONSIBILITIES:
Follows and enforces USA Swimming Safe Sport guidelines.
Helps create and implement inspiring workouts that build upon technique, strength and training
Provides corrective feedback at practice and at swim meets.
Tracks and prepares reports, including but not limited to, attendance numbers, swim group performance numbers, and other relevant trends.
Strong interpersonal skills and the ability to establish and maintain effective working relationships with those connected to the program, including but not limited to USA Swimming, Connecticut Swimming, and our clients.
Provides customer service to group participants and the general public, including responding to parent inquiries, supplying accurate information, and fulfilling customer needs over the phone, through email, and onsite at aquatic facilities.
Educates new swimmers and families about the team's programs, and competitive swimming in the LSC and in USA Swimming.
Follows the guidance and direction of the Head Coach.
Leads developmental programs and groups• Attends swim meets planned by the Head Coach.
Attends Zeus functions.• Attends Zeus and Velo-CT trainings, staff meetings, and committee meetings.
Assists with life threatening emergencies.
Understands basic functions of Team Manager, Meet Manger and Team Unify including, emails, team entries, and time reports.
Understands and performs their duty as a mandatory reporter.
EDUCATION AND EXPERIENCE:
High School Diploma or GED equivalent.
At least 2 years of coaching or instructing experience in an aquatic organization. Associate's or Bachelor's degree is highly desirable.
KNOWLEDGE AND ABILITIES:
Knowledge and understanding of USA Swimming Rules and Regulations.
Knowledge and understanding of the Minor Athlete Abuse and Prevention Policy.
Knowledge and understanding of Connecticut Swimming Rules and Policies.
Basic knowledge and understanding of all four competitive strokes, starts, turns, and racing strategy.
CERTIFICATES AND LICENSES:
The following is required but not necessary at time of hiring:
USA Swimming Coach Membership Requirement (Please see supplemental instruction)
Criminal Background Check
Adult & Pediatric/Child CPR and AED Requirement
Safety Training for Swim Coaches (STSC)
Local Swim Committee (LSC) Non-athlete application
Three Educational Requirements (For New and Second Year Coaches Only)
Foundations of Coaching 101, prior to becoming a coach• Foundations of Coaching 201, prior to 2nd year of registration
Rules and Regulations for Coaches Test
Concussion Protocol Training
Athlete Protection Training
Previous experience with coaching is highly desirable.
Any combination of education and experience that has provided the knowledge, skills, and abilities necessary will be considered.
HOW TO APPLY
Interested parties should submit a resume and cover letter to:
Russ Stidolph
(203) 202-8081
Salary/Benefits:
Salary: Commensurate on experience and education.
Benefits: Full-time employees are eligible for medical and PTO
Reimbursements: Mileage, team travel, certifications
Relocation Expenses: Potential for relocation expenses to be covered
Living Expenses: Potential for rooming expenses to be covered for 2021/2022
About the Organization:
The Zeus Swim Team based in Norwalk, CT is looking to hire both full time and part time coaches to report directly to the Head Coach of the Competitive Swim Team.
The Zeus team is owned by, and operates out of, the Velo-CT aquatics facility which is comprised of three indoor pools, including a 50-meter pool, a 20-yard pool, and 7,000 square feet of gym space including both a Yoga and a Pilates studio.
Facility info can be found at our website: https://www.velo-ct.com/
The Zeus Swim Team has called Norwalk home for over 50 years and is comprised of swimmers from all over Fairfield County. We currently have over 150 members and are recognized as Level 2 by USA Swimming
Sours: https://swimmingcoach.org/faq/norwalk-ct-the-zeus-swim-team-seeking-multiple-coaching-positions-posted-august-12th-2021/
Results - TeamUnify
Connecticut Swimming Inc. - Organization License Hy-Tek's MEET MANAGER Page 5

SHKS and RAC Invitational, Sanction #: L09-9

May 29-31, 2009- Wesleyan University

Results

(Girls 10 & Under 50 LC Meter Butterfly)

14 Sarah Belden

9 WBCB-CT 3:33.52

Name Age Team Finals Time

1:41.40 3:33.52

--- Victoria Winslow 10 PSDY-CT

DQ

15 Erika Ehret

9 SHKS-CT 3:36.10

--- Kristen Carriera

9 ZEUS-CT

DQ

1:46.28 3:36.10

--- Emma Banker

10 SHKS-CT

DQ

16 Kimberly Ma

8 GLAS-CT 3:36.30

Girls 10 & Under 100 LC Meter Butterfly

Name Age Team

1 Phoebe Slaughter 10 PSDY-CT

Finals Time

1:25.44

17

18

1:43.95 3:36.30

Theodora Dinisoe

1:44.99 3:36.63

Kimberly Liang

10

10

ZEUS-CT

WAC-CT

3:36.63

3:59.41

2 Ally Furano

10 GYWD-CT 1:31.31

2:00.03 3:59.41

3 Miku Takabayashi 9 GLAS-CT 1:33.36

19 Amanda Hendrick 8 WAC-CT 4:09.68

4 Sophie Hayes

10 RAC-CT 1:33.98

1:56.80 4:09.68

5 Lindsey Dell'Isola 10 ZEUS-CT 1:35.98

--- Margaret Flaherty 10 WBCB-CT DQ

6 Clare French

10 FINS-CT 1:36.81

2:01.39 DQ

7 Olivia Hallisey

10 GYWD-CT 1:38.15

--- Kate Alvarado

10 WAC-CT

DQ

8 Amelia Ockert

10 WWRX-CT 1:38.16

1:46.37 DQ

9

10

11

12

13

14

15

16

17

18

19

20

Sydney Georgiades

Julia Ruggiero

Stephanie Pon

Maddie Hartigan

Kristin Butler

Ivy Milne

Rachel Noach

Gracie Gustinis

Samantha Ho

Tori Newton

Millie Delaney

Julia Zabinska

10

10

10

9

9

10

10

9

8

7

10

9

CCAT-CT

EAST-MR

EAST-MR

EAST-MR

ZEUS-CT

GLAS-CT

EAST-MR

SMST-CT

EAST-MR

FINS-CT

GYWD-CT

GLAS-CT

1:42.26

1:45.01

1:49.93

1:50.28

1:50.90

1:52.22

1:53.14

1:53.41

1:54.30

1:56.66

2:08.45

2:12.99

Girls 11-12 50 LC Meter Freestyle

Name Age Team Finals Time

1 Caroline Wolek

12 CAT-CT 31.19

2 Kelly Wentworth 12 WWRX-CT 31.26

3 Jessica Poole

12 SMST-CT 31.42

4 Olivia Haskell

11 ZEUS-CT 31.82

5 Grace Moriarty

12 CAC-CT 31.98

6 Allie Romanowski 12 MSC-CT 32.00

7 Mackenzie Valle 11 ZEUS-CT 32.02

8 Tess Grimaldi

11 CAT-CT 32.38

9 Katie Wargo

11 ZEUS-CT 32.76

10 Paige Delago

11 ZEUS-CT 32.91

Girls 10 & Under 200 LC Meter IM

11 Morgan Smith

11 GYWD-CT 33.06

Name Age Team Finals Time

12 Samantha Austin 12 WAC-CT 33.54

1 Phoebe Slaughter 10 PSDY-CT 2:58.18

13 Meridith Hird

12 CAC-CT 33.74

1:24.60 2:58.18

14 Elizabeth Sosa

12 ZEUS-CT 34.34

2 Clare French

10 FINS-CT 3:08.73

15 Julia Gavin

12 CAC-CT 34.69

1:32.65 3:08.73

16 Adria Mankute

12 UN-CT

34.70

3 Miku Takabayashi 9 GLAS-CT 3:08.96

17 Wendy Zhan

11 WAC-CT 34.82

1:30.70 3:08.96

18 Lea Janz

11 CAC-CT 35.03

4 Paige Cleary

10 PSDY-CT 3:15.61

19 Kiersten Snyder

11 WBCB-CT 35.38

1:35.09 3:15.61

20 Farrah Frattaroli

11 GYWD-CT 35.46

5 Jessica Zhang

10 GLAS-CT 3:16.79

21 Lauren Mattingly 11 GLAS-CT 35.57

6

7

8

9

10

11

12

13

1:37.80 3:16.79

Amelia Ockert

1:41.32 3:20.81

Sophie Hayes

1:33.81 3:21.14

Sydney Georgiades

1:38.04 3:21.50

Ivy Milne

1:39.70 3:23.14

Shannon Leary

1:43.54 3:26.28

Kelly Chmielewski

1:38.72 3:27.18

Kristin Butler

1:37.51 3:27.42

Brooke Perrotta

1:42.84 3:30.54

10

10

10

10

9

10

9

9

WWRX-CT

RAC-CT

CCAT-CT

GLAS-CT

WWRX-CT

MSC-CT

ZEUS-CT

CCAT-CT

3:20.81

3:21.14

3:21.50

3:23.14

3:26.28

3:27.18

3:27.42

3:30.54

22

23

24

25

26

27

28

29

30

31

32

33

34

35

36

37

38

Alizabeth Sullivan

Caroline Magnavita

Julia Mattingly

Miranda Gudrian

Lauren Sperrazza

Amanda Cohen

Kayla Cervoni

Rachel Carriera

Mykaela Coughlin

Helen Watson

Tiffany Wronski

Emma Janson

Belle Stobbie

Katelyn Morley

Aya Okada

Stephanie Gerschwer

Emma Sicinski

11

12

11

11

11

12

12

12

12

11

11

11

11

11

12

11

12

WBCB-CT

GLAS-CT

GLAS-CT

WBCB-CT

SHKS-CT

RAC-CT

FINS-CT

ZEUS-CT

SMST-CT

PSDY-CT

SMST-CT

PSDY-CT

PSDY-CT

FINS-CT

GYWD-CT

RAC-CT

RAC-CT

35.69

35.77

35.96

36.04

36.33

36.55

36.71

36.75

36.85

36.93

36.96

36.97

37.01

37.29

37.33

37.38

37.68
You have already flagged this document.
Thank you, for helping us keep this platform clean.
The editors will have a look at it as soon as possible.
Are you sure you want to delete your template?
Magazine: Results - TeamUnify
Sours: https://www.yumpu.com/en/document/view/9540966/results-teamunify/5
Spiritual Meaning of the Name Melissa [Origin, Numerology, & More]
The name has it's powerful roots in Greek mythology and folklore, Melissa was the supernatural woman who was the caretaker of Zeus. Reflected similarly in Numerology, the spiritual meaning of the name Melissa is one of a lover, nurturer, diplomat, truth holder, and caretaker – a person that's loved and adored greatly by those who know her and beyond.
Chances are that you know a Melissa or two. It's a relatively popular girl's name across the globe, but there's so much more to the name Melissa than what meets the eye.
The Name Melissa Origins
Melissa is of ancient Greek origin, a name which means "bee" (or "honey bee") – the completely misunderstood, but loved by most, honey baring and flower pollinating insect. Melissa is a name found within Greek Mythology based on two important characters: the nymph who took care of Zeus as an infant and the fairy from "Orlando Furioso" who aided Rogero in his escape from the witch.
In ancient Greek mythology, Melissa was born to a Cretan king named Melisseus. Melissa was a nymph, which in Greek mythology is a supernatural being. According to folklore, Melissa discovered the use of honey and taught it to the bees, which is where the meaning of the name Melissa comes from.
Melissa was also the caretaker of a baby Zeus. Instead of milk, Melissa nurtured Zeus with honey, directing the bees to deliver it straight to the young Zeus's mouth. Because of his upbringing with Melissa, Zeus's hunger for honey continued well into his adulthood, even having cravings for it once he came to rule Mount Olympus.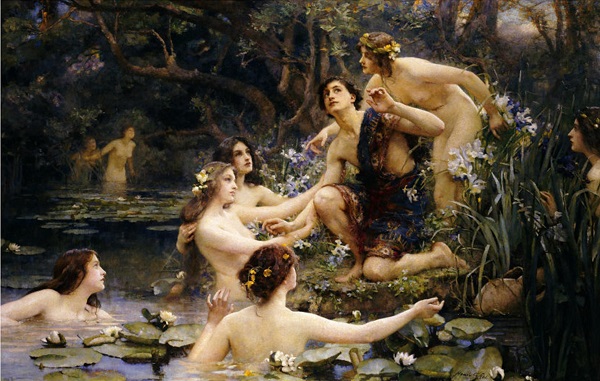 Melissa is also a representation of the ancient Greek goddess Artemis, the goddess of the moon, in her form of taking away the pain of women during childbirth.
Spiritual Meaning of the Name Melissa Character Analysis
Melissa is seen as stable, mature, responsible, and caring. Your confidence is beaming and others may look upon you like a rock to lean on. This is also because people trust you, it's just in your nature. But also you are charming and a great conversationalist. You are the perfect friend or family to stop and throw on a pot of coffee with, sharing in life's joys and hardships – reflecting on victories and loses.
You are down to earth, reasonable, and practical. Nobody knows a better person to console in.
If you haven't caught on yet, you have naturally strong parental instincts. This makes Melissa the perfect mate as well as a mother or caretaker. The downside of this is that you may show a possessive or over-protective attitude at times, but this is only because you love the people you're trying to protect deeply. This may also make you more prone to worrying.
Melissa is also charitable and giving. Your compassion and love for others truly know no ends. Many people may come to you for advice, and while you tend to enjoy being the wise and loving person that people can trust to seek out, it may have you at times feeling burnt out. This is why it's crucial to take excellent care of yourself and set strong boundaries with others.
Some health issues that you are prone to are directly correlated to excessive worrying. These problems include heart issues and high blood pressure.
Feel free to share this article on Pinterest!
[bg_collapse view="button-red" color="#fff" icon="arrow" expand_text="A Picture for Pinterest" collapse_text="Show Less" ]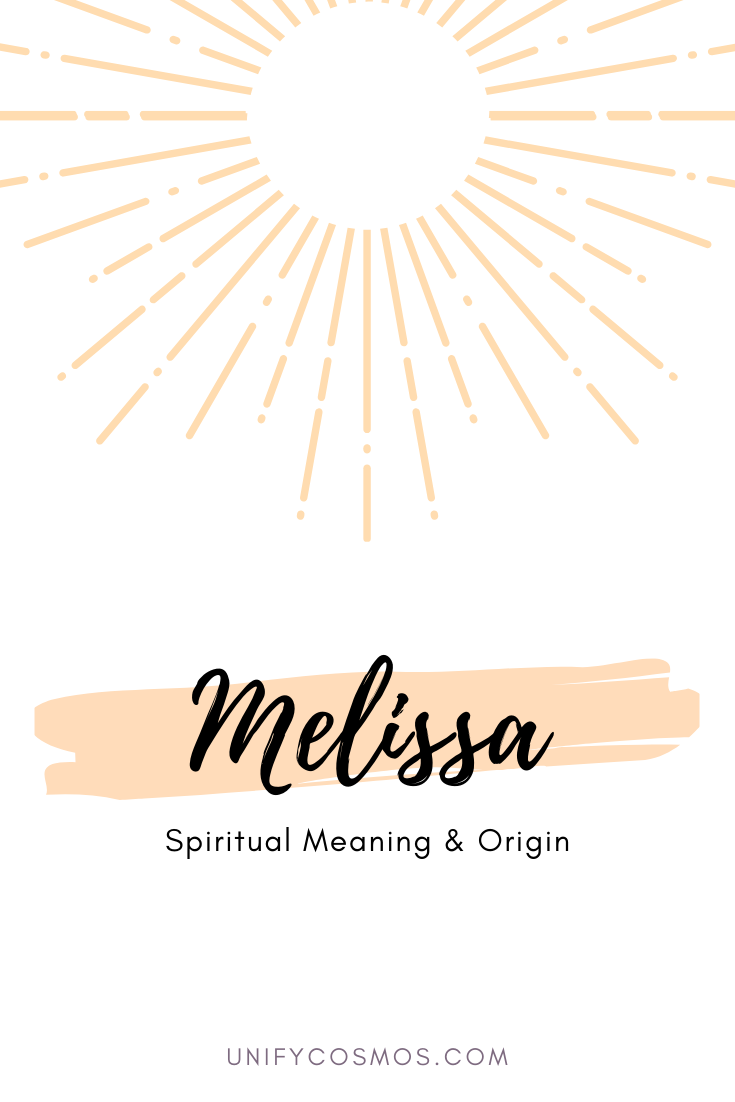 [/bg_collapse]
Numerology of the Name Melissa
The name Melissa has a soul urge number of 6. This is the number of balance, justice, and order. 6 is the number associated with karma. It may not come as a big surprise to you, Melissa – since you probably do it naturally already – but it's your mission in this lifetime to uphold truth and justice.
You are adored and loved by many, especially those who are close to you. It's almost impossible not to love you. You are likely to be extremely active in your community and known by many around town. Matters concerning the family and the household are of great importance to you as well, always playing an active role in your loved one's activities.
The name Melissa has an expression number of 6. The expression number of 6 is loving, compassionate, selfless, humble yet charismatic, and responsibility. You are caring, nurturing, and stable. This is a good number to have but has it's downsides as well, like increasing the chances of being taken advantage of. Some people with lesser hearts than yours may mistake your kindness for weakness. You may also need to feel useful to be happy and express your selfless nature in the service of others. This plays out in your job, community, at home, with your family, and with your friends.
You have a destiny number of 6. This makes Melissa a highly diplomatic person. You can get along with and close deals with just about anybody. This is thanks to your ability to put yourself in the shoes of others. You care about people and want the best for them and yourself in any given situation. People are drawn to you for these reasons and because of your charm and ability to lighten any situation. You are stable and have a firm grounding that others pick up on.
You have the personality number of 9. This number represents the completion of a cycle. It indicates a need to be of service of others. It is the most loving of personality numbers, but its downside is that it's the number that feels hurt and suffering the most. This is due to the number 6's big heart and deep emotional life.
Melissa in Modern Day
While Melissa wasn't an English given name until the 18th century, the name rose to popularity and remains that way (with a slow decline) across the United States, other English speaking nations, and all over Europe as well. In the United States, the name Melissa is ranked as the 43rd most popular girl's name, where 1,180,065 people are estimated to go by the name.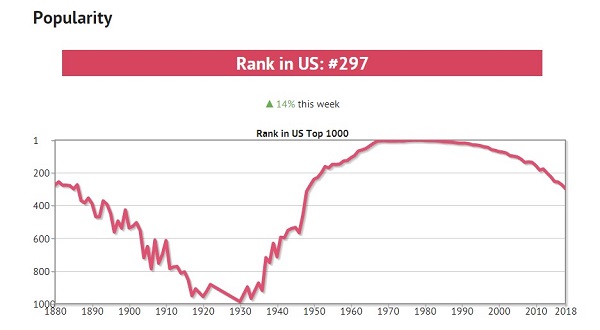 Click here to learn more about the spiritual meaning of other names.
Filed Under: Spiritual Meaning of Names
Sours: https://unifycosmos.com/melissa-spiritual-meaning/
Get in touch
It's Paris based company, provide cloud services to the media industry. It is driving a generational transformation in the way teams collaborate to produce content. It has integrated a powerful set of management, collaboration, and productivity tools in one single package. Whether it is a local news TV station or a large distributed global ad agency looking to unify resources, it has the tools to help them meet their business needs.
http://www.teamiumproduction.com/
Detcare stands for Doctors for ethical care. Our aim is to build a healthy Doctor-Patient relationship and help the patients in making informed choice.
https://www.detcare.com
Grounded in the belief that 'everyone is beautiful', TAF at the Sheesham Courtyard is a holistic wellness centre that makes you simply the best that you can be…glowing, healthy and complete.TAF Chef at the Sheesham Courtyard nourishes you with a variety of delicious and low cal cuisine options which will delight, inspire and detox while making it deliciously simple to maintain your new found fitness levels.
https://www.tafwellness.com
Manish Arora is one of the most celebrated and inspiring contemporary designers in the fashion world today. He is known for his astute craftsmanship and unique play on colors, such as his trademark palette of pink and gold. It was in 1997, that the world 1st viewed Manish's design aesthetic with the launch of his label 'Manish Arora'. With this he grew from strength to strength gaining a devoted following in the fashion world, which finally led to Manish exhibiting at the London Fashion Week in 2005. In 2007, Manish showcased for the 1st time in Paris Fashion Week. He became a member of the distinguished French Federation of Pret-a-Porter in 2009.Today, Manish sells his creations worldwide across prestigious stores such as Printemps, Joyce and Saks 5th Avenue. In 2011, Manish was appointed the Creative Director for Iconic French Fashion House 'Paco Robanne' where he designed two successful collections. Manish Arora has been toasted across the Fashion world with Fashion spreads in International magazines such as V Magazine, Interview, Vogue, Elle, Harpers, L'officiel. He has also collaborated with eminent brands such as Walt Disney, Swarovski, Swatch, Reebok, Barbie, Monoprix, Nespresso, Nivea, MAC Cosmetics, Pommery, and Amrapali amongst others. His rich and colorful designs have been worn by international stars such as Rihanna, Lady Gaga, MIA and Katy Perry. In 2014, the brand opened its 1 st flagship store in Paris. On 16th February 2016, Manish Arora was awarded the 'Chevalier de la Legion d'Honneur'.
http://www.manisharora.com
Nestled amongst the Thar Desert's wilderness and unique landscape, is The Cheetahgarh Resorts. The resort has been conceptualized keeping international standards in mind offering the best wildlife and wellness experience, while keeping in view local sensibilities and the culture. It is surrounded by the Aravalli Range, an eroded stub of ancient mountains, is the oldest and longest range of fold-mountains in India. We are also in the prime territory of the very shy and graceful Leopard, which is the most elusive of all cats. With access to our very own small lake, the property will have 20 cottages with 16 deluxe cottages and 2 master suites. We also have a 5-star clubhouse with our very own pool, restaurant, bar and a well acclaimed Spa. Each cottage will be appointed with luxury interiors by NIVASA, a well-recognized brand with signature collections by Mr. Rohit Kapoor. Suave, elegant and very distinctive, NIVASA furniture fits into a genre of its own. Each and every piece displays precision-finish and detailing to the highest degree. The NIVASA furniture range comprises distinctive styles, each one created to suit distinct tastes and preferences. To offer the guest a world class ambience the clubhouse is also equipped with a lounge, an activities area, a business center and conference rooms. The restaurant has a state of the art kitchen with hand-picked Chefs to curate local and international meals that are not only good for you but capture the true essence of international and local cuisines.
https://www.cheetahgarh.com
Meraki has built a leading position in global petrochemical trading services. Now over the years we have grown into a worldwide company with local reach across the globe. But we have maintained our principles – to add value to our customers and provide service in all aspects of our business. We offer a unique combination of global reach, fast and effective communication, technical skills, market knowledge and an absolute commitment to customer partnerships. Our specialist expert market knowledge is applied to the benefit of our trading partners. Our customers come from all sectors of the chemical industry and all parts of the world. We provide a complete service. Our core strength comes from our ability to work quickly and effectively in changing markets, to ensure that we provide fast, on time solutions to the urgent needs of clients as well as building lasting relationships based on trust and understanding. We are one of the leading petrochemical trading companies, with our headquarters in Dubai. Our portfolio and the scope of our activities have broadened and developed in response to the needs of our customers, and we welcome all enquiries on how we can help meet your product and service needs.
2208, Platinum Towers, Cluster-1, JLT, Dubai.
Our Business Development Team would love to help!
Send Email
Sours: https://www.zeusworldcast.in/group.html
Team unify zeus
BOOK HOTEL
Each Mardi Gras Parade Krewe has a unique history and theme. Some have been around for decades, while others have been in existence for just a few years. Below is a full list of Mardi Gras Parade Krewes.
---
Featured Parade Krewes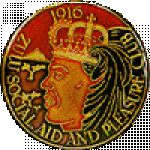 Krewe of Zulu

Home page of the Zulu Social Aid & Pleasure Club, well-known for its interesting history and "golden nugget" (coconut) parade throws. read more »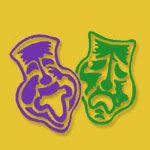 Mardi Gras Indians

See the beautiful beaded and feathered costumes they hand-design and create throughout the entire year! read more »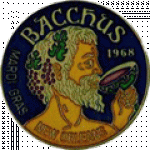 Krewe of Bacchus

Krewe of Bacchus features national celebrity monarchs each year, and draws hundreds of thousands of visitors. Its yearly exclusive Rendezvous can be seen live. Re-broadcasts now online! read more »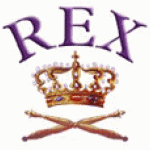 Krewe of Rex

This parade krewe is the origin of many traditions of Mardi Gras, including the Carnival colors of purple, green and gold, as well as the collectible doubloon coins (introduced by Rex in 1960). read more »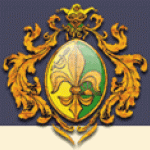 Krewe of Endymion

Endymion quickly emerged as one of Carnival's 'Super-Krewes' in 1974 with the inclusion of more floats and celebrity guests. read more »
---
Other Parade Krewes: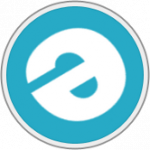 'tit Rəx

'tit Rəx is New Orleans first and only MicroKrewe. A group of artists, business people, teachers, workers and bon vivants founded 'tit Rəx in 2009 in a response to the super krewes constantly setting records for floats, throws and extravagance. 'tit Rəx takes an opposite approach f… read more »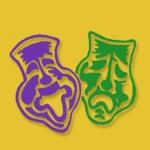 Covington Lions Club

This krewe was founded in 1959 by the civic society. Along with traditional Mardi Gras floats, antique car clubs, multiple family vehicles, multiple dance groups, and the Saints Super Fans, prepare to be dazzled by The Ride of the Brotherhood on motorcycles, the Shriners in buggies, and horses from … read more »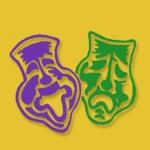 Fools of Misrule

This festive Northshore marching parade, founded in 2011, features flambeaux, a brass band and costumed revelers. It's every bit as impressive as any parade of its kind in the city itself. Their rituals are derived from an ancient English men's group that clamored along the evening streets… read more »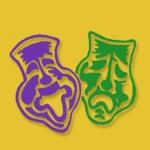 Funky Uptown Krewe

The Funky Uptown Krewe rolls on a St. Charles Streetcar a few blocks behind the Phunny Phorty Phellows on Twelfth Night. In its first year, 2019, the krewe members tossed custom-made CDs featuring songs by New Orleans bands including Bonerama, The Hot 8 Brass Band and Cowboy Mouth. Rapper Mannie Fre… read more »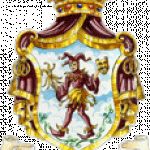 Knights of Babylon

The Knights of Babylon were found in 1939, by a group of professionals called The Jester's Club. Their goal: to stage a first-class parade that would delight the public. Babylon is a firm believer in tradition and uses floats with the same designs as were used more than seventy years ago. What… read more »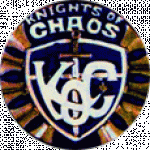 Knights of Chaos

According to Greek mythology, Chaos was the void out of which the universe and all its gods were created. In 2000, the Knights of Chaos filled the void created when the Knight of Momus stopped parading in 1992 after 100 years. The 225 member all-male krewe parades on the Thursday before Fat Tuesd… read more »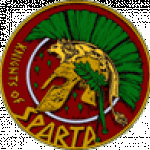 Knights of Sparta

Founded in 1952, the Knights of Sparta take their name from the city-state in southern Greece, renowned for its simple, stoic ways and exemplary disciplines. The Knights of Sparta, an all-male krewe, first paraded in 1981 in Orleans Parish. The Knights are still known for their elaborate bal masq… read more »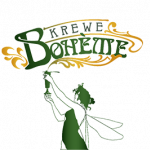 Krewe Bohème

The Krewe Bohème is a marching parade which travels through the Marigny and the French Quarter. It is the first parade to roll after Twelfth Night. Their goal is to present a visual and auditory feast of mystery, artistry and fun. The procession is led by a symbol of the bohemian spirit, a green a… read more »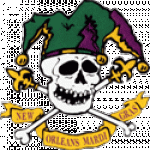 Krewe d'Etat

Founded in 1996, Le Krewe d'Etat motto is "Live to Ride, Ride to Live. Its floats adhere to a traditional style of design that impart Le Krewe d'Etat's satirical theme, which has been voted "Best of Carnival" by critics. The parade features 24 floats, including a special signature … read more »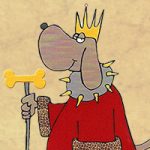 Krewe de Paws of Olde Towne

Founded in 2009, Olde Towne Slidell's canine carnival krewe is based at Café Du Bone Dog Bakery and Boutique. Members of the krewe parade their costumed pooches in wagons, strollers and shopping carts. Non-marching dogs are welcome along the route as well. (This is the only time you ca… read more »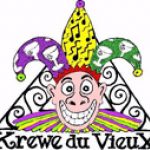 Krewe du Vieux

When the Krewe of Clones (founded in 1978) decided to become more respectable, Craig "Spoons" Johnson and Don Marshall decided to keep the parade's original raucous, art-inspired spirit alive by starting Krewe du Vieux Carré. At first, the ragtag krewe had 16 subkrewes, and a collectio… read more »
Krewe of Alla

The Krewe of ALLA is one of the oldest and most storied krewes in Carnival. Established in 1932 during the depths of the Great Depression in Algiers, La., ALLA will celebrate its 90th anniversary in 2022. The krewe, now co-ed, has called the Uptown New Orleans parade route home since 2014 and is k… read more »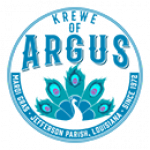 Krewe of Argus

The Krewe of Argus, founded in 1972, includes 450 male, female and child riders. Over a million revelers looking for family-oriented parades flock to the Veterans Memorial Parade Route in Metairie on Mardi Gras Day to see Argus' spectacular floats, marching bands and guest celebrities. To lov… read more »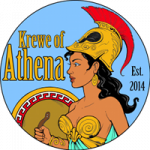 Krewe of Athena

The Krewe of Athena Carnival Club, Inc. is an all-female Mardi Gras club in Greater New Orleans. Founded in 2014, the club is named after the Athena, the Greek goddess of wisdom, courage, inspiration, civilization, law and justice, just warfare, mathematics, strength, strategy, the arts, crafts and … read more »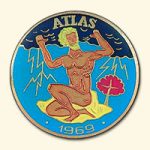 Krewe of Atlas

The Krewe of Atlas is founded on the principles of equality for all. Their principal belief is that Mardi Gras is something that should be celebrated by everyone. The krewe encompasses people from all walks of life, and their invitation is open to everyone to join them in a great time of celebration… read more »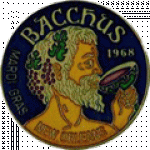 Krewe of Bacchus

Early in 1968, the Krewe of Bacchus broke with Carnival tradition by staging a Sunday night parade with bigger and more spectacular floats than anything previously seen in Carnival. They then decided to have a national celebrity king lead the parade, breaking ranks with 113 years of Carnival traditi… read more »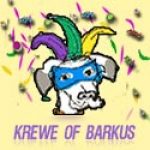 Krewe of Barkus

The Mystic Krewe of Barkus isn't like other Mardi Gras parades: this one has gone to the dogs. Man's best friend is the center of this parade through the streets of the French Quarter with their humans acting as their escorts. Barkus was created in 1992 at a meeting of the Margaret Or… read more »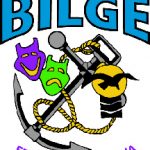 Krewe of Bilge

Sometimes floats float! The Krewe of Bilge is a Mardi Gras boat parade in Slidell, Louisiana. For the last 40 years, Bilge has thrown beads, cups and other Carnival treasures to parade goers from the middle of Slidell waterways. The Krewe of Bilge boat parade was founded by locals in 1978 and now… read more »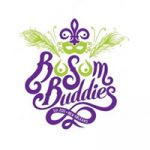 Krewe of Bosom Buddies

The Krewe of Bosom Buddies & Breast Friends is a walking krewe that parades in the French Quarter on the Friday before Mardi Gras. Founded in 2013, they set out to create "a laid-back, inexpensive, fun, colorful and fearless walking krewe full of fabulous women and the men who support them.&rd… read more »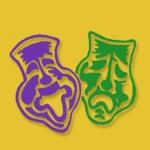 Krewe of Bush

This fun family parade, held every year on the Saturday before Mardi Gras, features trucks, boats, floats, horses and ATV's. It's free for your krewe to ride, roll or walk. Just bring your own throws! read more »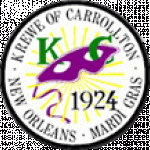 Krewe of Carrollton

The Krewe of Carrollton is the fourth oldest Carnival parading organization, behind Rex, Proteus, and Zulu. It was founded by a group of Oak Street businessmen in 1924 as "The Seventh District Carnival Club" and became the Krewe of Carrollton in 1947. The Krewe made a lasting place for itse… read more »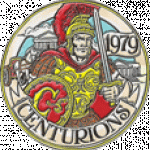 Krewe of Centurions

The 350+ co-ed Krewe of Centurions were named after legendary ancient Roman warriors who commanded "centuries" – companies of 100 men. Founded in 1979 by businessmen from the Harahan – River Ridge area, the krewe paraded on Jefferson Highway for two years before moving to … read more »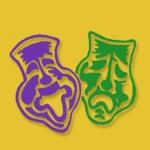 Krewe of Chahta

Founded in 1989, the Krewe of Chahta's was named for Chahta-Ima High School in Lacombe on the North Shore. It all started in 1989 by a group of friends who had gathered at a local watering hole called The Morocco Room. Many of the founding members of the krewe attended the school named for St.… read more »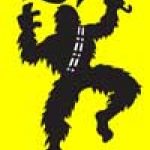 Krewe of Chewbacchus

The 900-member Intergalactic Krewe of Chewbacchus is a Sci-Fi themed Mardi Gras parade, as well as a self-described satirical space cult. Chewbacchus consists of over 150 distinct subkrewes, each of which pays loving (and sometimes satirical) homage to the full spectrum of Science Fiction, Fantasy, … read more »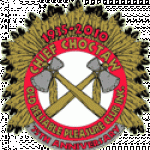 Krewe of Choctaw

Although this social club was founded in 1935, the Krewe of Choctaw didn't have their first parade until 1939 when they bought ten old mail wagons from the U.S. Government – the chassis for the first Choctaw carnival parade floats. They used the New Orleans Sanitation garage and a U.S. N… read more »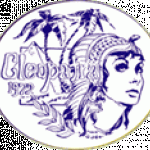 Krewe of Cleopatra

Founded in 1972, the first all-female krewe on the West Bank celebrated their 40th anniversary in 2012 with a movie to the East Bank, becoming the first all-female organization on the Uptown route. Their motto is: "Her beauty is timeless, her age is now...forever!" Named after the Queen of Egypt,… read more »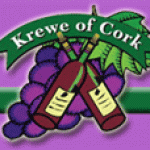 Krewe of Cork

Founded in 2000, the Krewe of Cork celebrates food, wine and fun with a spirited walking parade through the French Quarter eleven days before Mardi Gras. Krewe members wear costumes with a wine-related theme, toss throws bearing their grape logo, and are accompanied along their route by wine police … read more »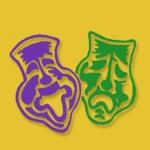 Krewe of Covington

Formerly known as Krewe of KaaCee, the Mystic Krewe of Covington was founded in 1951 by the Knights of Columbus and is one of the oldest krewes in Covington. It rolls through historic downtown Covington, right on the heels of the Covington Lion's Club and is followed by a free party at Covingt… read more »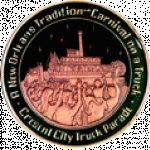 Krewe of Crescent City

Founded in 1947, the city's second-oldest truck parade has over 2,500 male and female riders. While the krewe sets no overall theme, each truck represents a different Carnival organization with its own title and theme. The Krewe of Crescent City follows the Krewe of Elks-Orleans and is the las… read more »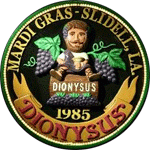 Krewe of Dionysus

The Krewe of Dionysus was founded in 1985 by a group of Slidell businessmen intent on bringing an old-fashioned, family-oriented Mardi Gras parade to the Camellia City. Dionysus (Bacchus in Roman Mythology) is the ancient Greek god of fertility and wine, According to legend, he had a dual nature … read more »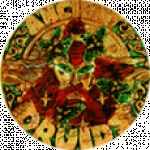 Krewe of Druids

Established in 1998, the Ancient Druids take their name from the priest class of ancient Celtic societies who connected their people with the gods and nature. Led by the king, the Archdruid, the group is limited to 250 members who belong to other Carnival organizations. Their identities are never… read more »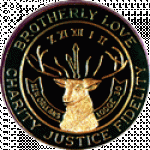 Krewe of Elks Jefferson

Founded in 1974, The Krewe of Elks-Jeffersonians is sponsored by the Benevolent Protective Order of the Elks, a worldwide fraternal society dedicated to charitable deeds. Comprised of 4,000 male and female riders and featuring more than 90 trucks, it is the oldest and largest of the all the truck… read more »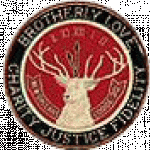 Krewe of Elks Orleans

The Krewe of Elks Orleans follows Rex down St. Charles Ave with 50 individually designed truck floats carrying 4,500 male and female riders (families). Founded in 1935, the Krewe of Elks Orleans is the oldest and largest of all the truck float krewes. Year founded: 1935 Membersh… read more »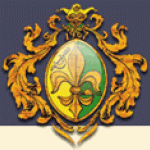 Krewe of Endymion

Endymion, a figure from Greek mythology, was a mortal granted eternal youth by Zeus, at the request of the Moon Goddess who loved him for his beauty. It is also the name of one of Carnival's largest parade with 3,200 riders and 81 floats. Founded in 1967, Endymion emerged as one of Carnival… read more »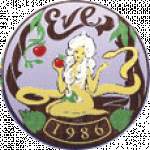 Krewe of Eve

In 1986, six Northshore residents decided to form a ladies-only parade krewe. The Krewe of Eve began with 260 ladies and rolled for the first time in Mandeville on February 14, 1987 with the theme of "Famous Lovers." Members of the Krewe of Eve participate in many community projects and cha… read more »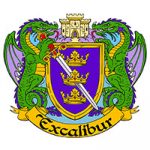 Krewe of Excalibur

Founded in 2000, Excalibur was named for the legendary sword of King Arthur. Formed by approximately 250 men and women members, the Krewe of Excalibur's medieval theme lends itself to grand costuming and a unique look. Led by a procession of fully-suited knights on horseback, this krewe featu… read more »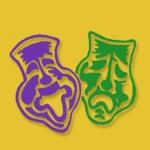 Krewe of Folsom

This eclectic krewe invites the public to participate in its parade of decorative floats, vintage vehicles, four wheelers, cars, trucks, horses, horse drawn wagons, vintage tractors, and RVs. read more »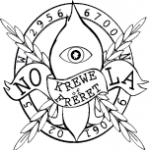 Krewe of Freret

The Krewe of Freret paraded for more than 40 years until the mid-1990s. In 2011, the resurgence of the krewe began with seven Loyola graduates who wanted to unify enthusiastic young professionals and infuse vigor into Carnival while revitalizing the Freret corridor. Today, the co-ed Krewe of Frer… read more »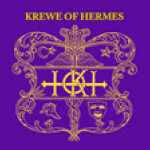 Krewe of Hermes

In 1937, while America suffered through the Great Depression, a group of New Orleans businessman met to come up with a uniquely New Orleans' solution to the city's widespread woes: they decided to throw a party. Years later, after Hurricane Katrina, the krewe solved their problems the sa… read more »
Krewe of Iris

Organized in 1917, the Krewe of Iris is the oldest and one of the largest female Carnival organization for women. Holding strong to the honored Mardi Gras traditions in its tableau ball and parade, Iris members always wear white gloves and masks, maintaining the "mystery" of the season. The Krewe ta… read more »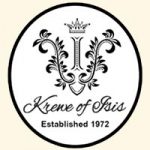 Krewe of Isis

The all-female Krewe of Isis first started parading in Kenner in 1973 before taking the standard Veterans Memorial Boulevard route in Jefferson Parish. However, after the 2019 Mardi Gras season the krewe announced that they would return to Kenner in 2020 Comprised of 200+ riders and 17 floats, th… read more »
Krewe of Jefferson

In 1972, a former captain of the Krewe of Jason joined with a long-time friend, a former captain of the Krewe of Elks Orleanians truck parade, to organize the first Jefferson Mardi Gras in 1972. The first parade consisted of twelve truck floats down Veterans Highway in Metairie. Today the krewe c… read more »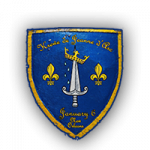 Krewe of Joan of Arc

Founded in 2008, Joan of Arc is an annual walking parade honoring our unofficial patron saint, "The Maid of Orleans". The event melds medieval revelry with the traditions of Mardi Gras. It's a celebration of the city's French culture and heritage as well as St Joan of Arc&rsq… read more »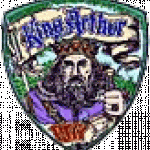 Krewe of King Arthur

Founded in 1977 on the West Bank, the co-ed Krewe of King Arthur now parades on the New Orleans Uptown route. With 1,700+ members and 50+ floats, they are the largest parade on the first weekend of Carnival (known as "Family Sunday") and the 7th largest Mardi Gras parade overall. The kre… read more »
Krewe of Kings

The Krewe of Kings is organized by veteran float builder Mac Cantrell, Jr. The co-ed krewe has approximately 350 members and will roll with 15 floats. The krewe's goal is to bring floats with more elaborate artwork to Metairie parade route. Cantrell founded the Krewe of Thor in 1974 and ser… read more »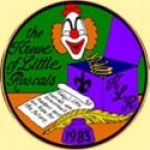 Krewe of Little Rascals

Founded in 1983, the Krewe of Little Rascals is America's longest-running Mardi Gras krewe for children. Named after the famous group of kids from TV and film, the krewe patterns itself after adult Carnival clubs in the city with a pre-Mardi-Gras ball and parade. The Krewe was the visio… read more »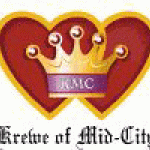 Krewe of Mid-City

Founded in 1933, the Krewe of Mid-City is the 5th-oldest continuously parading organization of the New Orleans Mardi Gras season. Often called "The best day parade in Mardi Gras," Mid-City has gained a reputation for having themes dedicated to children and for having some of the best bands in Mardi … read more »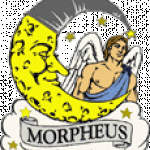 Krewe of Morpheus

Established in 2000, the Krewe of Morpheus is named for the Greek god of dreams. The krewe strives to be inclusive in membership and is formed by more than 800 male and female riders. This krewe seeks to give paradegoers an 'old-school' parade experience. Year founded: 2000 … read more »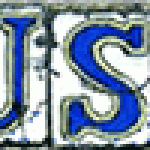 Krewe of Muses

Organized in 2000, the Krewe of Muses is named after the legendary daughters of Zeus. In Greek mythology, muses were patrons of the arts and sciences, as well as sources of inspiration for artists, poets, philosophers, and musicians. The parade has become one of Mardi Gras' favorites, thanks … read more »
Krewe of Nefertiti

The Krewe of Nefertiti was established in 2018 as an all-female social aid and pleasure club. The women believe in "cultivating the community through volunteer service, fundraising and celebration. Their motto is: "We serve before they roll." They will parade for the first time in 2020 in Eas… read more »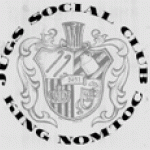 Krewe of NOMTOC

Founded in 1951, the Krewe of NOMTOC (New Orleans Most Talked Of Club) began parading on the West Bank in 1970. The inaugural parade had six floats, six bands, six marching units, one horse group and a motorcycle squardron. Today, this all-black krewe is comprised of 625 male and female riders, 2… read more »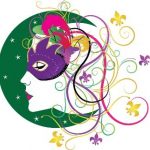 Krewe of Nyx

Founded in 2012, the Mystic Krewe of Nyx is one of the city's largest all-women's Mardi Gras krewes. It prides itself on embracing women of diverse backgrounds. Their motto is "Friends come and go, but a sister is forever." Nyx (pronounced nicks) was the Greek goddess of the… read more »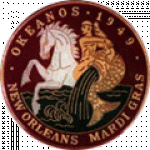 Krewe of Okeanos

Founded in 1949, the Krewe of Okeanos is named for the Greek god of oceans and fertile valleys. It is sponsored by the Sonaeko Club (that's Okeanos spelled backwards) Okeanos was originally formed to create a neighborhood parade on St. Claude. It later moved to the traditional Uptown/Downto… read more »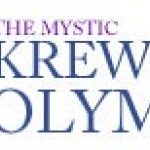 Krewe of Olympia

The Mystic Krewe of Olympia was formed in 1965 by a group of businessmen who wanted to bring a New Orleans-style parade to the Northshore. The Krewe parades through Covington in the evening two Saturdays before Fat Tuesday. They are also known for their Blue Jean Ball and Battle of the Bands. Ye… read more »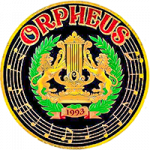 Krewe of Orpheus

Founded in 1993, the Krewe of Orpheus takes its name from Zeus and Calliope's musically inclined son. Founding members include musician/actor Harry Connick, Jr. and his father, Harry Connick, Sr., former New Orleans district attorney. With their first parade in 1994, the krewe of 700 members e… read more »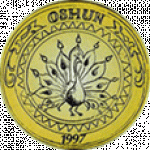 Krewe of Oshun

Founded in 1996, the Krewe of Oshun is named for the Yoruba goddess of love and intimacy. Led by the captain aboard a peacock float, the parade includes 20 Barry Barth floats, several bands who participate in a contest, and marching Baby Dolls. Throws include peacock figures and mugs. Oshun's … read more »
Krewe of Pandora

Riding for the first time in 2016, The Krewe of Pandora are "the Jewels of Jefferson Parish Mardi Gras." In Greek mythology, Pandora was the first mortal women created by the Gods. From Aphrodite, she received unparalleled beauty, grace and desire. Hermes gave her a cunning, deceitful mind a… read more »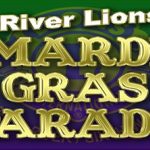 Krewe of Pearl River Lions Club

Founded in 1953, the Krewe of Pearl River Lions Club supports the Pearl River Lions Club, a group that provides eye care for those who qualify. This beloved day parade in Pearl River is a family affair and the whole town comes out to celebrate together. The krewe rolls with up to15 floats, the Pearl… read more »
Krewe of Perseus

Founded in 1970, the Mystick Krewe of Perseus is Slidell's oldest Carnival organization. Perseus was the Greek god and slayer of monsters (he beheaded the Gorgon Medusa (yeah, the one with snakes for hair). The son of Zeus and mortal Danaë, Perseus was also the half-brother and great gran… read more »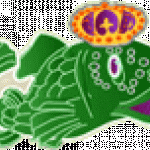 Krewe of Pontchartrain

Pontchartrain rolls on the first Saturday of the official New Orleans Mardi Gras season with some of Mardi Gras' most memorable floats, such as "Mr. Mudbug" (the world's largest crawfish) and a giant fish dubbed "The Super Grouper." Organized in 1975 and named aft… read more »
Krewe of Poseidon

What better name than "Poseidon" for a krewe in Slidell, a community surrounded by water. The co-ed Krewe of Poseidon, named after the Greek god of the sea, earthquakes, and horses, has grown to be one of the largest krewes on the Northshore. They typically roll with nearly 700 riders an… read more »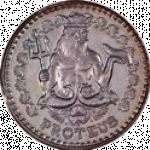 Krewe of Proteus

Founded in 1882, the Krewe of Proteus is the second-oldest krewe in Carnival history. Their floats still use the original chassis from the 1880s. The organization is named after Proteus, the prophetic old man of the sea in Greek mythology, the shepherd of the sea's flocks. A subject of Pose… read more »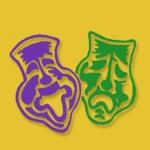 Krewe of Push Mow

The family-friendly Krewe of Push Mow was founded by a group of artists in Abita Springs on New Orleans' North Shore (they got a kick out of the idea of people pushing decorated lawn mowers in a parade ). This creative krewe celebrates Carnival with original themes, comedic floats, marching gr… read more »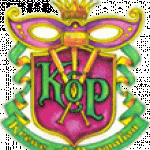 Krewe of Pygmalion

In 2000, the Krewe of Pygmalion was founded by a group of Carnival veterans intent on providing a high-quality parade for the first week of the season. In Greek mythology, Pygmalion was a Cypress king who sculpted a statue of the sea nymph Galatea. So real and beautiful was the statue to Pygmalion, … read more »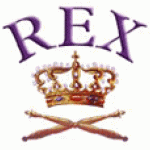 Krewe of Rex

With his grand traditions, rich and colorful themes, elaborate costumes and hand-painted floats, Rex is the King of Carnival. Rex, officially the School of Design, has held more parades than any other organization. They are the origin of many Mardi Gras traditions, including the official Ca… read more »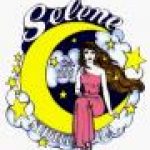 Krewe of Selene

The Krewe of Selene parades in Slidell on the Friday night before Mardi Gras. It was founded in 1998 by a group of local professional women. They've grown over the years to include 300 members. Past throws have included and-made elaborately decorated purses, star light-up wands and a variety o… read more »
Krewe of Slidellians

Founded by the Slidell Women's Civic Club in 1947, the Krewe of Slidellians takes the traditional Slidell parade route from Salmen High School to Gause near Hobby Lobby. Unlike most krewes who pay for their Carnival parades with membership dues and only allow members to ride, this parad… read more »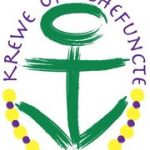 Krewe of Tchefuncte

The Krewe of Tchefuncte, organized in 1973, is a boat parade that cruises the Tchefuncte River in Madisonville on the Sunday before Mardi Gras. The boat parade celebrates maritime life on the historic river. Founded in 1817, Madisonville is one of the oldest communities in Louisiana and is … read more »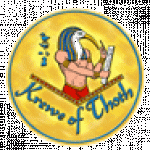 Krewe of Thoth

Founded in 1947, the Krewe of Thoth is named for the Egyptian Patron of Wisdom and Inventor of Science, Art and Letters. The krewe's original parade route was designed to serve people who were unable to attend other parades in the city. It passed in front of 14 institutions that cared for people… read more »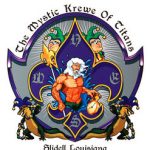 Krewe of Titans

The Mystic Krewe of Titans parade takes place in Slidell on the New Orleans Northshore. In Greek mythology, Titans were immortal giants of incredible strength who had deep knowledge of old religion rituals and magic. Before the Olympians came into power, the Titans ruled the cosmos. Founded… read more »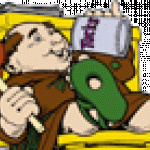 Krewe of Tucks

The Krewe of Tucks began in 1969 as a group of Loyola University students. The name "Krewe of Tucks" comes from the name of the now non-existent Uptown pub where two college students decided to start their own krewe after failing at their attempt to become white flambeaux carriers. Friar Tucks … read more »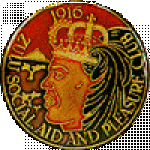 Krewe of Zulu

Early in 1909, a group of laborers in a club named "The Tramps" went to the Pythian Theater to see a musical comedy that included a skit entitled, "There Never Was and Never Will Be a King Like Me" about the Zulu Tribe. According to legend, after seeing the skit, they retired to their me… read more »
krewedelusion

krewedelusion is one of the city's newest, satirical parades. It's slogan: "The People Shall Rule – Until a Suitable Replacement Can Be Found." This unique parade krewe is comprised "innerkrewes" including the Guise of Fawkes, Krewe Dat 504, Krewe of Hellarious Wingnuts, and the… read more »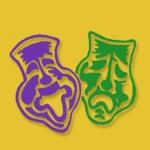 Magical Krewe of Mad Hatters

Founded in 2019, The Magical Krewe of Mad Hatters brings Alice and Wonderland to life with special lighting and dazzling costumes. The parade focus is " magical entertainment" that captures the imagination. The procession promises spectacular floats (some carrying well-known bands) and … read more »
Original Krewe of Orpheus

In 1987, eleven businessmen set out to form a new carnival krewe that would bring a first-class parade to Mandeville. Today, more than 30 years later, Orpheus is the Northshore's premier men's carnival organization. The krewe is famous for its handmade Pineloon throws (a pinecone on a gold … read more »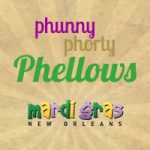 Phunny Phorty Phellows

Mardi Gras ends every year at the stroke of midnight with the mayor and police officers riding through the French Quarter on horseback. Here's how it begins. Every year on Twelfth Night, the Phunny Phorty Phellows (or PPP) herald the arrival of Carnival by participating in a "Carnival… read more »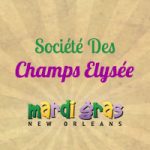 Société Des Champs Elysée

(*Streetcar ride cancelled, walking parade only) Celebrate Twelfth Night and the beginning of Carnival season with La Société Pas Si Secrète Des Champs-Élysées (The Not So Secret Society of the Elysian Fields), a.k.a, the Société Des Champs Elysée. Since 2017, this band of 40 merry rev… read more »
The Mystic Knights of Adonis

Founded in 1998, The Mystic Knights of Adonis was named after the Greek god who was the epitome of male beauty, admired by mortals and gods alike. Comprised of around 200 male and female riders, this West Bank parade includes 16 floats and several marching bands. Along with the parade, the … read more »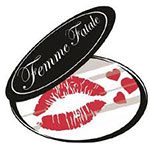 The Mystic Krewe of Femme Fatale

The Mystic Krewe of Femme Fatale, founded in 2013, parades Uptown on the first Sunday of Mardi Gras season. Femme Fatale was the first krewe founded by African American women for African American women, although all women are welcome. Their colors are candy apple red, black and white and their signa… read more »
Copyright © 1996-2021 MardiGrasNewOrleans.com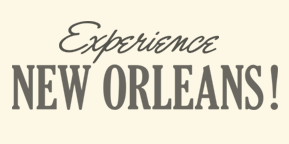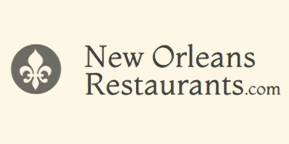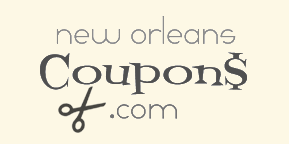 Sours: https://www.mardigrasneworleans.com/parades/krewes
TBS Unify Pro HV - 25mw vs. 800mw 1000m Range Test
The Great Walk of Athens Promises to Unify Archaeological Sites
The final plan for turning Vasilisis Olgas Avenue in central Athens into a completely pedestrian way was presented by the Municipality of Athens on Wednesday.
The plan, part of the project for the unification of the major archaeological sites of the Greek capital, will be completed with the implementation of the Great Walk of the city.
The Walk, which has been approved by the Central Archaeological Council (CAC), unites the Temple of Olympian Zeus with the Zappeion and the National Gardens but, more significantly, completes the long archaeological route that begins in Kerameikos and extends all the way to Ardittos Hill and the Panathenian 'Kallimarmaro' Stadium, turning the vision of an "archaeological park" in Athens into a reality.
The entire pedestrian area of Vasilisis Olgas avenue will be an oasis of green in the heart of the city, since it will be planted with an additional 150 trees, over 5,500 shrubs and 3,500 perennials. More than 4,000 sq.m. (43,055 square feet) of public space will be available to pedestrians while ensuring the unimpeded movement of people with disabilities as well as visually impaired people.
The lighting will be similar to that of Dionysiou Areopagitou, while lights will highlight the monument to the right and left of the axis of Hadrian's Gate, as well as the space leading up to the Temple of Olympian Zeus.
The mayor of Athens, Kostas Bakoyannis, said during the presentation of the final plan "Vassilias Olgas is the centre of the Great Walk. With its renovation, it is transformed from a transit road into a destination."
He then added "It becomes the axis of an area that is illuminated, acquires free space with greenery, and brings balance to transport but also achieves something great. It creates a historical route that highlights the monuments and turns the visit into an experience.
"This is what is changing in Athens. This is the next day in Athens. The whole city, a special experience, in its daily life. Every corner of it, a destination. Vassilias Olgas Avenue is the proof that a vision of decades can be put into practice."
The planning stage of the project is quite far advanced at this point and with the completion of the procedures for its final approval, the work is expected to start in 2021.
Source: AMNA
Sours: https://greekreporter.com/2020/07/22/the-great-walk-of-athens-promises-to-unify-archaeological-sites/
Now discussing:
Late for Work 6/10: John Harbaugh Among Best Coaches to Unify Their Team 
The interior defensive line won't look the same after Pierce's departure, but it gives Williams the chance to play at nose tackle.
"With Williams' move, the team will turn to Campbell and Wolfe and rookie defensive tackle Justin Madubuike for a pass-rush boost at the line's other interior position," The Baltimore Sun's Jonas Shaffer wrote.
Some of the untapped potential Kelly is referring to are Bowser and Ferguson. The Ravens only added one outside linebacker (McPhee) this offseason along with placing the franchise tag on Judon.
We've seen pass rushers in Baltimore make major strides after their first few seasons and the Ravens will hope that's the case with their young core.
Ravens Had One of the Best 2017 Draft Classes
When looking back at Ozzie Newsome's illustrious career as a general manager, his final drafts were some of his best.
Jackson and the 2018 draft class are already shooting up that list after two seasons, but The Athletic's Dan Brugler praised the class one year prior too.
Brugler revisited the 2017 draft classes and ranked the Ravens' haul as the seventh-best in the league. Four of the seven picks aren't on the roster, but the three that are have paid dividends for the defense.
Bugler's picks for best player (Marlon Humphrey) and best value (Chuck Clark) serve as key starters in the secondary.
"I don't think you can list the top-10 cornerbacks and leave Humphrey off the list," Brugler wrote. "He has compiled double-digit passes defended and multiple interceptions in each of his three seasons, earning his first Pro Bowl nod in 2019.
"One of the better late-round steals from the 2017 class, Clark spent his first two seasons in Baltimore as a backup before emerging as a starting-level safety this past season."
Bowser was the team's second-round pick who, as mentioned above, could be in store for a breakout in 2020.
How Geno Stone Can Contribute to the Ravens' Defense
Many considered Geno Stone to be one of the steals of the draft and the seventh-round pick will look to make an impact on a loaded defense.
The Athletic's Mark Bullock dove into the tape, and believes Stone brings strong coverage ability to the Ravens.
"From a coverage standpoint, Stone is far more talented than where he was drafted," Bullock wrote. "Other issues caused him to slide, which we'll get to, but as a deep safety, he has terrific instincts and often anticipates the ball being thrown before the quarterback has begun his throwing motion."
Stone had just one interception in his junior season at Iowa, but his value goes far beyond that. According to Pro Football Focus, Stone only allowed nine first downs and gave up the fewest yards per coverage snap among safeties.
Bullock compared Stone's skillset to former Pittsburgh Steelers safety Gerod Holliman, but noted that his Stone's weakness is his tackling.
"He'll have to prove to the Ravens that he is at least willing to play more physically than he did in college and try to learn some better tackling technique," Bullock added. "If he can manage that, his coverage traits have the upside to turn him into a steal."
It may be tough to determine Stone's impact at this point. His best chance to make the 53-man roster will likely be through special teams with Clark, Earl Thomas III, DeShon Elliott, and Anthony Levine Sr. ahead of him on the depth chart.
Ravens Add Power Five Standouts in 2021 Mock Draft
It's never too early to start looking forward to next year's top prospects and that's exactly what Draft Wire's Luke Easterling didin a two-round mock draft.
Easterling has the Ravens selecting Minnesota wide receiver Rashod Bateman and Alabama defensive lineman Phidarian Mathis.
Easterling believes General Manager Eric DeCosta will continue to add young talent to the wide receiver core in Baltimore and Bateman fits the bill. Bateman totaled 1,219 receiving yards and 11 touchdowns for the Golden Gophers last season.
Bateman averaged 20.3 yards per reception and his ability has excited pundits as a potential first-round talent.
"Simply put, this guy is just a tremendous playmaker on the outside who will likely put up massive numbers catching passes from Tanner Morgan as the number one option in the Minnesota offense," Fansided's Schmelzer wrote. "Bateman was fantastic in 2019, but he will likely absolutely explode this season."
Sours: https://www.baltimoreravens.com/news/late-for-work-6-10-john-harbaugh-among-best-coaches-to-unify-their-team
1457
1458
1459
1460
1461