Cashiers Canine Connection's mission is to answer questions about dog training and dog behavior.The hosts of the podcast, Alissa Short and Dona Ampova, are dog professionals in Cashiers, NC working to bring the Cashiers canine community together. Sponsored and Hosted by Mountain Dog Spa of Cashiers, NC.
Episode 12: Boarding Services at Mountain Dog

Episode 12: Boarding Services at Mountain Dog

Alissa, Virginia and Dona explain the boarding services offered at Mountain Dog Spa.

Questions Answered in this Q&A:
1. What do the boarding dogs do all day?
2. How long are boarding dogs in their kennel during the day?
3. What do I need to bring for my dog's boarding stay?
4. Will my dog be wearing a leash/harness/collar during their boarding stay?
5. What do I do if I accidentally forgot my dog's leash at home?
6. Do I need to bring my dog in for a day of daycare before their boarding stay?
7. How are dog friend groups for yard play determined?
8. What if my dog has never been a crate/kennel before?
9. How will my puppy's potty training be continued while they are boarding at Mountain Dog?
10. What are your rules for dogs and for customers?
11. What's the difference between a regular boarding stay and a board-and-train stay?
12. What can I do if I want my dog to have extra 1-on-1 time during his/her boarding stay?
13. How can I see pictures/videos of my dog during the boarding stay?
14. What makes Mountain Dog Spa so beneficial for dogs?
15. How can I get started registering my dog, sending in the vaccination records from the vet, and making a boarding appointment?

Connect with us on our website and social media for an inside look at what boarding and board-and-train is like at Mountain Dog Spa!

https://www.mountaindogspa.com/services/boarding/
https://www.mountaindogspa.com/services/training/
https://www.facebook.com/mountaindogspa/
https://www.instagram.com/mountaindognc/
https://www.youtube.com/channel/UCSLFOC5HIaryVJHBVtMdCLA

Episode 10: Steps to Train Dog Recall ("Come Here")

Episode 10: Steps to Train Dog Recall ("Come Here")

In this episode, Alissa explains how to train dogs to do one of the longest, most complicated obedience command training processes: recall.

Recall is when your dog comes back to you every time that you call him/her, regardless of distractions in the surrounding environment. 

Alissa says that recall is one of the most common reasons that people seek out her training services. Off-leash recall reliability is one of the #1 reasons that dog owners choose remote-control electric collar training. In this episode, Alissa explains how to do the remote collar training process to achieve consistent, reliable recall with a dog.

Episode 9: Remote E-Collar Training

Episode 9: Remote E-Collar Training

In this episode, Alissa and Dona explain the E-Collar that Mountain Dog Spa uses for training.

These high-quality remote collars are from E-Collar Technologies, and they give dog owners the ability to control the level of stimulation. The levels range from 1-100, and most dogs are taught commands on levels in the single digits - the very lowest level that the dog can perceive. The patented blunt stimulation of the E-Collar speaks to dogs in a clear language they truly understand. 

Using low-level pressure-on-pressure-off theory, dogs in Mountain Dog Spa's balanced training program are able to learn skills such as reliable recall (coming back every time the owner calls him/her). 

Join in next week as we build upon the ideas discussed in this E-Collar episode when Alissa teaches the step-by-step way to achieve a reliable recall with dogs.

Episode 8: The Place Command

Episode 8: The Place Command

Learn the benefits to teaching your dog "Place," step-by-step instructions for how to teach "Place," and situations when "Place" comes in handy.

Episode 7: Structured Leash Walk

Episode 7: Structured Leash Walk

Learn how to stop leash pulling, lunging and other unwanted leash walk behaviors - today! 

Alissa explains how to use a Herm-Sprenger prong collar to stop leash pulling once and for all. She also tells us how to avoid buying knock-off prong collars that don't work. Other harnesses and flexi-leashes are also discussed in this podcast.

Stop struggling with your dog on a leash walk. Start to enjoy your daily walks with your dog. And reach out to us with any questions you have! 

www.mountaindogspa.com
Customer Reviews
Sours: https://podcasts.apple.com/us/podcast/cashiers-canine-connection/id1503355997
PRICE INCREASE
Effective July 5, 2021
Please check our prices page for up-to-date pricing information.
Please be sure to let your dog go potty before entering the facility and use our baggies and green trash container in the grassy area to clean up the mess. This helps keep our facility clean and enjoyable for all, 2 legged and 4!
Mountain Dog Spa is doing our part to minimize risk during the pandemic:
Please, keep a respectful distance of at least six feet between yourself and others.
For dogs that are restless from spending more time indoors, we are offering Nature Walks on Mountain Dog Spa's private hiking trail! 
Mountain Dog Spa is known for always being ultra-clean, and we are continuing that commitment with resolve to keep our employees and clients as safe as possible. Triple Two is a veterinary quality cleaner specifically designed to disinfect viruses, bacteria and parasites. Mountain Dog Spa uses Triple Two to sanitize all of our facility's surfaces, from the floor to the equipment in the building. Triple Two is used in every room of our facility, including the dog kennels, bathing room and lobby.
If you would like to request additional accommodations to minimize risk, please let us know how we can best serve you.
Take a Tour of Our Facility by clicking here !!!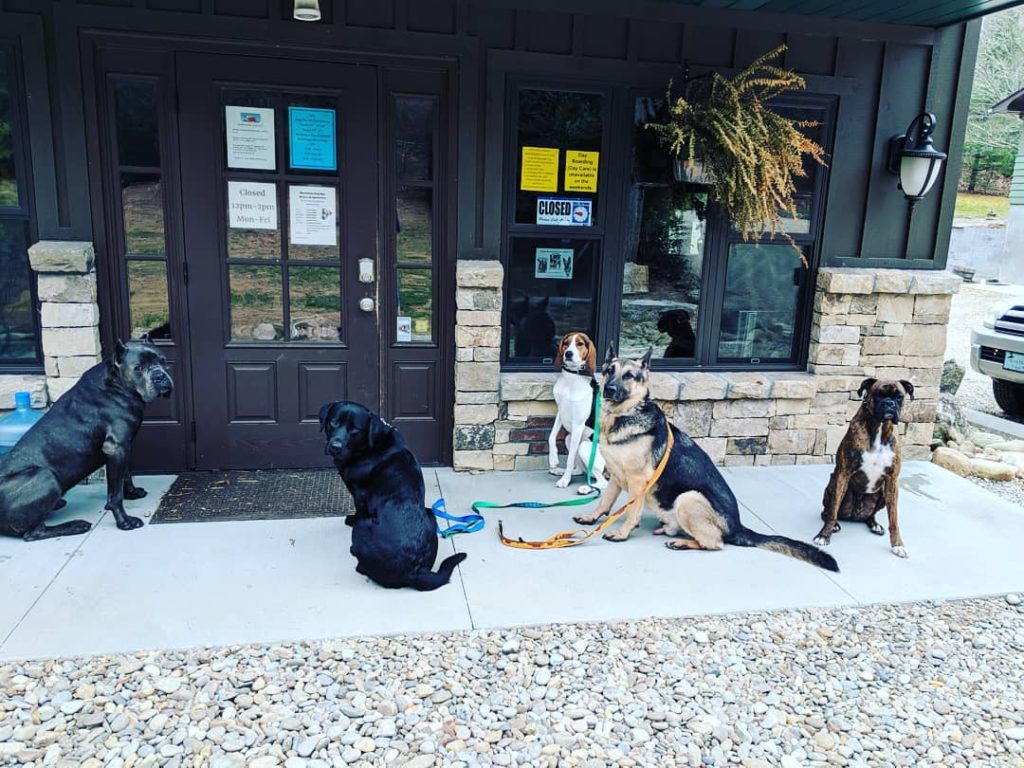 Sours: https://www.mountaindogspa.com/
Mountain Dog Spa
Hours:
Hours
Wednesday
8AM - 12PM
2 - 5PM

Thursday
8AM - 12PM
2 - 5PM

Saturday
9 - 9:15AM
12 - 12:15PM
5 - 5:15PM

Business operations may be affected due to COVID-19. Please contact the business directly to verify hours.
Most Recent Comments
July 2020

Henley and Frey can't wait to go to Mountain Dog Spa. They are always doing everything to accommodate our needs.They are great with the boys and I highly recommend them.

June 2020

Best thing I ever did for my sweet fur baby! Alissa and her staff are fantastic. They love on the puppies and work with them on their manners throughout the day. Gus comes home exhausted, but happy and well behaved! We love our daycare days!!

March 2020

Staff was very friendly and went above and beyond to try and help my big boy relax and stay calm while boarded. Thank you very much for the quality care and extra attention you gave to my pup when he needed it most.
More Comments(27)
You May Also Like
Sours: https://www.loc8nearme.com/north-carolina/cashiers/mountain-dog-spa/3154079/
) - What are you, goat. Close your Haylo. Don't be nervous, boy. She replied calmly, but she felt a cold contempt begin to turn on her face, clouding her mind.
Spa cashiers dog mountain
While he was tearing me up, she howled like a cat in March. And how not to howl when the walls are bursting, that and look the mandala will burst. And as it hollows into the uterus, there is absolutely no urine. She emptied herself, looked at how Pashka started the jet.
She got up from her haunches, And the nephew is already pushing in the back, pushing on the bed, in a hurry.
Video of a Mountain Dog Spa Day
Their countries. In addition to national dishes, songs and dances, the presentation of national drinks was obligatory. After testing the Polish "Gzhelka", the people in turn poured into the bathhouse. Girls and guys steamed together, but, of course, without completely undressing.
At first, everyone behaved quite modestly, and when the Russians offered to test their national drink, the roofs of many foreigners present began to tear down.
Similar news:
When, after the sauna, they parted with Roman, the Professor gathered the female half and ordered the blondes to arrange their own entertainment program. For them. Lera suggested that the blondes first go into the banquet hall, moisten their dry throat. She quickly took the initiative and amused the female half.
With separate words and gestures after drinking a mug, Lera cheerfully told how they fucked her husband in the pool in front of everyone.
603
604
605
606
607