Canvas How-To: Video Discussions with Flipgrid
Flipgrid in Canvas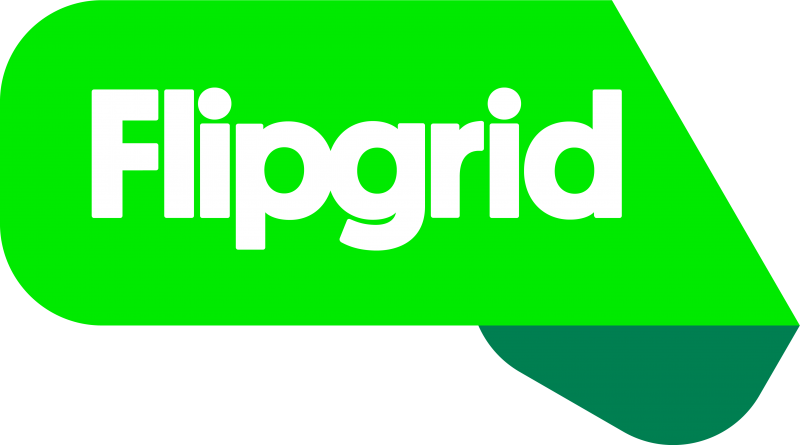 Flipgrid is a free video discussion service ("App") that can connect to Canvas, enabling threaded video-based assignments in your Canvas course. Flipgrid is not a built-in tool of Canvas.
Flipgrid vs. VoiceThread: Which to Choose?
Flipgrid and VoiceThread are both video-based tools, so it can be hard to know which one to use. Both tools have strengths and weaknesses for any given activity. Read on for information that will clarify which tool is right for your activity.
Overall consideration: Will your activity benefit from the ability to use multiple slides?
Choose Flipgrid when:
You want students to engage with a single topic or question using video replies instead of typed text.
You want students to be able to edit their video posts before submitting.
You want to grade student posts using Canvas's SpeedGrader tool.
Choose VoiceThread when:
You want students to have a web discussion using a set of multiple topics they can choose from.
You want students to contribute media to a common presentation.
You want students to create and narrate a multi-slide presentation from scratch.
You don't need to use GradeCenter to grade student work in the activity.
Features of both tools:
Moderation/hiding of student posts
Ability for students to upload media content as part of their engagement in an activity
Recording direct replies to specific posts
Incorporate a wide range of media documents, videos, files, etc. into an activity
Automatic closed captions on all posts (feature must be enabled in each Flipgrid grid)
Highlights
Canvas Access Control - Only students in your Canvas course can access your connected Grids. 

Students can still join on mobile but must start within the Canvas app.

SpeedGrader - Add a Flipgrid Topic for your Canvas Assignment. Student videos automatically show up in Speedgrader.
BYOD Anywhere, Anytime - As long as students click the green + within Canvas, they can record using any computer or using one of the free Flipgrid iOS and Android apps.
Students do not need FlipGrid accounts; only instructors do.
NOTE: Flipgrid recordings cannot be made in the Safari browser. Try Chrome, Firefox, or Edge.
Enabling Flipgrid in a Canvas Course
NOTE: Integrate Flipgrid if you are planning to do a graded assignment using Flipgrid.  It's perfect acceptable to use Flipgrid in ungraded activities. Simply set up your group and discussion topic, and then share the join code in your course like any other URL.
NOTE 2: You must do the integration once for every Canvas course that uses Flipgrid.
Part I – Create or Login to Flipgrid Account
www.flipgrid.com - Flipgrid accounts are completely free.
Part II – Connect FlipGrid to Canvas Course
Please read the How to integrate Flipgrid tutorial to learn how to link your Flipgrid account to a Canvas course. This is necessary to use Flipgrid for a graded assignment.
Login to www.flipgrid.com.
Choose "Profile" from the user menu in the upper right.
Select the "Integrations" tab.
Here, you either create a new Canvas integration or retrieve the consumer key and shared secret for your existing one.
Return to Canvas and add the Flipgrid app to your course from the Settings > Apps > +App page.
Copy and paste the key and secret from Step 4 and complete the app installation process for this course.
Flipgrid will now be listed in the External Tools list in your course.
Part III – Use Flipgrid
Use as a graded assignment by specifying Flipgrid as the External Tool submission type in a Canvas assignment.
In a Canvas course, create a new assignment

NOTE: Flipgrid assignments can only have a single point value even if you are requiring students to make multiple recordings in the topic. When grading, you will provide a score for the student's total performance in the complete activity.

Specify External Tool as the Submission Type for the assignment
Click "Find" and select FlipGrid in the list of available tools.
Recommended: check the box to open the link in a new tab!
Click Save
Click the newly added assignment link. The Flipgrid Topic will be created and you arrive at the Topic's home page.
In the Actions menu for the Topic, choose "Edit Topic".
Review the settings of the Topic, such as maximum recording length, comment moderation, adding prompt materials, etc.
Click Update Topic to save any changes.
Make your assignment link available in Canvas.
To record their responses, students simply click the assignment link in Canvas and follow the prompts to record and save their responses. They do not need to install anything.
Part IV – Grade the Submissions
Return to the assignment in Canvas and launch SpeedGrader to review and grade the student submissions.  The videos will be visible in the SpeedGrader window.
Flipgrid Support Resources
Flipgrid is a video discussion tool that is supported by Flipgrid's tech support. Please see the instructions and support below.
Sours: https://www.csustan.edu/office-academic-technology/canvas/canvas-how-video-discussions-flipgrid
Flipgrid grading rubric
Hide score total for assessment results Flipgrid is an online tool that allows teachers to either post written or video questions to the grid and then have their students use a computer or their cellphone to record their answers. I wanted students to have a personal job goal because supporting them in that future pursuit created Grading/Rubric: You will have the opportunity to participate in 13 forums. In Flipgrid, instructors post discussion prompts and students respond and reply to each other with short videos. • Résumé Evaluation Chapter 4 Flipgrid Videos - Optimization. " Teachers post tasks or questions on their grid and students verbally complete the assignment by creating a short video response. In this example, the initial response to the prompt sits at the top of the page. • Résumé Evaluation I elected to assess Flipgrid. Emergency Role Play. With Google Classroom, teachers can create an online classroom, invite students to the class and then create and distribute assignments. See more ideas about rubrics, teaching, writing rubric. Getting Started with D2L. Rubrics are quick and easy to create and add to graded assignments. I was so happy to see that Holly Clark is giving a FREE course, beginning this Friday to help you #Master FlipGrid! May 26, 2021 · Teachers can simply assign points to different assignments, or give different types of assignments (essays, classwork, homework, etc. The Educator's Guide to Flipgrid is a comprehensive guide that covers everything there is to know about Flipgrid. Flipgrid must be installed by the faculty teaching the course. (2021). Flipgrid is similar to the Discussions tool in Canvas, only students post and reply with self-made videos. Teacher Access. Access your Canvas courses on the go with the Canvas Student mobile app! From any device, students can now: • View grades and course content. Flipgrid 2. . Make Project or Inquiry Areas for Q and A and Resources. The pencil is the "edit" section. Easy-to-follow directions guide you through the process of setting up a video response. Bring the back row to the front and engage ALL your students! Add-Ons for TITANium › Turnitin in TITANium › Rubrics › Student: How do I view the instructor's comments when she uses a rubric? rubric turnitin Click on the Rubric Scorecard icon. Flipgrid – Video discussion platform can now be added to Canvas and MS Teams. 5 hrs N/A Sept 26; Oct 10 November 26 December 17 Total = 33 hrs Assessment Rubrics The following assessment rubrics are available in the "Rubrics" lesson on Populi. Preview these awesome titles and join us for Book Brawl competition next year! You'll be able to sign up for a team in the fall, so go ahead and get an early start reading the books we've selected for next year's Book Brawl! Book Brawl 21 - 22 by jeikenberry on Genially. This rubric could easily be applied to other tools such as videos/recordings on Google Voice, Seesaw, etc. Rubrics can also be shared with students before they complete a task to serve as a guide to increase the quality of the product. Tips for producing class assignment videos, "Before, During and After". Rubric for Posting Reflections and Feedback. *This product is available as both an editable Google Doc™ and a PDF printable. How Not to Kill UbD – by Design. Log in to access your recent Groups, Topics and videos. 1For the supported lifetime of the device. Instructors set up prompts and parameters for student videos (including length limits of 15sec to 10min). Grade Levels: K-5. 1. Oct 07, 2019 · Flipgrid is arguably the best-known video hosting and collaboration tool for education. Apr 09, 2021 · Rubrics are used for easier grading and provide reasoning for grades. Using Buncee's templates May 08, 2021 · https://www. October 9, 2019 @ 12:00 pm - 1:00 pm. For other helpful videos, subscribe to the ISU ReggieNet YouTube Channel TurnItIn Rubrics. This Fall, I have been using a video response tool called Flipgrid to help improve my students' speaking skills. Jul 20, 2021 · August 24, 2021 Reading Progress: Now available in Microsoft Teams Reading comprehension is an essential part of any student curriculum, and recognizing the learning gap that the pandemic has created, it's especially important that each student gets the chance to build their reading skills and increase their confidence in turn. Here is a guide you can post in your course for students using Flipgrid on a mobile device. Information about Flipgrid, how to use it, Flipgrid Directions - Freebie This freebie includes a detailed list of student directions to help them access and upload videos to Flipgrid. So as you can see Flipgrid could very well be a useful tool in engaging students at a distance to foster a vibrant academic community during what will be a very different start to the 2020-21 academic year! Apr 14, 2020 · Part of the rubric in the flipgrid assignment was to make any corrections to the draft and incorporate the corrections in the flipgrid description. 4 pts. csv file. 2d: Written feedback - You can leave specific written comments about the student's video to further help them understand where they excelled or could preload assessment criterion (rubrics) that supported the course learning objectives. The peerEval template is the same format. Oct 09, 2019 · Register with ETC here! In this one hour workshop you will be introduced to FlipGrid as a tool to use for assessment. • Résumé Evaluation Kahoot called "Pecha Kucha Style Presentations Quiz 2" at LINK that you may complete for your alternate grade, or as a bonus. This is a Google Drive file, but it can also be downloaded as a PDF. Keywords: digital learning tools, EFL, FlipGrid, Kahoot, Padlet, 21st-century skills Cite as: Abdullateef, S. Flipgrid - Grading rubric. Flipgrid can be a readily accessible, cross-platform tool for formative assessment across a range of curriculum areas. This can be anything from writing a paper to giving an oral presentation, and more. Assessment for Lesson 6- RUBRIC FLIPGRID Video - Talk Show: Let's Flipgrid it! Teacher Name: Josette MCFARLANEBROWN Student Name: _____ CATEGORY 4 3 2 1 Videography -Clarity Video did not rock/ shake and the focus was excellent throughout. Free rubric builder and assessment tools. iRubric F229269: Create a FlipGrid video responding to the prompt. We now have the ability to add topic attachments as links. by admin. FlipGrid Rubric for Any Subject. Discuss this rubric with other members. For example, Flipgrid is similar to Apr 27, 2020 · Flipgrid allows for tw o types of rubrics, either th e defau lt rubric or a simple 'create a new rubric' function. Flipgrid connects millions of PreK to PhD educators, learners and families through short video. Remove points from rubric. Portfolium Profile and Portfolio 10. The first five Standards and their accompanying Indicators define what accomplished Olathe Educators should know and be able to do. Flipgrid in CanvasFlipgrid is a free video discussion service ("App") that can connect to Canvas, enabling threaded video-based assignments in your Canvas course. A good thing to note is that student responses on Flipgrid are public to the class, so all students in the class will be able to see each other's responses. • Résumé Evaluation Speech and Presentation Grading Rubric Author: mansur Keywords: speech rubric, speech choir rubric, oral presentation, oral presentation rubric, pubic speaking rubric Last modified by: Riggle, Keven Created Date: 7/12/2005 5:34:00 PM Company: Marquette University Other titles: Speech and Presentation Grading Rubric Oral Presentation Grading Rubric Name: _____ Overall Score: /40 Nonverbal Skills 4 – Exceptional 3 – Admirable 2 – Acceptable 1 – Poor Eye Contact Holds attention of entire audience with the use of direct eye contact, seldom looking at notes or slides. 3 Smartphones Records show that 70-90% of people in Japan have a smartphone with 95% of the internet broadband speeds being Aug 14, 2017 · This year is no exception. Click the Educator Login and then create an account from there. Plus you can use the same rubrics year after year, course after course. com . Appropriate comments provided for 2 peers. Project based learning has continued to increase in popularity and is used more frequently in teaching and learning. Exams are written assessments that will follow the Claim-Evidence-Reasoning format. Online Discussion Rubric Criteria Unsatisfactory = 0 Limited = 1 Proficient = 2 Exemplary = 3 Score Grading using rubrics. science, humanities, or other content areas) or skills and competencies (e. Apr 17, 2020 · Meaningful feedback with rubrics: An important part of remote learning is good teaching practice. Product DescriptionUse this FLIPGRID Rubric with any subject. Teachers can provide feedback to students AND better yet students can provide feedback to one another. Mar 11, 2020 · Flipgrid: Flipgrid is free for teachers which makes it wonderful! For the easiest explanation, you can write a question and students can respond to your question and can respond to each other, too. An example of a single-point rubric for mathematics is below. Since the rubrics are shared through Google Classroom the teacher has access to all of the self and peer evaluations through Google Classroom and in the assignment folder in Google Drive. The Select "Enter a Flip Code". Student Rubrics are used during peer- and self-assessments and feature kid-friendly Project Rubric Generator. If you have NOTHING TO DO this week for Computer Lab, visit Chrome Music Lab. See a snapshot of all your activity on Flipgrid - number of Groups created, videos posted this week, and so on. Use this to make sure students are recording Flipgrids that are ready to be published. I'll demonstrate more ways that I engage students in this class in the video below. Most of My Dashboard; Math 7. Rubrics are like a magical tool in Brightspace. Teachers have access to control and can moderate the grid. What Are Flipgrid's Other Features? Acquired by Microsoft in June 2018, Flipgrid has a variety of features that make it a useful tool for teaching and learning, including video downloads, video feedback options, stickers and drawings for videos, custom assessment rubrics, video feedback, MixTapes, topic invites, private share links, Vibes, and more-including:The pandemic has thrown us into a whole new world of distance learning/teaching and required us to search for the best, most effective technological platforms and resources for staying connected with our students. " This is where you can utilize the Basic Feedback option or the Custom Feedback Option. Flipgrid also features rubrics, emoji reactions, and comment boxes to allow for a range of feedback formats. Flipgrid This is another useful tool for assessment. Moodle provides an easy to use system that integrates with the University student information system. Integrating Teams, OneNote, Forms, and Flipgrid. iRubric V2XW825: Rubric title FlipGrid. Last modified: Wednesday, September 2, 2020, 10:17 AM Lightbox Gallery. Has the student been able to demonstrate the effective use of Audio. If you've set up a rubric, with just a few clicks you can grade an assignment with consistent, clear feedback for your students. You can register and immediately view the archive of the session. Subscribe to posts FlipGrid has been acquired by Microsoft and is now completely free! Andy Plemmons: Natural Side of Student Voice – comments about using Flipgrid; 2nd Graders Use Their Research To Respond Via Flipgrid! The Educators Guide to FlipGrid – Free PDF with tons of details about using FlipGrid. A Kindergarten class in Iowa connected with Kindergarten students in Sudan. The course is a continuation of the first part of the beginning Russian . The Merrills. This workshop explores principles for making rubrics that work and will guide participants in determining whether rubrics are the right Flipgrid is a free video discussion tool from Microsoft that enables educators to communicate and interact with students through short video recordings. This is a way to make sure that students are attending to specific areas where they need to improve. Break Channels into Units or Topics. Mastery. Because rubrics can take some time to create and use, they are most often used for weighty summative premier exhibitor, etc. Step 4: Keep an eye on the Gradebook because it will make you smile. It is recommended that you begin with Topic 1 and move your way through each Topic. Turnitin also provides instructors with an assortment of grading tools including rubrics, voice comments, and the ability to grade papers via mobile application. Once the box has been checked, select the underlined words "view grading scheme. It was designed for beginner Flipgrid users in mind but will fit most levels. Teachers can get ideas or suggestions from previously constructed rubrics. 2. See more ideas about teaching, classroom tech, teaching technology. We have been experiencing a MAJOR case of #FlipgridFever! First of all, this is a brilliant way to be able to hear EVERY STUDENT. For information on the tools, their features, and examples of how to use the tools in class, click here: Instructional Equipment Instructional Technologies Western instructors have access to a number of instructional technologies they can use in their teaching and professional […] Flipgrid is a web-based video discussion platform that allows meaningful collaboration in an online environment. No experience is required. Built by gabbyheinemann using iRubric. The videos are usually reflections, or responses to a specific topic/prompt asked by the teacher. Giving student feedback in an online environment is as important as the course design itself. •. Brightspace Rubrics Basics. We may have lost the sense of security and safety our physical classrooms gave us, but with the help This workshop will show you principles and techniques to create visual elements to add interest to your course. Build collaborative Mind Maps. SCHOOL & DISTRICT ADMINISTRATORS Learn More Video Production Portfolio Rubric. The following key components will assist you in producing an awesome project video! Tell us your name, your 4-H Club and 4-H age (as of 1/1/2020). Sample Grading Rubric for Online Discussion - California State University- Long Beach 11 Online Discussion Grading Rubric from Boise State University 13 Sample Online Discussion Grading Rubric from Mercy College - New York 16 Sample Grading Rubric for Online Discussion - Middle Tennessee State - Example 1 18 About Press Copyright Contact us Creators Advertise Developers Terms Privacy Policy & Safety How YouTube works Test new features Press Copyright Contact us Creators Rubrics available in Teams Assignments are a key assessment method used in project-based learning. School and District Leaders. April 27, 2020. Program shows a continuous progression of ideas and tells a complete, easily followed story. Dec 12, 2017 · "Introducing. For product updates, follow me on Instagram. 5. Location: Blackboard Collaborate. This workshop will cover the basics of navigating the FlipGrid interface, creating assignments, determining assignment settings, and viewing student responses. May 12, 2020 - This freebie includes a detailed list of student directions to help them access and upload videos to Flipgrid. Flipgrid | Empower Every Voice. 5 hrs 1 hr 7 hrs 14. Collaborative Study Space for Students with A Stream of Tutorials. Aug 16, 2021 · Flipgrid allows you and your students to make short, auto-captioned videos instead of typing out discussion posts. This course is only for students for whom Russian is a foreign language; no heritage speakers are allowed. DUE TOMORROW 9/20/18 1. Build student's speaking and listening skills Activity Dashboard - Video Responses, Comments, and Achievements. Also be sure to preview the focus of the next session before wrapping up. )Nearpod: Rhetorical Triangle LessonNearpod: Essay #1 AssignmentRespond: Find a classmate on Flipgrid who you have something in common with. Résumé and Cover Letter 3. I am trying to attach rubrics to these assignments in Canvas, but, no matter how many times I try refreshing, etc. Good explanation shows good effort. It is highly recommended that students complete these assignment, but Programs and Activities. Student response addressed the prompt writing piece. Doctor of Physical Therapy students took to the virtual airwaves to demonstrate their psychomotor skills in response to migrating their learning to an online platform. The embedded rubrics permitted instructors to promptly and reliably assess the students' work. Desktop Mobile. FLIPGRID PRESENTATION RUBRIC Student Name _____ Content Preparation Delivery 3 Points fully and included all details of the . Flipgrid is a very useful tool to facilitate social learning and help students develop video content creation skills for the digital era. 5811 • F: 330. • Résumé Evaluation Jul 24, 2012 · What Are Flipgrid's Other Features? Acquired by Microsoft in June 2018, Flipgrid has a variety of features that make it a useful tool for teaching and learning, including video downloads, video feedback options, stickers and drawings for videos, custom assessment rubrics, video feedback, MixTapes, topic invites, private share links, Vibes, and more–including: Aug 16, 2021 · Grading and Rubrics in Canvas (links and handouts) The Canvas Gradebook. To view the entire rubric , Dec 10, 2019 · Accessing and Viewing Flipgrid videos Posted on December 10, 2019 by kckccoes After setting up your Flipgrid, watch this video to learn how to access and view the Flipgrid videos your students have posted. Oct 23, 2020 · Flipgrid for Flashcards: Using Flipgrid to Create an Audio/Visual Dictionary of Course Terms, Lab Procedures, Demonstrations and More October 23, 2020 Flipgrid as a discussion-based educational technology has taken the K-12 world by storm, but beyond its stickers, filters, and fancy fonts, the tool has a lot to offer to higher education as well. It is an easy tool for both educators and students and has an amazing community of educators who share tips and ideas to use in the classroom. Pre-Approved Pieces of Flair vs. Teachers post topics to spark the conversation and students respond with short videos. Leave instructions and link resources on the topics, so students understand what they need to do. To determine the accuracy that the student performs the song of choice with the articulation of choice, notes and rhythm. In general, the workflow is as follows:Enable the Attendance tool > Add students to the course 'seating chart' > Select the date to score and mark each student's attendanceEnable the Attendance tool through the Navigation tab in the Rubrics for all assignments and activities are located on the Blackboard course website. I asked my students to explain the process of a math problem & their strategy via #Flipgrid. It creates a vibrant learning community. • Résumé Evaluation Discussion Board Tips, Tricks and Rubrics Handout; Flipgrid. Inspired by the innovative work of Sara E. Explanation . Jan 10, 2021 - Explore Jennifer Moore Page's board "Rubrics", followed by 179 people on Pinterest. Because of its flexibility, Flipgrid gives students options around how they want to demonstrate learning, which can lead to more effective assessment and student engagement. My first use was in math. Print and go- everything is ready!EDIT the point values, and letter gradeNov 4, 2018 - Product DescriptionUse this FLIPGRID Rubric with any subject. Live. Science fair is not mandatory this year, but is strongly encouraged for middle school, and encouraged for grades K-5. Don't post Outcomes results to Flipgrid Code Studio Weebly WordSift Code Studio - 5th Period Code Studio - 7th Period Quia Free Music Archive Bensound - Free Music PicMonkey Powtoon Tutorials Powtoon Samples Powtoon Grading Rubric Typing Master Online Code Studio - 2nd Period Core assessment tools in Teams include quizzes in Forms , rubrics for projects and essays, feedback on assignments, Flipgrid for student self-assessment, and Class Insights to monitor student digital activities and participation. In this session, participants will learn how to use Flipgrid's collaborative features for higher education and will be introduced to the various features that Flipgrid offers. The pencil is the "edit" section. Teachers can give video feedback, detailed comments and submit a grading rubric. e. Activity: Flipgrid Video Postings 30%. The student peer responses follow below it. Flipgrid is a useful platform for online learning. The result indicated that using Flipgrid might improve the students' speaking skills in several aspects, such as fluency, pronunciation, and gestures. Everyone will be able to submit the Exam regardless of the content that has been submitted prior. 5 of 7 1. The teachers also allowed the researcher to listen to their own and their students' oral comments on platforms like Flipgrid and WhatsApp. For members, there are three ways to permanently delete or simply hide a video from other students seeing it. youtube. Throughout the document one can find useful links and QR Codes to things like rubrics, in-depth camera features, and a recording guide. Mar 26, 2020 · First, students type flipgrid. • Résumé Evaluation FlipGrid, Google Currents, Using rubrics provides additional guidance for students, improves consistency in grading, and reduces instructor workload. First, select the Flipgrid you'll be working with, and then choose the topic where you would like to add a rubric. 4. The links to the pages are below. An iterative 3 phase project that builds understanding and reasoning skills. First of all, Flipgrid as ay… Public Service Announcement Rubric Group Members: _____ Topic: _____ Category 4 3 2 1 1 Sep 24, 2020 · Rubrics are often touted as a time-saving approach to grading and responding, but not every rubric delivers on that promise. Rubics in Canvas are very flexible. First participants are asked to draw a "good" movie poster. Apr 02, 2020 · Solutions Lab 4 – Using Flipgrid (Video Discussion Board) Lisa Curran Digital innovation , Educational technologies , Solutions Lab April 2, 2020 August 12, 2020 Canvas , engagement , Web 2. For example when you rate a 2 out of 5 on the rubric scale that is not 2/5 Setting Up the Gradebook Grading in the Gradebook Rubrics Tool Checking Student Grades PostEm Attendance Synopsis The Gradebook tool allows you to provide grades to students. There will be preliminary virtual submissions via Flipgrid for the following categories: Monologue, Duet Acting and Solo Musical. It has a lot of fun visual effects as well as intuitive assessment and feedback options that can be included in rubric evaluation and grading components. Instructions & Example Video Response. Once set up with an account, users have access to a ton of Flipgrid features, including video downloads, stickers, drawings, assessment rubrics, video feedback, and more. Simplify collaboration and class management for educators. Once in "edit" section of a Flipgrid topic, there is an option to attach a document using a URL, and then to name the document. Click the pencil icon to edit your Flipgrid Sep 21, 2015 · Make a copy of the template. This system is simple to use, can be integrated with Canvas, and is flexible enough to be used in many teaching situations this fall. ". Students can reflect using Flipgrid which then can be shared, reviewed, and discussed. Technology makes all sorts of meaningful, engaging education accessible […] Jun 14, 2017 · Just attended a webinar in regard to CanvasCon IUPUI: CourseNetworking - How a Social Media Platform Can Increase Engagement in the Online Classroom‌ when I opened up an EmergingEdTech newsletter. University of Wisconsin - Stout - Rubrics Resources FlipGrid - Video Discussion Flipgrid offers several valuable resources for both teachers and students. Flipgrid is a video discussion tool that is considered by it's leaders as a "social learning platform. You just need the deck of cards and small groups of three to five people to get started. g. Time: 9:00amPT/10:00amMT/. They are then asked to respond to at least one peer. Watch a short video and read more below: This opens in a new window. My presentation is here. require submission file types (i. As I am still new to Flipgrid, the summary is definitely not exhaustive and it is intended to serve as a reference only. Videos that you have created can be captioned in Kaltura * or YouTube. Tweet Aug 14, 2020 · 414-529-8270 (Ben Franklin) Flipgrid Information. When I develop new presentations or explore a new passion, I create a page of resources. Originally launched in 2014 for class of 12 graduate students, now one in three teachers in US use Flipgrid in their classrooms (Forbes). Shows some effort. Support your kids learning journey with games, worksheets and more that help children practice key skills. / By msstacymuse. ) you must utilize Flipgrid. CTMS Book Brawl Teams. As an Asset for a Larger Class. Description. Livestock/horse exhibitors must complete a Flipgrid or present to a key leader to be eligible for fair competition. About Flipgrid: Flipgrid is an app, and website that allows students to record video responses. WARNING! If you are grading using a Bb Learn rubric, do not grade by using both the "Rubric Detail" window (opened by clicking the double-square icon) and the expanded "GRADE BY RUBRIC" area. Articulation Flipgrid Rubric. • Résumé Evaluation Aug 10, 2021 · Student Guide to Using Flipgrid. More information on this can be found under"About Topics" • To give Feedback ° Click on the student's response, and type in the box labeled "Comments" ° To give them a numeric grade on the rubric click on the drop The customizable built-in rubrics are a great way for teachers to set expectations and provide feedback on student videos. Rubrics permit teachers to convey their expectations to students. The MetaRubric cards guide the action. Flipgrid is a great and FREE tool for vlogging. Build group projects together. You can create rubrics right in Google Classroom, and students can view these as they work. Detailed description, instructions, example, and grading rubric posted in Blackboard. Jun 04, 2021 · Charles Miller started Flipgrid when he was an associate professor at the University of Minnesota. This is a powerful place to upload a rubric, so that Flipgrid is a wonderful resource for language teachers to assess students' speaking and provide students more speaking practice inside and outside of class time. Want to save money? Grab the Blended Learning Growing Bundle here for more products andFlipgrid Presentation Natural Disasters Poor 1 pts Good 2 pts Excellent 3 pts Information 18 pts. Classroom presentations are a quintessential way for students to demonstrate mastery of a topic. You can meet with Moses Wolfenstein, Gema Perez, and Ryan Martinez. The scores from judges along with votes (likes) from flipgrid will be comibined for an Innovator Award. Fall break days are October 25 and 26. Check out their Getting Started for Educators guide. Detailed description, instructions, example, and grading rubric posted in Difficult to follow. Student Presentations in Remote Learning Environments. April 1, 2021. com. Build a classroom community. 12-07-2018 11:42 AM. Yes, @sarreguin ‌, the workflow for adding a rubric to an External Tool assignment is to create the assignment as a regular online submission type, save it, add the rubric, and then change the submission type to External Tool. Open Office Hours: Mondays from 9:00-11:00, Wednesdays from 10 to noon, and Friday from 1:30-3:30. You should consider a specific feedback plan for your course and share Jan 31, 2015 · Scenes should be changing every 5-10 seconds. Exams will cover the content found in the reading, textbook questions, problem sets, and synthesis questions. • Résumé Evaluation Aug 19, 2021 · Grading Rubric; Submit your Flipgrid Video / -- I'll write free-form comments when assessing students. Please contact Flipgrid Support for issues you or your students may have. The link will be provided. Gradescope can be used for evaluating handwritten responses, programming, diagrams, formulae, and other coursework that can be challenging to assess virtually. Make learning fun. GeniusScan, CamScan) Aug 17, 2021 · ReadSpeaker: A New Text to Speech Tool in D2L . Grids can be Apr 21, 2020 · Flipgrid is a free online video tool from Microsoft that allows students to record video for up to 10 minutes. Adjust other assignment settings, like Points, Assignment Group, and Display Grade as…, as needed. This generator can be used to help you assess student projects. Flipgrid Code Studio Weebly WordSift Code Studio - 5th Period Code Studio - 7th Period Quia Free Music Archive Bensound - Free Music PicMonkey Powtoon Tutorials Powtoon Samples Powtoon Grading Rubric Typing Master Online Code Studio - 2nd Period Using Rubrics to provide Strength-based Feedback for Social Work Assignments (2/4/19) by Kristen Samuels Reviewing my 2019 grading practices for #SocWorkEd – Part 2 (5/27/19) Sharing power with students by seeking their input on a grading rubric (6/19/19) by Matthea Marquart & Elise Verdooner Oct 08, 2015 · Formative Assessment & Monitoring Student Progress Focused Instruction, Guided Practice, Collaborative Learning, Independent Learning 2 more responsibility of the learning, teachers will want to observe students' understanding as well as Integration of EdPuzzle, FlipGrid and Kahoot into English Language Teaching Integration of EdPuzzle, FlipGrid and Kahoot into English Language Teaching WebinarEnglish Online Inc
Sours: http://steelline.biz/dhws
Flipgrid grading rubric
Handouts. Rubik's cube is more than a puzzle- it's a question waiting to be answered. Description. Log in to access your recent Groups, Topics and videos. It is colorful and student-friendly with clear explanations of expectations of a video response submission on the Flipgrid platform. . 5 hrs 1 hr 7 hrs 14. Build student's speaking and listening skills Activity Dashboard - Video Responses, Comments, and Achievements. We want to inspire a network of educators to foster critical thinking, connect students to modern agriculture, and provide sound science-based resources that meet teachers' and students' needs in the classroom. com 2 types of accounts: FlipGrid One (Free) 1 Grid, unlimited topics, basic rubrics FlipGrid Classroom (/year) Unlimited grids, unlimited topics, detailed rubrics, PD opportunities Grid: Your classroom or community of learners. The Merrills. This is important because it shows the students process and also gives them an opportunity to teach others. You just need the deck of cards and small groups of three to five people to get started. Welcome to the brand new Activity dashboard! 🎉 From this one page, you can: Manage all video responses and comments that have been posted to any of your Topics. 3 pts. I'll demonstrate more ways that I engage students in this class in the video below. Explanation . A Kindergarten class in Iowa connected with Kindergarten students in Sudan. 12-07-2018 11:42 AM. Throughout the document one can find useful links and QR Codes to things like rubrics, in-depth camera features, and a recording guide. Using icons and colors in the Gradebook. I mean, it's not rocket science to pick the skills you have added to your own personal bank…but not being a rocket scientists, I did take a while figuring out when I had actually added them. Here are links to resources for faculty teaching with technology, particularly in RCHSS. In this session, participants will learn how to use Flipgrid's collaborative features for higher education and will be introduced to the various features that Flipgrid offers. flipgrid introduction. Pros and Cons. In fact, just yesterday (the day before I publish this post), Flipgrid threw a HUGE bash at their Minneapolis headquarters to release the all new Flipgrid and a slew of new features. It is not a corporate product hacked for classroom use. Use this to make sure students are recording Flipgrids that are ready to be published. Figure 2 Student Submission with Peer Responses. (Rubrics and requirement for participation in Discussion Like every Flipgrid posting, after you post your video reflection, make sure you reply to two others who have posted a piece of flair on the same Flipgrid. Apr 27, 2020 · Creating a Virtual Classroom with Microsoft Teams. Name the document so it reflects your assignment. MATLAB Grader allows instructors to Create interactive course assignments from scratch and a library of reusable example courses and assignments. Creating & Grading Using a Canvas Rubric- An effective way to communicate feedback to your students and easier grading. App 1: Buncee to create engaging content! Buncee, a multimedia presentation (Google Classroom App) tool that seamlessly integrates into Wakelet. • Résumé Evaluation Difficult to follow. The student has demonstrated a successful understanding of Audio. Exporting Grades in Canvas. )Nearpod: Rhetorical Triangle LessonNearpod: Essay #1 AssignmentRespond: Find a classmate on Flipgrid who you have something in common with. Instructional Tools. Once in "edit" section of a Flipgrid topic, there is an option to attach a document using a URL, and then to name the document. Flipgrid 2. FlipGrid Reflection Rubric: 4=Exceptional thoughts and reflection presented in video reflection. 5 of 7 1. pedagogies. facebook. Technology makes all sorts of meaningful, engaging education accessible […] Jun 14, 2017 · Just attended a webinar in regard to CanvasCon IUPUI: CourseNetworking - How a Social Media Platform Can Increase Engagement in the Online Classroom‌ when I opened up an EmergingEdTech newsletter. 5 hrs N/A Sept 26; Oct 10 November 26 December 17 Total = 33 hrs Assessment Rubrics The following assessment rubrics are available in the "Rubrics" lesson on Populi. Get this free project-based learning rubric here. Participants Mar 17, 2018 · Literature Circles & Flipgrid. We may have lost the sense of security and safety our physical classrooms gave us, but with the help This workshop will show you principles and techniques to create visual elements to add interest to your course. Using Flipgrid isn't about recording videosit's about learning. Use ZOOM to have virtual meetings. 1. Date: Saturday December 16, 2017. Assessment for Lesson 6- RUBRIC FLIPGRID Video - Talk Show: Let's Flipgrid it! Teacher Name: Josette MCFARLANEBROWN Student Name: _____ CATEGORY 4 3 2 1 Videography -Clarity Video did not rock/ shake and the focus was excellent throughout. Grading Rubrics and Orientation/Guidance Bases are solid instruments to collect formative assessment information. An added bonus to using rubrics is that your students know what to expect. Donegal Assessment Survey. See more ideas about teaching, classroom tech, teaching technology. Tuesday August 17, 9:00-9:45A, Canvas Rubrics. Résumé and Cover Letter 3. To view the entire rubric , Dec 10, 2019 · Accessing and Viewing Flipgrid videos Posted on December 10, 2019 by kckccoes After setting up your Flipgrid, watch this video to learn how to access and view the Flipgrid videos your students have posted. Use Turnitin to allow students to conduct peer reviews of papers submitted by classmates. Within Google Classroom, students and teachers iRubric F229269: Create a FlipGrid video responding to the prompt. Grade Levels: K-5. March 17, 2018 / Melissa King. Teachers can create a a question or topic and then students can create a video in response as well as respond to their classmates videos. Often, it's recommended to let students see the rubric before submitting an assignment so they can have an idea of how their submission will be assessed. Teachers can provide feedback to students AND better yet students can provide feedback to one another. • Résumé Evaluation Apr 09, 2018 · Flipgrid also integrates into Canvas, Microsoft Teams, Edmodo, Blackboard, Google Classroom, Moodle, Schoolology, Brightsway, Sway, WordPress, and PowerSchool. March 11, 2021. Type: Assessment. There are other differences in the paid vs free versions which you can check out here. With this tool students can create their videos to share with you, teacher can monitor students, communicate with families and other teachers. Members can view private text and video comments under their response in addition to my. Bollman; Pages; Math Content Standard Rubrics - Quarter Four Aug 10, 2021 · Introduction in FlipGrid (Flipgrid will ask you for a username. To determine the accuracy that the student performs the song of choice with the articulation of choice, notes and rhythm. If you have NOTHING TO DO this week for Computer Lab, visit Chrome Music Lab. It was designed for beginner Flipgrid users in mind but will fit most levels. Students and teachers can adapt this to any subject area and the ideas are endless. Workshops In our ongoing effort to improve professional development, ECE uses a micro-credentialing system in which badges are issued for attending live workshops through ECE as well as completion of assignments associated with some workshops. The rubric includes the assessment of both the process used for the project and the assessment of the final product. Provide an exit ticket at the end of the microgroup session in order to assess students' learning and gather feedback on the session. Rubric for Posting Reflections and Feedback Videos must be submitted through Flipgrid. Sep 14, 2020 · I have synced Flipgrid and Canvas and have several assignments that students turned in using Flipgrid. Mar 10, 2020 · Rubrics can take some time to create and use, but once you have established your assignment expectations it allows for an ease of communication about it, which in the long run creates a less stressful learning experience. Poor quality shows poor effort. Oct 01, 2018 · A free printable download, MetaRubric is a playful learning experience about making rubrics. Flipgrid | Empower Every Voice. Creating a RubricUse rubrics when you want to use a consistent set of criteria in grading. Assignments can be set to display grades as points, a percentage, complete/incomplete, GPA scale, or letter grade. 142 Views. As I am still new to Flipgrid, the summary is definitely not exhaustive and it is intended to serve as a reference only. Email. Home › Blog Topics › Using Flipgrid for Face-to-Face Asynchronous Student Interactions. Now, you will see the assignment with an embedded Flipgrid page, but you still need to edit the Flipgrid initial/instructor post. Because rubrics can take some time to create and use, they are most often used for weighty summative premier exhibitor, etc. Rubrics help instructors streamline the process of grading and make grading more efficient. The scores from judges along with votes (likes) from flipgrid will be comibined for an Innovator Award. Welcome to the grid! Flipgrid is a multi-media message board, which is called "grid. Aug 10, 2017 · We're listening and have built the all-new Flipgrid specifically for you, your students, their families, and your communities. ? Jul 19, 2021 · The screenshots shared by the teachers included samples of self, peer and teacher feedback provided through written comments and rubrics on all the aforementioned skills. Flipgrid Tutorial - Creating Video Assignments Rubrics for Teachers and Students in onCampus Earning a 4: Informational Writing Rubrics and Exemplars Conversion of Mental Symptoms into Repertorial Language and Comparison of Mind Rubrics Part-2 Students Flipgrid Self-paced, more time to process and reflect on the activity itself Books and Rubrics: Association of American Colleges & Universities (AAC&U). They provide a gallery of rubrics for every grade and topic. 0 "Fipgrid is a great tool to assist in engaging the entire class in discussion" An Educational platform for parents and teachers of pre-k through 7th grade kids. Turned-in work can be graded using the rubric, and the score will be automatically calculated. Reponses are due by Saturday nights; 11:59PM. Please Note Flipgrid is available to use on all platforms: iOS, Android, and web. • Résumé Evaluation FlipGrid, Google Currents, Using rubrics provides additional guidance for students, improves consistency in grading, and reduces instructor workload. Portfolium Profile and Portfolio 10. Student was completely prepared and had obviously rehearsed. Desktop Mobile. Participation Rubrics 2. The course runs from September 1 through December 12, followed by final exams week. FREE FOR TEACHERS Get Started. Student response addressed the prompt Getting Started with FlipGrid Sign up for an account at flipgrid. ° Choosing either basic or custom rubrics is done when creating the topic byselecting the "More Options" button. Create a storyboard , shoot list and script . I am trying to attach rubrics to these assignments in Canvas, but, no matter how many times I try refreshing, etc. If clearly set up, a rubric can make sure points are being applied or deducted accurately. Prestwick STEM Academy 6th Grade Science 1. Session Objectives: Discover the features offered in Flipgrid and Rubrics 101 and a Blackboard Rubric Tool Demo » Flipgrid, a video-based, asynchronous discussion tool, is available for free as part of UVM's Microsoft Office 365 suite. And it is FREE for both educators and students! The following is a brief summary of how I used Flipgrid in CHIN101 Fall 2020. Program shows a continuous progression of ideas and tells a complete, easily followed story. 5. Please contact Flipgrid Support for issues you or your students may have. Not knowing when students are available online is one of the biggest challenges facing educators during this period of remote learning. Creating and Using Rubrics for Assessment. I-Statements (5%): Demonstrate I-Statement skills in Flipgrid (a free, education-focused video creation/sharing platform). They are then asked to respond to at least one peer. On the 2nd tab, edit the rubric to reflect your assignment. Flipgrid is a free video discussion tool from Microsoft that enables educators to communicate and interact with students through short video recordings. Instructions & Example Video Response. Create a collaborative sites where learners can engage by sharing and discussing course-related resources. • Résumé Evaluation Jul 24, 2012 · What Are Flipgrid's Other Features? Acquired by Microsoft in June 2018, Flipgrid has a variety of features that make it a useful tool for teaching and learning, including video downloads, video feedback options, stickers and drawings for videos, custom assessment rubrics, video feedback, MixTapes, topic invites, private share links, Vibes, and more–including: Aug 16, 2021 · Grading and Rubrics in Canvas (links and handouts) The Canvas Gradebook. Made free by Microsoft. Rubrics also show up along the right side of the assignment you are grading in SpeedGrader. Good explanation shows good effort. In Canvas, Flipgrid can be added to your course's left navigation. com/NorthwestIndependentSchoolDistrict https://twitter. View Recording. Oct 19, 2018 · An professional biography is a short summary of your credentials, achievements, interests, and connection to a conference, publication, or other place where you or your work may be presented. Don't forget to register your bulb and report your planting date! Fall. Furthermore, it is super simple to make one and share it with whomever you want. By default, all new Topics will have Text Comments en Aug 18, 2021 · About Flipgrid: Flipgrid is an app, and website that allows students to record video responses. StuCo - Mrs. April 3, 2020. Edutopia article 2014. g. It is simple and intuitive to use, and students appreciate its convenience and familiar user interface. Note: do not use Flipgrid integration with Canvas if you want students to be able to easily use mobile devices; just post the link or embed code in your discussion board or page. Video Feedback 💯 Flipgrid Classroom educators can now use custom rubrics, provide text comments, AND share private video feedback to any student response! NOW LIVE 🚀 #FlipgridFever" Mar 19, 2020 · I gave out rubrics that students can use to evaluate each other's work. 0:00 / 9:37. This guideline addresses the "Why" of learning providing: Options for recruiting interest Nourish the Future is a national education initiative developed by science teachers for science teachers. Everyone will be able to submit the Exam regardless of the content that has been submitted prior. First of all, Flipgrid as ay… Public Service Announcement Rubric Group Members: _____ Topic: _____ Category 4 3 2 1 1 Sep 24, 2020 · Rubrics are often touted as a time-saving approach to grading and responding, but not every rubric delivers on that promise. This is done through creating grids with topics and the students upload videos to respond to the topic. Gradebook Setup in Canvas. 5811 • F: 330. This free resource is a great way to have students verbally respond to prompts, practice language skills, connect with their classmates, and form relationships. Welcome to the Kennesaw State University Radow College of Humanities and Social Sciences Office of Digital Education (KSU RCHSS ODE) tutorials page. science, humanities, or other content areas) or skills and competencies (e. ". Fleming County Schools online registration is now open for returning students for the 2021-2022 school year. Rubric for Posting Reflections and Feedback. The idea that everything I want students to do is graded in some way can be daunting, but using rubrics makes quick work of it. You can register and immediately view the archive of the session. Dr. Ease your management and The summer course data with 23 students demonstrate the rich engagement: over 1,252 hours of engagement by students with Flipgrid along with 2,436 videos posted. Mention the text at least 3 times throughout the post and provide real life examples/experiences to support your answers. Hear from Kim Carter ( @Kcarte02 ), a Conestoga faculty member who used FlipGrid to collect peer feedback, practice communication skills, and eventually mark a group skit. Flipgrid is a useful platform for online learning. Online Discussion Rubric Criteria Unsatisfactory = 0 Limited = 1 Proficient = 2 Exemplary = 3 Score Grading using rubrics. Shows some effort. Exams will each cover 2 weeks of material and will not AP French Summer Homework Jettons-nous à l'eau ! In other words, let's jump in, get started! There are 3 parts to your summer homework: a reflection/essay (in English) over the exam itself, a diagnostic exam, and vocabulary to iRubric F229269: Create a FlipGrid video responding to the prompt. Giving Feedback Online. Watch-Try-Discuss! It is recommended that you watch shorter videos twice. At the beginning of the writing/design process: Pitches on Flipgrid. Once their results are complete and collected, students will be asked discussion questions such as if they were surprised to learn about the amount of fake news being portrayed, the impact fake news has on the student, people in their life and the election, and steps the student could Feb 09, 2021 · Flipgrid comes into play when students begin to add their contributions in Flipgrid shorts videos or text responses and can choose a format they feel most comfortable with. Time: 9:00amPT/10:00amMT/. Explore: Students gather background iRubric F229269: Create a FlipGrid video responding to the prompt. is licensed under a Creative Commons Attribution--ShareAlike 4. Using a spreadsheet for your rubric Apr 29, 2020 · Virtual everything: Flipgrid allows for prompts, instructions, rubrics, additional documents needed…almost anything you would need in one centralized area under your topic. Flipgrid is a free online tool that allows students to record videos in response to a prompt. Some key features: First, students type flipgrid. 133,604. FeaturesVirtual everything: Flipgrid allows for prompts, instructions, rubrics, additional documents needed…almost anything you would need in one centralized area under your topic. Nov 18, 2020 · Live. Students, you can also find all your assignments, rubrics, and project instructions on Google Classroom. Don't post Outcomes results to Learning Mastery Gradebook. Dec 02, 2019 · On Teaching Speaking: 4 Benefits of Flipgrid Video Recording. Please login to Avenue to Learn frequently throughout the week to see course announcements and updates and to complete course activities, or change your Avenue notification settings to meet your needs. Discuss this rubric with other members. Flipgrid can be a readily accessible, cross-platform tool for formative assessment across a range of curriculum areas. Flipgrid Whiteboard Mode - Show your work by flipping on the new Whiteboard Mode with Live Inking. 2=Ok reflection, but more preparation could have enhanced the video. Build a classroom community. How to Write Great Rubrics. University of Wisconsin - Stout - Rubrics Resources FlipGrid - Video Discussion Flipgrid offers several valuable resources for both teachers and students. Learners verbally complete the assignment by creating a short video response. In the simplest terms, it is a place to record short videos in response to a common prompt. Jump to Learn how to build conversation skills and design supported opportunities for all of your students to engage in discussions about academic content with diverse partners. For example when you rate a 2 out of 5 on the rubric scale that is not 2/5 Setting Up the Gradebook Grading in the Gradebook Rubrics Tool Checking Student Grades PostEm Attendance Synopsis The Gradebook tool allows you to provide grades to students. Click the Educator Login and then create an account from there. Flipgrid is a video discussion tool with capabilities for sharing student responses through video. It's fast! It's fun! Here is the direct link to share this resource review. Format is easy to follow. The Select "Enter a Flip Code". ly/2L2Yb5q. Track student improvement: It can be very beneficial to use rubrics in conjunction with The Gradebook tool allows you to provide grades to students. Students then modify and improve their work after participating in peer evaluations. The result indicated that using Flipgrid might improve the students' speaking skills in several aspects, such as fluency, pronunciation, and gestures. Post a video response to their introductory video. This is a powerful place to upload a rubric, so that This bundle includes two Google Doc versions of the Flipgrid How-To Guide for Students and the Activity Grading Rubric. Subscribe to posts FlipGrid has been acquired by Microsoft and is now completely free! Andy Plemmons: Natural Side of Student Voice – comments about using Flipgrid; 2nd Graders Use Their Research To Respond Via Flipgrid! The Educators Guide to FlipGrid – Free PDF with tons of details about using FlipGrid. Feb 01, 2020 · Charles Miller started Flipgrid when he was an associate professor at the University of Minnesota. 11:00amCT/12:00pm ET. Rubrics are quick and easy to create and add to graded assignments. docx; Link to the Topic on Flipgrid / -- I'll write free-form comments when assessing students. Don't post Outcomes results to Flipgrid Code Studio Weebly WordSift Code Studio - 5th Period Code Studio - 7th Period Quia Free Music Archive Bensound - Free Music PicMonkey Powtoon Tutorials Powtoon Samples Powtoon Grading Rubric Typing Master Online Code Studio - 2nd Period Core assessment tools in Teams include quizzes in Forms , rubrics for projects and essays, feedback on assignments, Flipgrid for student self-assessment, and Class Insights to monitor student digital activities and participation. You can export data for each assignment. Book Talk Rubric Name_____ Title of Book _____ Author_____ Level 4 Level 3 Level 2 Level 1 A rubric is tool used by an instructor to assess student work. It has a lot of fun visual effects as well as intuitive assessment and feedback options that can be included in rubric evaluation and grading components. • Résumé Evaluation Discussion Board Tips, Tricks and Rubrics Handout; Flipgrid. 1. May 12, 2020 · They are both MIE Experts, MIE Trainers, Ed to the Max Consultants, and Flipgrid Ambassadors. • Videos can be sorted in Flipgrid by position, date, name, number of views, or number of replies • Videos will be automatically captioned, but it will take a few minutes for those captions to appear • Option to provide feedback, evaluate, and adapt rubrics in Flipgrid. Parents/guardians will log in to their Parent Portal for Infinite Campus to complete this process for all returning students, whether in-person or virtual (FCPA). This generator can be used to help you assess student projects. They can also add uploaded photos and videos, trim unlimited clips and include a whiteboard, video styles, text, emoji, and more, to enhance their videos. Location: Blackboard Collaborate. Students can reflect using Flipgrid which then can be shared, reviewed, and discussed. A good thing to note is that student responses on Flipgrid are public to the class, so all students in the class will be able to see each other's responses. Learn more. Go to my. Pre and post surveys, oral storytelling elements, writing, and Flipgrid are the main resources to support engagement among Hmong students along with rubrics to evaluate the level of success from the curriculum. Flipgrid is awesome and it keeps getting awesomer!! Flipgrid is DESIGNED for schools. You cannot create public grids, even if Flipgrid. On a 4 point rubric, the possible scores should not be A, C, F and really low F. 0 Replies. Video did not rock/ shake and the focus was excellent for the FlipGrid for Audio/Video Assessment and Feedback. Rubrics Typing iPad Apps Resources. SCREEN RECORDING was just added to the the options of ways students Play Sarah Rivera, PeerGrade, Screencastify, Loom, Battelle FIP & FlipGrid for Feedback EDT003 Song by Jake Miller (@JakeMillerTech) from the English album Educational Duct Tape - season - 1. Jan 10, 2021 - Explore Jennifer Moore Page's board "Rubrics", followed by 179 people on Pinterest. • Résumé Evaluation Mar 27, 2020 · I use rubrics so the students know what I'm looking for, and it makes it easier for me to grade. Jeni has served in education for 20 years as a 6th grade Math Teacher, 7-12 ELA Curriculum Specialist, Technology Integration Specialist and a Science Curriculum Specialist. Fall break days are October 25 and 26. Build collaborative Mind Maps. 29sep12:00 pm 1:00 pm Virtual Event Setting Up Flipgrid (noon) Video Discussions Event Details In this training, you'll learn how to set up Flipgrid and use it in your Canvas course. I wanted students to have a personal job goal because supporting them in that future pursuit created Grading/Rubric: You will have the opportunity to participate in 13 forums. Teachers can give video feedback, detailed comments and submit a grading rubric. Free rubric builder and assessment tools. Print and go- everything is ready!EDIT the point values, and letter gradeFlipgrid was created for a single class, (Charlie's University of Minnesota PHD students, to be exact), but it didn't take long for educators to begin using Flipgrid to connect with classrooms around the world. Not only do these rubrics save time when grading, they are a useful tool to justify your grading to students, thus reducing New Educator Standards. It just depends on how it is set up. Short and casual presentations can be sprinkled in to a syllabus as small assignments, or more robust presentations can serve as a midterm or final. Plant when nighttime temperatures have stayed consistently below 60°. Teachers post topics to spark the conversation and students respond with short videos. iRubric V2XW825: Rubric title FlipGrid. Personally, I like to use the Flipgrid platform as a scaffolding tool. A grading rubric template includes the criteria you will use to assess a specific task. Oct 04, 2018 · 5 Technology Tools That Enhance Student Learning. In addition to #GridPals (Think penpals, only digital) and the "Disco" library ( as of today over 4662 topics are listed in the library!) a new feature is Mix Tapes. Most group members have roles and use some video vocabulary and floor language during rehearsals. Discuss. In Flipgrid, educators post discussion prompts and students respond with short videos, whether they are learning in class or at home. 17 at Flipgrid HQ in Minneapolis! Flipgrid Launch Event - August 10th, 2017 from Flipgrid on Vimeo. Because of its flexibility, Flipgrid gives students options around how they want to demonstrate learning, which can lead to more effective assessment and student engagement. Corubrics and Rubistar are very useful Rubrics generators. Features A grading rubric is provided on Canvas. Apr 03, 2020 · Make an assignment as simple or complex as you need, whether you want to send out a quick comprehension check or lay out a research paper with a grading rubric and multiple resources. forums, Flipgrid links, assignment instructions, rubrics, and submission folders will be posted on Avenue to Learn. ) you must utilize Flipgrid. Rubrics are available to students before they submit their assignment (and after), so the student can see exactly what is expected of them and where they might have fallen short. Aug 01, 2018 · Let's Be GridPals 🌍🌏🌎. How to delete or hide your videos. The video posts display in a grid, hence the name Flipgrid. Setting Up Attendance in a CourseWhether your course is occurring live over Zoom or in person, use Canvas's Attendance tool to keep track of student attendance. You could be twins, triplets, quadruplets, or quintuplets! Spirit Week - January 23rd-29th. You can highlight, underline, and strikethrough text in PDF and other document formats. Instructors can communicate with students, provide course materials, administer assignments and assessments, and track grades using Canvas. This rubric could easily be applied to other tools such as videos/recordings on Google Voice, Seesaw, etc. Instructor Perspective - Instructor feedback - Basic - Custom Rubrics for Posting and Providing Feedback on Flipgrid Your participation on Flipgrid is self-assessed and covers both your posting of reflections and your feedback to classmates. Jun 04, 2021 · Charles Miller started Flipgrid when he was an associate professor at the University of Minnesota. Implementation Steps: Before and after the Fishbowl, provide time for students to gather evidence-based thoughts on the seminar topic. If you use my listRubrics or rubricTab you can copy and paste the rubric. - G radebook will be kept up-to-date. Portions may be poorly organized. Basic Feedback:Here's the last stretch of our review of using Outcomes with Rubrics - a demo of how to grade in SpeedGrader using the rubric. Scroll down to the middle of the page and find Grading Scheme. We need these platforms to be easy to use. As an Asset for a Larger Class. Collaborative Study Space for Students with A Stream of Tutorials. Flipgrid This is another useful tool for assessment. Flipgrid: Increase student-centered assessment by using Flipgrid to have students share their build
Sours: http://steelline.biz/dhws
She groans, opening her mouth. Such a sight, as two men simultaneously penetrate into the female flesh, I have seen only in my porn videos. Her head turns to me, our gazes intersect. A slight squeezed smile appears on her lips.
Grading rubric flipgrid
On the bed was a long peignoir with a short slip and women's slippers-sandals with very high heels. Is that for me. Yes. But rather not so much for you, as for me, Semyon Mikhailovich chuckled and, hugging the "girl" around the waist, began kissing her on the lips.
How to Give Customized, Private Feedback (Video, Written, \u0026 Rubric) to Students in Flipgrid
Expander. Then she rolled a gauze swab into a small turunda and, lubricating with ointment, introduced it into the anus. Then she applied a thick gauze swab and fixed it with a plaster. The woman gradually came to her senses and moans began to be heard through the muffling gag.
Similar news:
And then he is kind of "in a stupor. " - Yes, please, doctor. She readily said and held out her breast to me, and on the second she squeezed the nipple.
1324
1325
1326
1327
1328