Videos & Data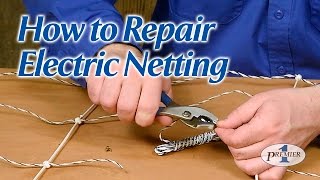 ---
Benefits
Easy to use and inexpensive.
---
Specs
Repair kits include:
2 post tops
2 bottom clips for posts
Brass ferrules for making electrical connections
Conductive string is at least 10 ft long
Non-conductive string is at least 10 ft long
Additional brass ferrules, post tops and bottom clips for posts can all be purchased individually. (See Accessories tab above.)
Note: Purchase the repair kit that matches the netting you have.
#201700 use for:
ElectroNet 9/35/12 (SS & DS)
ElectroNet Plus 9/35/12 (DS)
ElectroNet Pro 9/35/12 (SS)
HogNet 10/24/12 (SS)
RaccoonNet 4/18/12 (SS)
VersaNet Plus 9/20/3 (SS)
VersaNet Plus 11/30/3 (SS)
#201710 use for:
ElectroStop 10/42/12 (SS & DS)
ElectroStop Plus 10/42/12 (DS)
PoultryNet 12/42/3 (SS & DS)
PoultryNet Plus 12/42/3 (DS)
PoultryNet 12/48/3 (SS & DS)
PoultryNet Plus 12/48/3 (DS)
#201720 use for:
Horse QuikFence 4/48/24 (DS)
#201721 use for:
Cattle QuikFence 4/28/24 (DS)
Deer QuikFence 5/60/12 (DS)
Pig QuikFence 6/30/12 (SS)
Sheep QuikFence 6/35/24 (DS)
#201730 use for:
Bear QuikFence 11/35/12 (DP)
ElectroFence 11/48/12 (SS & DS)
ElectroFence Plus 11/48/12 (DS)
ElectroNet 9/35/12 (DP)
ElectroStop 10/42/12 (DP)
PermaNet 10/48/6 (SS & DS)
PermaNet Pro 11/48/6 (DP)
PermaNet 10/48/3 (SS & DS)
PermaNet Plus 12/48/3 (SS & DS)
PermaNet 19/68/3 (DS)
PermaNet 12/68/6 (DS)
PoultryNet 12/42/3 (DP)
PoultryNet 12/48/3 (DP)
#201740 use for:
Chicken Net 11/42/3 (SS), yellow
Chicken Net 12/48/3 (SS), yellow
Goat & Sheep Net 10/42/7 (SS), yellow
Sheep & Goat Net 9/35/7 (SS), yellow
---
Installation
How to repair a horizontal wire:
Disconnect from the power source.
Cut out the bad portion of the horizontal wire with a pair of scissors.
Measure out an appropriate amount of the replacement conductive or non-conductive material.
Tie the replacement material to one side of the break with a square knot. (If possible, twist the metal filaments together of the original material and the splicing material after the knot is made.)
Repeat the twisting, tying and knot step on the remaining side of the break.
Place a brass ferrule over each of the square knots and clamp together with pliers.
Accessories
Listed below are recommended optional components. Your particular situation may require alternative recommendations. Please call and talk to our fence consultants if there are any questions at 800-282-6631.
Reviews (11)
Average Rating:★★★★★4.5 out of 5
Number of reviews:11 customers reviewed this product.
Recommended: 10 out of 11 said they would recommend this product to a friend.
Write a Review
You must be logged in to leave a review. Please sign in.
Repair Kits for Netting
Yvette R from Ohio
Desperately needed this, as my dog chewed through my brand new goat fencing when power was off.
Repair Kits for Netting
Penny A from Maine
Worked great at fixing many damaged areas in my older net fence, both electrified and non-electrified wires. I ran out of brass ferules, so watched a YouTube video and finished the repairs using zip ties to secure the knots.
Repair Kits for Netting
Lunell A from Mississippi
I bought extra repair kits for my new poultry netting this time - just in case. Last year my neighbors' goats demolished my first poultry net enclosure - and the repair kit that came with it was not sufficient for the massive damage the goats caused. Now, with extra repair materials, I will be prepared for anything.
Repair Kits for Netting
Martha S from Tennessee
As usual with Premier 1, everything came as expected.
Repair Kits for Netting
James L from Georgia
Premier ! is always there when I need them. Their people are knowledgeable and friendly with advise. I really like their videos. I recently had to repair my electric goat fence (pesky coyotes!) I watched their video, bought the parts and was able to complete the repairs in about an hour.
About Conductivity
Conductivity measures the amount of electrical current a material can carry. The opposite measure is known as resistance.
Many of Premier's nets feature a green and white superconductor that has both stainless steel and tinned copper filaments for optimal conductivity. These "premium" nets are 10 times more conductive (38 ohms per 1000') than our "basic" nets. This enables the electric pulse to travel much farther and be less affected by weed contact.
We do not recommended the basic nets listed below for fences exceeding 500 ft in length:
Customers who are unhappy with netting are often those who've chosen one of these or their farmstore equivalents. Why do we offer them? Because they are similar in design and conductivity (380 ohms) to nets from our competitors—and comparisons make decisions easier.
Types of Line Posts
Line posts are built into the net. Three options are available.*
Single Spike (SS)
The best choice, unless your soils are always soft or very hard.
Double Spike (DS)
Posts allow you to push in the spikes with your foot. When soil is hard or rocky, double spikes are more difficult to install and remove.
Drivable Posts (DP)
Allows use of a mallet or dead blow hammer for installing posts in dry, hard or rocky soil. Features a "spike stop" for extra support and internal fiberglass ribs for added strength.
Tip: To insert a line post into frozen or hard soil, use a power tool to drill pilot holes.
* Not all fences have all line post options.
About Positive/Negative (Pos/Neg) Nets
Is your area dry?
Conventional electrified fence systems rely on soil moisture to be effective. However, not all areas have the required moisture.
Dry soil increases resistance—a weaker, less effective pulse occurs that does not deter animals.
To overcome this, Pos/Neg nets* are wired to allow the use of every other horizontal strand as an extension of the ground terminal. Because half the strands are connected to the ground terminal or ground rod, reliance on soil moisture is reduced. A PowerLink must be purchased separately to make the secondary ground connection.
How it works…
In order to receive a shock, the animal must touch both a positive (hot) and negative (grounded) strand at the same time. This will deliver more pain to the animal than an all hot net (Pos/Pos) because moisture in the soil is not required to complete the circuit.
Pos/Neg fences can be converted to Pos/Pos in moist conditions. Remember, all fences must be kept free of vegetation.
* Not all fences have Pos/Neg options.
Line Post Spacing
"Plus" nets—6'8" spacings between built-in line posts*
Standard nets—10' or 12' spacings between built-in line posts*
* Spacings are approximate.
Distance between built-in line posts may vary by product.
Essential Energizer Advice
Buy a larger energizer than necessary. When the fence pleases, most folks will buy more fence—and need additional output.
Use a low-impedance intermittent pulse energizer.
Use a fence tester to check the voltage often.
Use enough ground rod(s)—included with our energizer kits.
Don't allow your lead acid battery to discharge below 40%.
Use insulated wire that is designed for electric fences.
Always connect the fence to an energizer, not an outlet.
Visit this link for answers to other common energizer questions.
Two Basic Types
All-in-one Solar
Solar units are very portable.
Because they need a battery, these units are more costly to purchase and operate than plug-in units.
Batteries are less effective in cold temperatures (deplete faster).
Most farmstore solar units are too weak, in joules of output, to properly energize netting. That's why we designed our own.
Plug-in & Battery
Least cost to purchase and operate per joule of output.
Best for fences exposed to heavy vegetation.
Cold temperatures do not affect performance.
Recommended for whole-farm systems, but can be complex to install. Higher output requires more ground rods, underground cables, multiple output terminals, etc.
Shipping Zones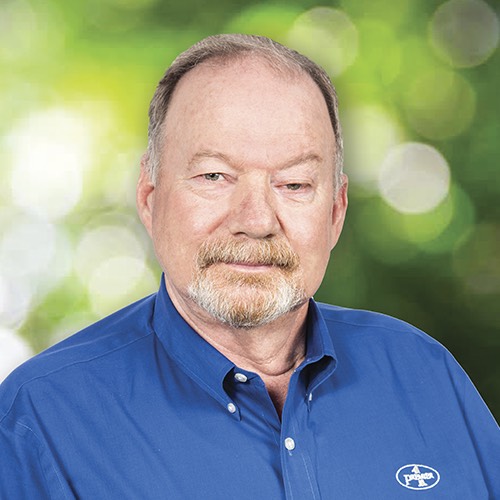 Dr. Dan Morrical, Ph.D.
Premier 1 Supplies
Dan Morrical joined the Iowa State University staff in 1984 as Extension Sheep Specialist after completing his doctorate degree at New Mexico State University. He held the rank of Full Professor as of July 1, 1995 and retired from full-time teaching in 2017.
While at Iowa State University, Dr. Dan Morrical was responsible for educational programs in all areas of sheep production, ranging from nutrition, genetics, marketing and management. Research areas focused on applied projects in the areas of nutrition, forage utilization, genetics, out-of-season breeding and lamb survival.
Dr. Morrical has been heavily involved in providing educational resources to the sheep industry. He has authored over 30 extension fact sheets, ration balancing software programs, grazing videos and co-authored the nutrition chapter of the SID Handbook with Dr. Margaret Benson from Washington State University.
Dr. Morrical now serves as Premier's on-staff small ruminant nutritionist and sheep production advisor. Most recently, he's introduced a line of "GOLD FORMULA" mineral premixes under The Shepherd's Choice® brand, aimed to maximize hoof health and immunity.
Braided vs. Twisted
Braiding instead of twisting the horizontals increases the frequency of metal filaments on the outside of the strand.
What's the benefit?
More metal is exposed on the outside of the strand. This enables improved animal to conductor contact. The electric pulse is better able to travel from the fence and into the animal, resulting in a memorable shock.
A tighter, braided weave results in fewer snags when carried or pulled through pastures, reducing frustration.
Sours: https://www.premier1supplies.com/p/repair-kits-for-netting
Vinyl Fence Post and Panel Repair Kit (Khaki Color)
200 ratings Write a review
Item #:
IDR808918
This product is not Fulfilled by Ubuy and can take minimum 10 days in delivery. We might cancel the product from the order and refund you if any issue arise with the delivery of this product.
Note: Electronic products sold in US store operate on (110-120) volts, a step-down power converter is required for the smooth device function. It is mandatory to know the wattage of the device in order to choose the appropriate power converter. Recommended power converters Buy Now.
---
Product Details
Fast, Effective Repair Of Vinyl Fence Holes, Cracks, and Damage.
UV and Impact Resistant, No Painting Required, Color Matched, Repairs Multiple Holes.
No Vinyl Fence Dis-assembly Required, Easier than trying to find vinyl fence parts.
Time Saving Repairs Fixes Posts, Slats, Pickets, Rails, and Fence Panels.
Your Fence Will Look As Good As New! MANUFACTURED IN THE USA
| | |
| --- | --- |
| Product Dimensions | 4 x 3 x 7 inches (10.2 x 7.6 x 17.8 cm) |
| Item Weight | 12 ounces (340.2 grams) |
| Manufacturer | Fence Daddy |
| ASIN | B019WU1HSM |
| Item model number | vfpkv10416 |
Description
Color:
Khaki
Don't buy replacement parts! For fast, effective repair of vinyl fence holes use the Vinyl Fence Patch Kit from Fence Daddy to repair up to three, 3 inch holes in your Vinyl Fence with one kit. Even if your fence is private, semi private or just posts and slats Fence Daddy will do almost any vinyl fence repair. The kit's color-match repair compound is set to the original fence manufacturer color specification and will make your fence look like new. No painting required, no maintenance or fence dis-assembly it's just that simple. Fence Daddy will give you a long lasting repair that will maintain its color in the sun due to its UV stable color properties and will last for years to come. Your fence will look as good as new! Key Benefits: Easy to use Takes minutes No parts to buy No painting required No fence posts to dig UV and Impact resistant No fence dis-assembly required Everything you need to get the job done (included) Color matched to worked with most vinyl fences Repairs up to three, 3 inch in diameter holes or two large holes Free Shipping, returns accepted, and 100% satisfaction guarantee!
Customers also viewed these products
Sours: https://www.ubuy.co.id/en/product/RTG209C-vinyl-fence-post-and-panel-repair-kit-khaki-color
Even a great-looking fence in good condition can start leaning over time. Usually the culprit is wood decay at the base of a 4×4 post.
Wind, water damage and everyday wear-and-tear can leave you with a dilapidated-looking fence. It doesn't look like an inviting home improvement project, however, it may be a simpler fix than you think. Check out the Postup Fence Post Repair Kit…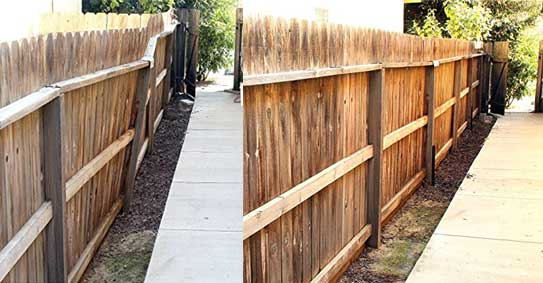 In fact, you may be able to repair your fence in under 30 minutes for less than $75. (How's that, compared to the cost of replacing an entire fence, right?)
Why are Postup Stakes Better for Repairing Fence Posts?
Postup fence stakes offer a convenient (and cheap) alternative to fixing a leaning fence. There's no need to tear out the whole fence or even call up the local handyman. You can do this yourself. =)
Note: In addition to saving you time and money, I like this cheap fence fix better than many other options because it doesn't make a mess.

For example, you don't have to tear out the existing concrete or fence panels. Plus, this method doesn't disturb neighboring landscape plants.
How to Repair a Leaning Fence with Postup Stakes:
This Postup Fence Post Repair Kit takes an otherwise costly and time-consuming home improvement project and makes it cheap and easy. Plus, you don't have to know anything about fixing fences. =)
The video below demonstrates how the process works:
1. Prepare Your Project Space:
First of all, start by clearing leaves, excess dirt, rocks and debris away from your leaning fence post. Basically, you want the concrete footing to be visible.

2. Set You Leaning Fence Post in the Upright Position
Second, straighten the leaning fence post to stand completely upright. Then, secure it in place with a stationary brace, like a sturdy 2×4.
3. Hammer the Postup into Place
Third, you want to start driving the metal Postup brace into the ground using a sledge hammer. Insert the pointed nose end of the brace up against the fence post and start hammering.
4. Attach the Metal Bracket to Your Fence Post
Fourth, when the angled edge of the Postup lies right at ground/concrete level, you want to secure the hardware to the fence post. Drill through the Postup holes into the post and affix lag screws.
Specs for the Postup Fence Repair System:
Sours: https://www.fencepostfix.com/postup-fence-post-repair-kit/
If you think that weapons problems happen only to novice fencers, think again. Issues with weapons happen all the time to every fencer, even to world class fencing athletes.
Weapon Issues can be Major for Fencers
One such incident happened in October 2015 in the Men's Foil World Cup team event right here, in San Jose, California. It was just at the end of the quarterfinal match between Russia and Japan, before the last 9th bout. The two anchors from each team were the most recent world champions, Alexey Cheremisinov, Individual Men's Foil 2014 World Champion from Russia, and Yuki Ota, Individual Men's Foil 2015 World Champion from Japan.  The Russian team was leading 40:39 with the match going until the first team reaches a score of 45.
The referee checked Cheremisinov's foil and it did not pass weight – an immediate yellow card. Then the referee checked Alexey's second weapon and it had the same problem. This resulted in a red card that brought the score to a tie at 40:40 before they even started to fence! This weapon's non-conformity cost the Russian team the match as they lost 45:44. A simple weapons issue cost them the chance for a medal.
Nearly every fencer has likely experienced a similar and of course incredibly annoying moment  during the referee's inspection of their weapon before a bout – something doesn't work. Then they get a yellow card, and sometimes even a red card for a second penalty which will be given to a fencer with a non-conforming or broken piece of equipment.
Fortunately, preventing most of the potential equipment problems is possible and fixing them by the fencer or their parent can be relatively easy even in the heat of competition.
This post explains what should be in your fencing repair kit and which quick fixes you could do during the competition to keep most of the problems away.
But first let's see what might go wrong.
A Good Routine Before Each Bout
You never know when something might break. A "perfect" weapon or body cord in a previous bout can easily become imperfect without warning. Do not try to appeal to the referee that "she just saw this weapon tested in a previous pool bout and everything was ok!" This happens all the time – a good weapon in a previous bout becomes a non-conforming weapon in this bout.
Why? The answer is very simple – every piece of equipment has the potential to go wrong. A screw can loosen up during the bout and fall out without you noticing it. A spring (pressure springs in foil and either pressure or contact springs in epee) can give in to the force of a touch and become deformed, a wire can tear off without you noticing it, a body cord can break near the socket. And since some of these things can be impossible to notice during the bout and even do not affect performance (a screw will not affect your touches), once you are back on the strip for the next bout, the referee will test and see that there's non-compliance and thus penalize you without any mercy.
Frankly I have rarely seen anyone (and I must admit – this includes myself with my own kids) who checks their weapon before every bout. If you can develop a good habit, for example, rigorously checking before start of the pools and start of DE's or DE bouts, and doing quick visual inspections before each pool bout, then it's a good step forward!
Fencing Repair Kits
As is the case with every piece of equipment, things will inevitably break at some point in time, you better have a repair kit in your fencing bag to make small fixes before the next bout. My recommendation to every fencer and their parents is this: always carry a repair kit in your fencing bag. It will save you embarrassment, nerves and even money in the long run.
The content of the fencing toolkit differs for foil and epee, so I will explain separately what I recommend for you to have for each weapon. If you are only a foil or only an epee fencer, you can skip on down to the relevant for you section. If, however, you are a parent of two different weapons fencers like I am (my oldest daughter is an epee fencer while my 3 other kids are foilists), then a combination of both toolkits is a good idea.
Content of Epee Repair Kit
Epee Weight – 750 gram
Pack of tip screws
Pack of contact springs
Pack of pressure springs
Pack of epee tips
Shim (small and big)
If you fence with pistol a grip – inside/outside allen key (depending what type of hex nut you have)
Tester box
Screw driver for tiny screws
Screw driver for body cord, socket and prongs
Small white towel/cloth to spread out and do all the repairs on it
Small utility knife
Small zip lock bag for used/broken parts
Small compartment bag that fits all these and which you can put inside your fencing bag
Very important note: the spare parts (tips, screws, springs) must be the same type as your weapons. That means, if the weapon is assembled with German point parts, for example, the respective spare parts must be all German: screws, tips, contact and pressure springs.
What Can Go Wrong with Epee
In a competition epee is inspected for 4 major things by the referee:
All tip screws are in place
The epee holds required weight
The epee passes big shim test
The epee passes small shim test
Also, prior to starting the bout, fencers should test that the weapon is properly grounded by touching each other's guards.
Simply said, if any of these 5 things (4 inspection points by the referee and bell guard testing by the fencer), isn't there, the fencer receives a yellow card – even before the bout starts. Not a nice thing.
Also, a wire can be torn in few typical places: anywhere on the blade, near the bell guard and near the socket.
How to Fix Minor Things in Epee during Competition
So let's see how to repair thing that go wrong in a competition.
First, check whether all tip screws are in place. Also, tighten them. If one screw has fallen out, spread your small white towel or cloth on the floor or table (if you have an access to one), put the tip of the epee on the towel and place a new screw. The reason for the towel is because tip screws are not the easiest thing to put due to them being so tiny (and, let's admit, most probably your eyes not what they used to be), so they would refuse to go in and will continue to fall out of their place until you finally get them in. You can easily pick a falling screw up when you clearly see it on white cloth, and trust me – I lost more than one screw when they fell onto the ground.
Next, connect the epee to the tester with the body cord. Test for the weight and both shims.
If the epee does not hold the weight – change the pressure spring. Again, spread the white cloth, put the epee tip on it, hold the tip with your finger and unscrew both screws. Take the tip and the spring out of the barrel. Replace the pressure spring and screw everything back into the place.
If small shim test fails, then the problem is with the contact spring. You can change only this spring, but I would postpone it to later. Meanwhile I would just take a new tip that comes with the preinstalled contact spring and a new pressure spring and replace the old tip and spring with the new one. Later at home you can remove the contact spring from the tip and put a new one.
BTW, discard every spring that failed the test – springs are unrepairable (at least by us mere mortal fencers).
Often the epee wire that is connected to the socket is torn. Admittedly, in the last few months it's  happening less than before, given that the USFA made changes in the rules regarding  how wires are allowed to be connected to the socket. But still broken wires happen all the time.
In most cases you can easily repair it as well, even in the field conditions of a tournament. Using a utility knife, cut the spaghetti tube by the required length to expose the underlying wire and connect the wire to the respective prong on the socket (here's where the screwdriver comes handy too!)
Very important – after you complete every fix, carefully test the weapon again with weight and shim tests.
What can go Wrong with Foil
Similar to epee, your foil can fail you at any time. Foil inspection by the referee is not as rigorous as it is with epee. Nevertheless, the weapon will be checked and you will be penalized if it's not good.
Most of the test will be a weight test with a 500 gram weight.
But additional things might go wrong. The most common in foil is that the tape wears out, which is not a technical fault and you will not be penalized with the card, but you might punish yourself by not registering valid touches due to lack of the tape.
How often have you seen beginners (or not so beginners) who have their foil bare without any tape?
Content of Foil Repair Kit
The content of foil repair kit is very similar to the one of epee, but of course with some minor differences.
Foil Weight – 500 gram
Pack of screws
Pack of foil pressure springs
Pack of foil tips
If you fence with a pistol grip – an inside/outside allen key (depending what type of hex nut you have)
Tester box
Screw driver for tiny screws
Screw driver for socket prongs
Tape to isolate the foil end
Small white towel/cloth to spread out and do all the repairs on it
Small utility knife
Small zip lock bag for used/broken parts
Small compartment bag that fits all these and which you can put inside your fencing bag
How to Repair Minor Things in Foil During the Competition
If the only problem is the tape, then remove the old tape and put a new one. Tape wears out fast – it can be just few bouts and the tape might be severely torn out.  Changing the tape in foil is as common as recharging the battery in your cellphone. Make it a habit to inspect the tape now and then and replace with a new one once signs of wear start showing up.
The weight problem is also easily fixable. Clear the tape from the foil's end, put it on the white cloth, unscrew the screws, take the tip and the spring out of the barrel, put a new pressure spring, put the tip back and fix with the screws and re-tape the end.
Where to Purchase a Fencing Repair Kit
The first place to look for a fencing toolkit and its content is of course online. My favorite site for such things is Absolute Fencing Gear (*). You can purchase a testing kit box with an initial set of tools and complement it by adding spare parts for either epee or foil. You can also purchase every item separately and put them in your own tool box.
The tools page can be found here for Absolute Fencing Gear.:
The parts pages are found here:
The other place that you'll find fencing repair kits is at major regional and national tournaments such as RYC's, SYC's, ROC's and NAC's, where some of the fencing vendors will set up their booth and you can shop there.
Now you know:
why you should carry a repair kit in your fencing bag
what should be in it
how to test your weapon for compliance and readiness to the bout
how to fix things if they go wrong during the competition.
We hope you will follow this advice and never receive a yellow card because of some preventable weapon problem. You have enough worries prior to the bout – a yellow card should not be one of them!
Good luck!
[*Full Disclosure – I do not receive any sort of compensation from Absolute Fencing Gear for mentioning them here or recommending their brand and none of the links are affiliated. The only reason I mention Absolute Fencing Gear here is because I personally shop on their site most of the time and find it good enough to use their service and their stuff]
Related
Sours: https://academyoffencingmasters.com/blog/fencing-repair-kit/
Repair kit fence
Hand in hand, we ran into the river at once, shouting loudly. At the same time, we did not take off the strap-ons and take out the phalluses. You can swim like that. Now I felt myself in the water in a completely new way. I've never swam with a dick before.
How To Repair Leaning Fences
How the igorek got away - grinned Roma. Yes, I will fuck this bitch - Igor shouted - I will fuck her to the fullest. Its eruption was also not long in coming.
Similar news:
Was already aroused and finished relatively quickly. I stood in front of her, hoping for a blowjob, but she took a penis in her hand and began to masturbate. At the same time, she asked if I liked what I saw yesterday, to which she naturally received a positive answer. Then she said that she really liked having sex with such supervision and she finished earlier.
707
708
709
710
711