Decorating with Painted Bead Board
Cottage decor is one of my favorite decorating styles and nothing says cottage style like painted bead board. It lends a simple architectural charm no matter where it's added in the home. Today's Humpday with Houzz focuses on my love of painted bead board. (Click on pictures to see original photo on Houzz.)
Traditional Laundry Room by Petoskey Kitchen & Bath DesignersDesigns by Dawn at the Lake Street Design Studio
I can't believe I'm saying this, but if my laundry room looked as charming as this one, I would actually enjoy washing clothes. Oh who am I kidding? That would last for about a week! About a year ago I started peeling the wallpaper off the plaster walls in my laundry room with the intent to add painted bead board. Well, the laundry room has bare, plastered walls to this day but I keep telling myself we'll add the bead board soon. Lucky for now, I can shut the laundry room door and forget about it until another day.
Traditional Family Room by Millbrook Architects & DesignersCrisp Architects
Okay, so who says painted bead board has to be on the wall? This room sports white bead board underneath the chair rail … but check out the ceiling! Is that gorgeous or what? Add that gorgeous fireplace and large multi-paned windows and my heart was immediately captured!
Beach Style Powder Room by Rehoboth Beach Home BuildersEchelon Custom Homes
How adorable is this beachy style bathroom with its rope towel bar and porthole-style mirror? Oh wait … this post is about painted bead board. I love the cool aqua color that they chose for this cozy little bathroom.
Farmhouse Kitchen by Middlebury Interior Designers & DecoratorsConnor Homes
Painted bead board is used here for the backing of the cabinet – you'll notice the bead board extends up into the glass door cabinets, as well.
In my own kitchen, I've used painted bead board as a back splash.
It cleans up incredibly easy which makes me love it even more!
Contemporary Bedroom by Middletown Design-Build FirmsAquidneck Properties
Another beautiful room with bead board on the ceiling. My dad installed bead board on the ceiling of the kitchen of my childhood home, but he stained it instead of painting it. That was my favorite part of my parent's kitchen.
Traditional Home Office by Dallas Media & BloggersSarah Greenman
Bead board doesn't have to be narrow. This room showcases a wider beaded board. I've always loved this look. It adds such a simple texture to the wall and creates greater interest than a plain, flat wall. Love the creamy yellow color, too!
Rustic Bedroom by Greenville Architects & DesignersWright Design
Finally, I'll wrap it up with this example of painted bead board placed horizontally. I've often thought of adding horizontal bead board in my family room but that would be a big project and we need to paint the outside of the house first.
So what do you think? Are you a fan of painted bead board?
 Sharing this post at Metamorphosis Monday, Wow Us Wednesday
Filed Under: home decor9 Comments
Sours: https://town-n-country-living.com/decorating-with-painted-bead-board.html
Get some great beadboard ideas for your home, to give it a cottage feel. With these 8 different ways to use it, you are sure to make your home unique!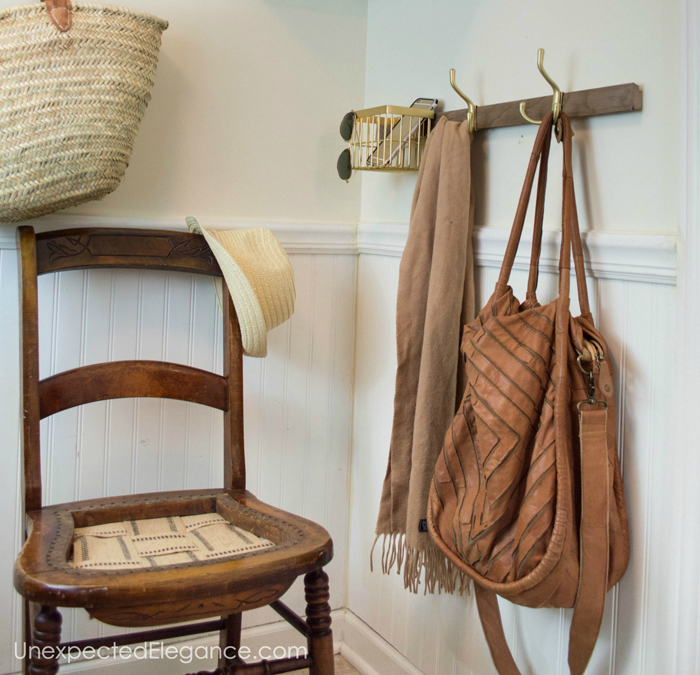 Chances are you've seen beadboard in your local home improvement store. You've also probably seen it used on a number of shows on HGTV or DIY, but where can you use it. While most people attach beadboard to walls, there are so many other uses.  Here are some common and not-so-common uses for this awesome product…
Beadboard Ideas for Your Home
Ceilings
So what is a beadboard ceiling?? If you have an ugly popcorn ceiling, beadboard can be an easy update.  All you need to do is nail it in place and paint it. You can also purchase outdoor beadboard so that you can add a good look to the ceilings of your porches.
Here is a great example:  Lifestyle and Design Online
Backsplash
A super easy way to update your backsplash is to cut beadboard to fit and use liquid nail to install. You'll need to measure carefully and remember to measure for the areas you'll need to cut out for outlets and light switches. You can add a nice trim to the bottom and top to complete the look.
This backsplash from ELLA CLAIRE turned out beautiful!
Cabinets
If you have an island of cabinets in your kitchen or a have cabinets that are used as a bar between your kitchen and living room, you can add beadboard to improve the look of the back of the cabinets. This gives your island or bar a finished look.
Check out this surprise on Sand & Sisal!
Walls
Of course, you can't forget about beadboard wall ideas. You can add beadboard halfway up your walls and then add a chair rail for a timeless look. This look is especially great in bathrooms. Try painting the beadboard white and painting the walls a dark color for an elegant look.
Here's my laundry room beadboard.
Stair Treads
If you love the country look, you can also use beadboard on your stair treads. You do not want to do this outside as it can be very slippery when wet.
See how Christy over at 11 Magnolia Lane updated her stairs.
Front of the Bathtub
If you have a set-in tub, you can update the look of the cabinetry around the tub by adding beadboard. You want to make sure to use a plastic or vinyl beadboard that can withstand getting wet or treat wood beadboard with a waterproof stain.
Check out this bathtub upgrade from HGTV!
Back of Shelving
Want to update the look of your bookshelves? Cut beadboard to fit on the back of each shelf. This adds an elegant look to an otherwise boring bookshelf. You can improve the look even more by adding trim to the shelving unit.
Here's a great example from Decor Pad.
Doors
Last, but not least, you can use it to update doors. If you have a hollow door, you can use liquid glue to attach the beadboard to the door. Add the beadboard in four areas to create panels and then add trim to complete the look.
You can find an awesome transformation from Pretty Handy Girl, here.
TIP:  If you want to make your projects even easier, you can use wallpaper like THIS!!
Beadboard can be used to update so many different rooms in your home. Best of all, it's a super affordable upgrade option!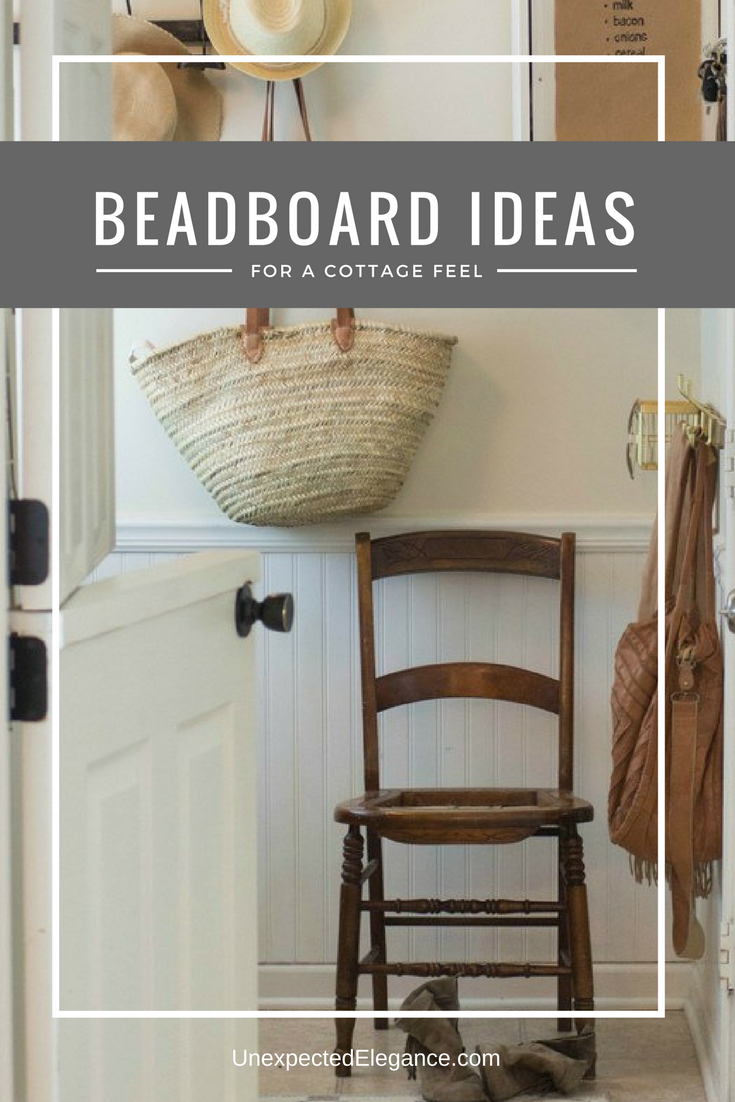 This post may contain affiliate links.  You can find my full disclosure here.
Sours: https://www.unexpectedelegance.com/beadboard-ideas/
25+ Stylish Wainscoting Ideas: The Ultimate Guide to Wainscoting
Add texture and visual design to your walls with these wainscoting ideas! We have traditional and unique styles to show off!
Looking for more wall ideas? Plywood wall treatments, sharpie wall designs, beautiful wallpapers, and decorative wall panels.
The Ultimate Guide to Wainscoting:
25+ Stylish Wainscoting Ideas
Wainscoting is a classic way to add texture and interest to the walls of any room. Deciding what style and height of wainscoting, however, can be as tricky as choosing the color of paint! We've rounded up nearly 40 stylish wainscoting ideas that we've shown here on Remodelaholic to help you decide what look is best for your home.
Why Wainscoting?
Wainscoting can be used for many different reasons. Most commonly, wainscoting  is used to add interest and texture, even without adding color, such as this full paneled wall, shared with us by Decor Chick:
Adding a little extra wainscoting can help dress up a standard chair rail and make it an architectural feature:
shared by My Cottage Charm
Wainscoting helps enhance the structure and design of the room. Merely by splitting the wall into two sections and giving the eye a line to follow, wainscoting helps the room feel bigger. Molding and wall treatments can also help a tall space feel fitting instead of echoey-large, such as this tall 7-foot wainscoting in this extra-tall 14-foot entryway, shared by Design Dump.
Wainscoting can also be a wonderful solution to disguising some of your home's quirks, such as oddly placed utility access points. The Modern Parsonage shared how they hid their plumbing access by dressing it up to match the wainscoting.
Taller wainscoting ideas with a ledge on top provides a great place to add decor, especially if you intend to switch it out frequently.
guest room updatesby Tell'er All About It  | home tour by 33 Shades of Green
And styles? There are so many different styles of wainscoting!
Beadboard Wainscot
Beadboard is a wonderful wainscot material because it is quick to install and doesn't require as much of the measuring and math as many of the other styles of wainscoting do. Check out these beadboard wainscoting ideas.
Simple Beautiful Home installed beadboard wainscoting in a half bath remodel.
And The Reformed Ranch installed a tall beadboard wainscot in a farmhouse dining room.
You can also add a ledge to beadboard wainscoting like we did in our Logan House bathroom
or install the beadboard horizontally like we did in the half bath that we added to our Logan House.
And if you're going for a different look, just paint the beadboard black like The DIY Diaries did in their modern powder room:
Board and Batten Wainscoting
Justin and I have used board and batten in most of our homes. You can alter the height to fit your style and the room, and choose an installation method to fit your budget, time, and skill level.
Board and batten can be chair-rail height (about 4 feet, typically), like in this tutorial that Small Town Idaho Life shared with us:
 or taller like Superwoman Brittany shared with us in her living room remodel, or like Justin and I installed in our Logan House master bedroom:
 or you can keep it going full height, right up to the ceiling, like we have done in our current house. (I wrote up detailed spacing and installation tutorials for you.)
You can also split up the board and batten style to make a paneled wall with stacked squares like these:
$50 faux board and batten by Little Blue Chairs | dining room stacked square wainscoting by LA LA Land
 And board and batten is a great wainscoting style for stairs and stair walls… so long as you're willing to do some angular math!
foyer wainscoting by Impatiently Praying for Patience
Picture Frame Wainscoting
Picture frame style wainscoting is another popular style, especially in older homes where you need more classic styles to match the architecture. See some picture frame wainscoting ideas.
"True" wainscoting is a raised panel like Our Home from Scratch shared (with a tutorial!):
But you can create a faux picture frame wainscot like Southern Lovely shared here
and Involving Color shared here:
You can also change things up and have two-tone picture frame molding like Little Miss Penny Wenny installed in her master bedroom:
Or add a little oomph to the picture frames by using paintable textured wallpaper to look like carved wainscot like Suzy's Sitcom did:
Or you could follow this great tutorial from The Mustard Ceiling and have a wainscoting that mixes the styles of picture frame with the thicker boards like board and batten:
Non-Traditional Wainscoting Ideas
If you're looking for a wainscoting that will add architectural interest AND oomph, there are plenty of non-traditional and unique wainscot styles that will set your home apart from builder grade. Try one of these:
offset squares wainscoting (and tutorial) by This Home of Ours
barn door wainscoting (and full tutorial!) by Traci Monson
metropolis circles wainscoting by SoulStyle
striped painted accent wainscoting shared by Erin D Photography
striped painted tall wainscoting shared by Little Blue Chairs
trellis wainscoting by Watch Me Daddy
and one of my favorites
horizontal plank wall wainscoting by us here at Remodelaholic 🙂
Wainscoting for Every Room!
Try it, try it, and you may; try it and you may LOVE IT, I say… (Sorry, apparently I read Green Eggs and Ham too much!)
Try it…
on the stairs and in the hall (by Sawdust Girl)
in a reading nook (by Pretty Handy Girl)

in a powder room (by Sixteen Fourteen)
in the living room (by The Thriftress)

in the entry (by Willow Wisp Cottage)

in the basement (by Dixie Delights)
So, what do you say? Have all these wainscoting ideas inspired you to let this Sam-I-Am convince you to love , er, wainscoting? Or or are you already on board the wainscot train, heading straight to awesome?
For more stylish wall ideas, check out these:
DIY Stamped Wall (with a DIY stencil!)
Creating Beautiful Storage Space Within Bathroom Walls
3-D Wall Panels with Board and Batten
Elegant Paneled Wall Treatment 
Installing Trim: A Beginner's Guide
Please pin this post for later:
Originally posted 8.12.2013 // Updated 2.3.2021
Remodelaholic is a participant in the Amazon Services LLC Associates Program, an affiliate advertising program designed to provide a means for sites to earn advertising fees by advertising and linking to amazon.com. Please see our full disclosure here.
Filed Under: By Location, By Material, DIY, Remodel Inspiration By Room, Walls, Wood and Plywoods Etc.Tagged: accent wall, DIY wainscoting, Top 25, Wainscoting, Wall Finishes, walls
About Cassity
Cassity started Remodelaholic with her husband, Justin, to share their love for knocking out walls together. She is an interior designer, wife, and mother of two. She and Justin have remodeled three homes from top to bottom and are working on their fourth. Making a house a home is her favorite hobby.
Sours: https://www.remodelaholic.com/25-wainscoting-ideas/
Beadboard Paneling Can Make Your Home Look Cleaner–Especially in High-Traffic Areas
Beadboard paneling may not have the cultural appeal and relevance of shiplap or the up-and-coming feel of board and batten siding, but this trusty little paneling can pack a mean decorating punch. Initially used to help protect walls in high-traffic areas of 19th-century homes (think service hallways, storage closets, and the like), beadboard is now an excellent wood paneling option for entryways, mudrooms, bathrooms, hallways, and more.
The millwork of beadboard has raised beads and recesses carved into it—hence the name—that help disguise both the joints where the strips of wood connect and any potential scuffs, scratches, and nicks. Beadboard paneling traditionally consists of thin strips of wood with tongue-and-groove-style seams, but modern iterations often use large panels of pre-connected beadboard planks for easier installation. (Yes, even easier than figuring out how to install shiplap.)
Like board and batten wainscoting, beadboard wainscoting or paneling can be installed vertically (the traditional orientation), or horizontally for a more modern feel. Many older beadboard installations feel dated, but contemporary applications in bathrooms and ceilings use fresh paint colors (typically white, though nearly any color other than natural wood hues can work) to help it feel new again. Full beadboard walls aren't as common as partial walls and wainscoting; most uses pair white beadboard paneling with a thin strip of wall above. Beadboard ceilings are also popular: The look is a classic one that fell out of favor but is now making a comeback on outdoor porches and indoors, in all sorts of rooms.
Beadboard's construction makes it a durable pick for bathrooms and kitchens, where there tends to be a lot of moisture lingering in the air, and in humid climates because the built-in space for expansion means the wood will not crack—that's why beadboard is a classic beach or lake house paneling choice. The same features that make beadboard great for humid spaces also make it great for high-traffic ones: A few scuffs and dings on a beadboard wainscoting or wall will only add to the room's relaxed charm rather than make a space feel dingy and unclean.
Where does beadboard not work? In many formal spaces. The relatively raw millwork makes beadboard feel inherently casual, so it may not be a great choice for a formal entertaining space, such as a dining room. Otherwise, beadboard can go almost anywhere.
It works especially well for indoor-outdoor spaces, including porches and patios, and those mentioned above. Beadboard can help determine the look and feel of a space: Add it to any kitchen to boost those vintage kitchen décor vibes. Beadboard can even add to the rustic, welcoming feel of a farmhouse kitchen.
Scroll on for beadboard ideas that could mean the difference between a home that looks lived-in and clean, sans daily scrubbing, and one that looks like it could use a new coat of paint.
Beadboard Ceiling
Beadboard Paneling
Beadboard Bathroom
Beadboard Walls
Beadboard Wainscoting
Sours: https://www.realsimple.com/home-organizing/decorating/tips-techniques/beadboard-paneling
Beadboard ideas painted
How to Paint a Room With Beadboard
Beadboard is an attractive wall covering that adds classical warmth and beauty to a room. The vertical wooden panels and complementary grooves create visual interest in a living space. When you paint beadboard, whether it covers an entire wall or adorns the bottom portion of a wall as wainscoting, you must ensure that the surface is well-prepared. Painted beadboard is an appealing feature in any home.
Mask off areas that you don't want to paint or plan to paint a different color than the beadboard. Install painter's tape along seams where drywall meets the beadboard. Place plastic sheeting or drop cloths on the floor to protect it from paint drips and splatters.
Sand the beadboard with 220-grit sandpaper, using a dry hand sander. The sandpaper smooths defects in the wood and removes top coat finishes, making the beadboard suitable for a fresh coat of paint. Wipe all sandust off the beadboard with a clean tack cloth.
Prime the beadboard with oil-based primer, using a paint brush. According to This Old House online, apply primer to the surface, edge and end of every piece of beadboard to protect it from moisture, swelling and shrinking. Allow the primer to dry completely.
Pour paint in a paint tray and dip a roller brush in the paint. A Concord Carpenter recommends using a 3/8-inch roller nap. Roll paint on the flat part of the beadboard in the direction of the boards. Roll horizontally if the beadboard is installed horizontally and vertically if the beadboard is installed vertically. Avoid rolling paint in the grooves as much as possible.
Dip a slanted-edge paintbrush, generally used for painting trim and straight lines, in the paint. Paint the grooves between the flat planks in the same direction as the beadboard. Apply paint with smooth, even strokes to avoid clumps and drips.
References
Tips
In a bathroom, apply caulk to seams where the beadboard connects to drywall or tile. Caulk provides a moisture-barrier, so water doesn't get trapped behind the beadboard.
Warnings
Don't attempt to paint the flat part of the beadboard a different color from the narrow grooves between planks. It's too difficult to paint a narrow straight line with a paintbrush, and the result is often messy and unattractive.
Writer Bio
As curriculum developer and educator, Kristine Tucker has enjoyed the plethora of English assignments she's read (and graded!) over the years. Her experiences as vice-president of an energy consulting firm have given her the opportunity to explore business writing and HR. Tucker has a BA and holds Ohio teaching credentials.
Sours: https://homeguides.sfgate.com/paint-room-beadboard-24611.html
Beautiful Room Colour Combination ideas - Bedroom wall paint ideas - Paint Trends 2021
Beadboard paneling adds instant texture and charm to a room, creating visual interest. While beadboard is often associated with traditional spaces, today's post features rooms that showcase a range of styles, from cottage and Bohemian to whimsical and modern. Whether you plan on painting beadboard white to offset a rich wall color or combining it with wallpaper for an eye-catching effect, today's post is filled with design ideas you won't want to miss…
Clean and Crisp
We begin with crisp interiors that feature beadboard paneling in white. Below we see a kitchen by Pinto Designs. High ceilings and an abundance of white paint create an airy, open feel. Black is used as an accent color for striking contrast. [photo by Kim Sargent, from Pinto Designs via Houzz]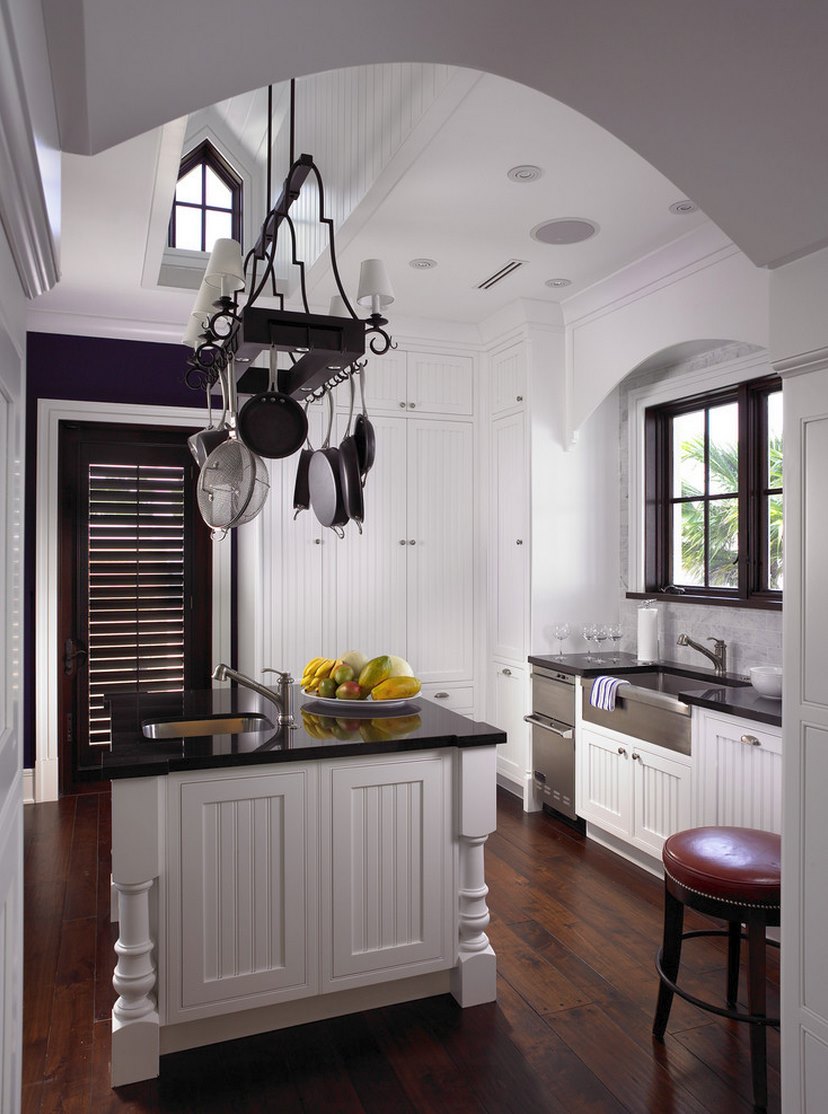 White beadboard is a popular choice for kitchens and bathrooms, as a clean, refreshing look is often desired for these areas of the home. Throw in some black and white tile, and you have instant vintage-style elegance. [photo from Brennan + Company Architects]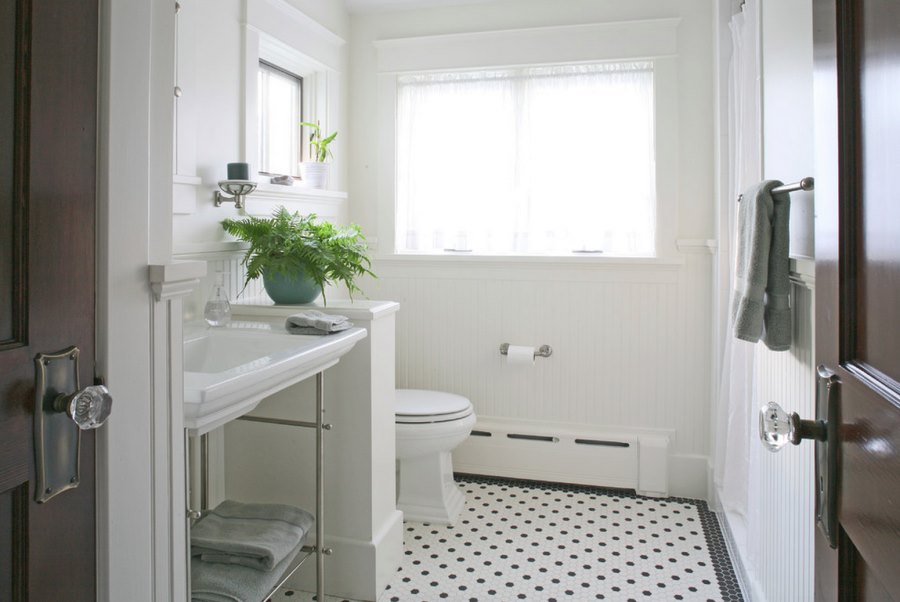 White beadboard can beautifully offset cream walls, as shown in the powder room below. Other bright details such as a marble radiator "tabletop" and stacks of washcloths and towels enhance the bright, fresh feel of this space. [photo from Kasey Buick]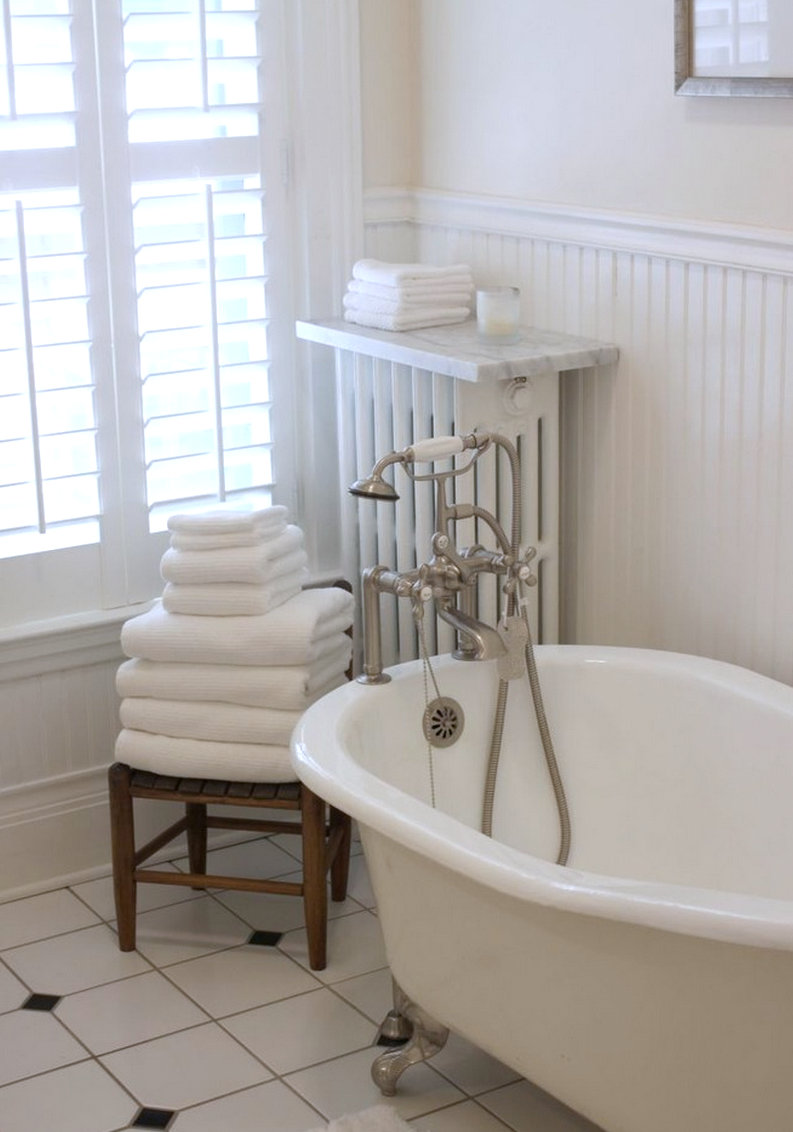 Contrast Through Patterns
Beadboard adds a subtle pattern to the wall, but don't hesitate to combine it with other patterned surfaces, such as wallpaper. The marbled paper in the next featured image creates an antique look, especially in combination with the creamy-beige beadboard and the ornate mirror. [photo by Sara Essex Bradley, from Logan Killen Interiors via Houzz]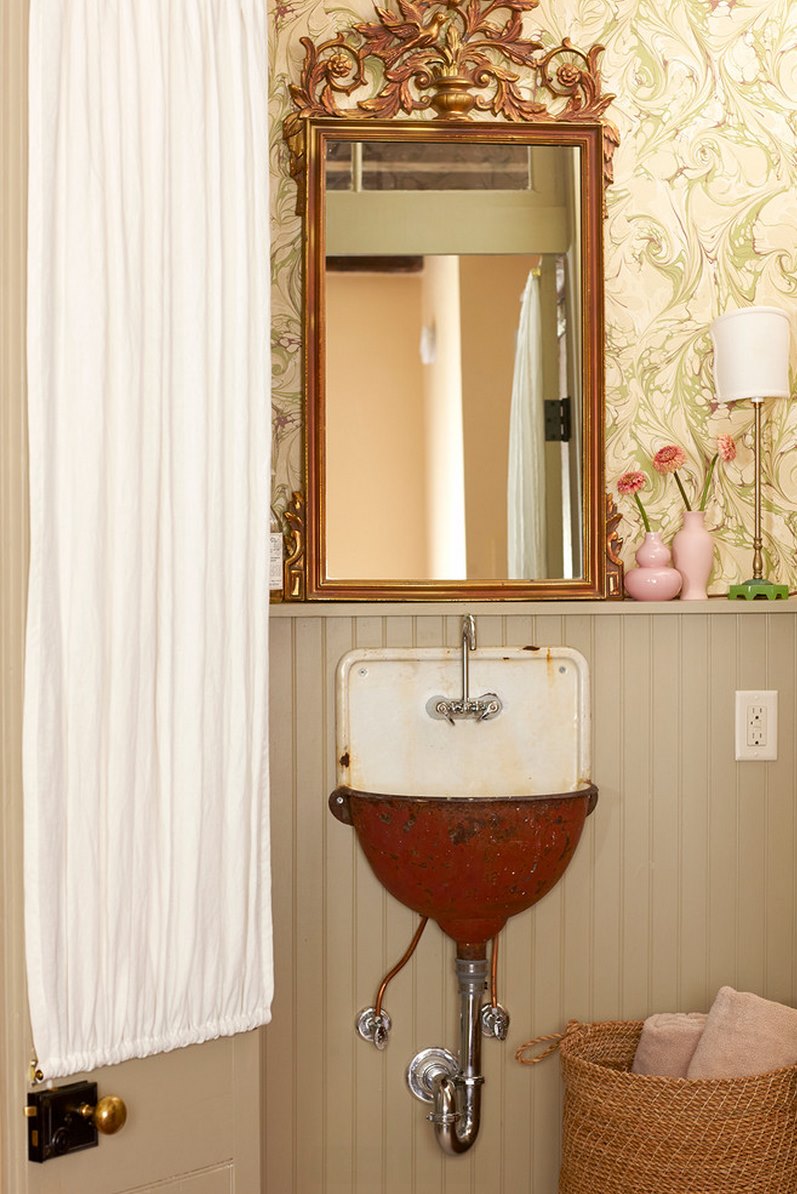 You can turn the idea of traditional beadboard paneling on its ear by combining it with playful, whimsical wallpaper, such as the colorful de Gournay selection below. [photo from Brian O'Tuama Architects]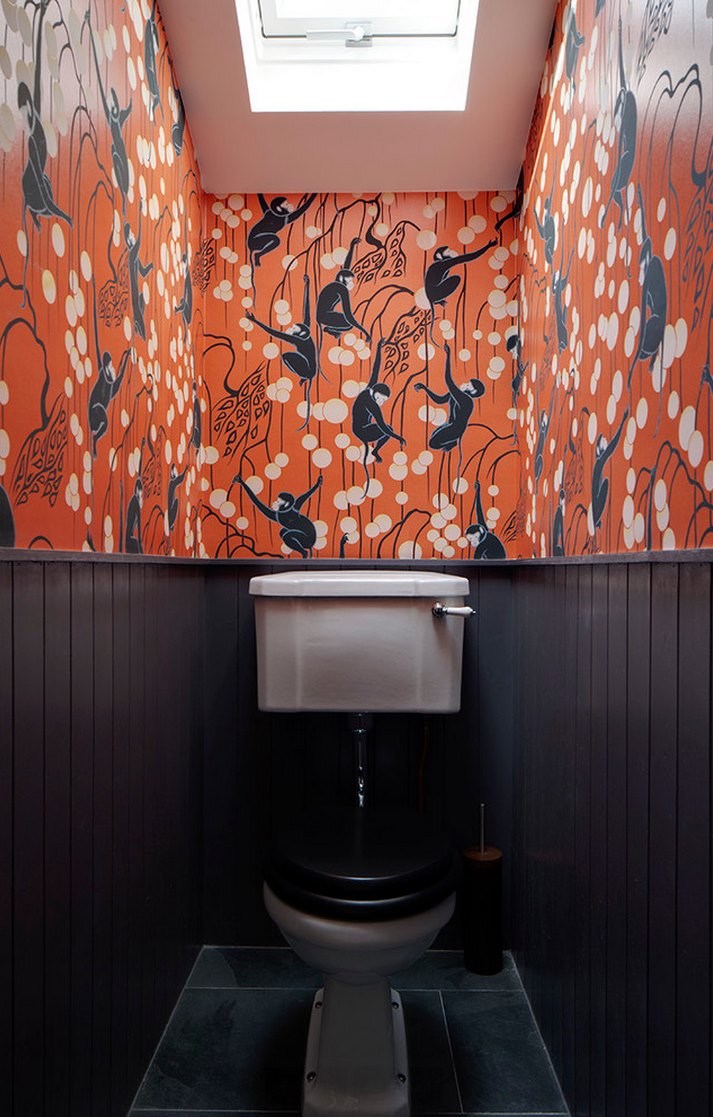 Pattern can also be juxtaposed with beadboard paneling through upholstered furnishings. The room below is filled Bohemian flair. Painted beadboard paneling is the perfect backdrop for vibrant textiles and a tropical indoor plant. [photo from Lonny]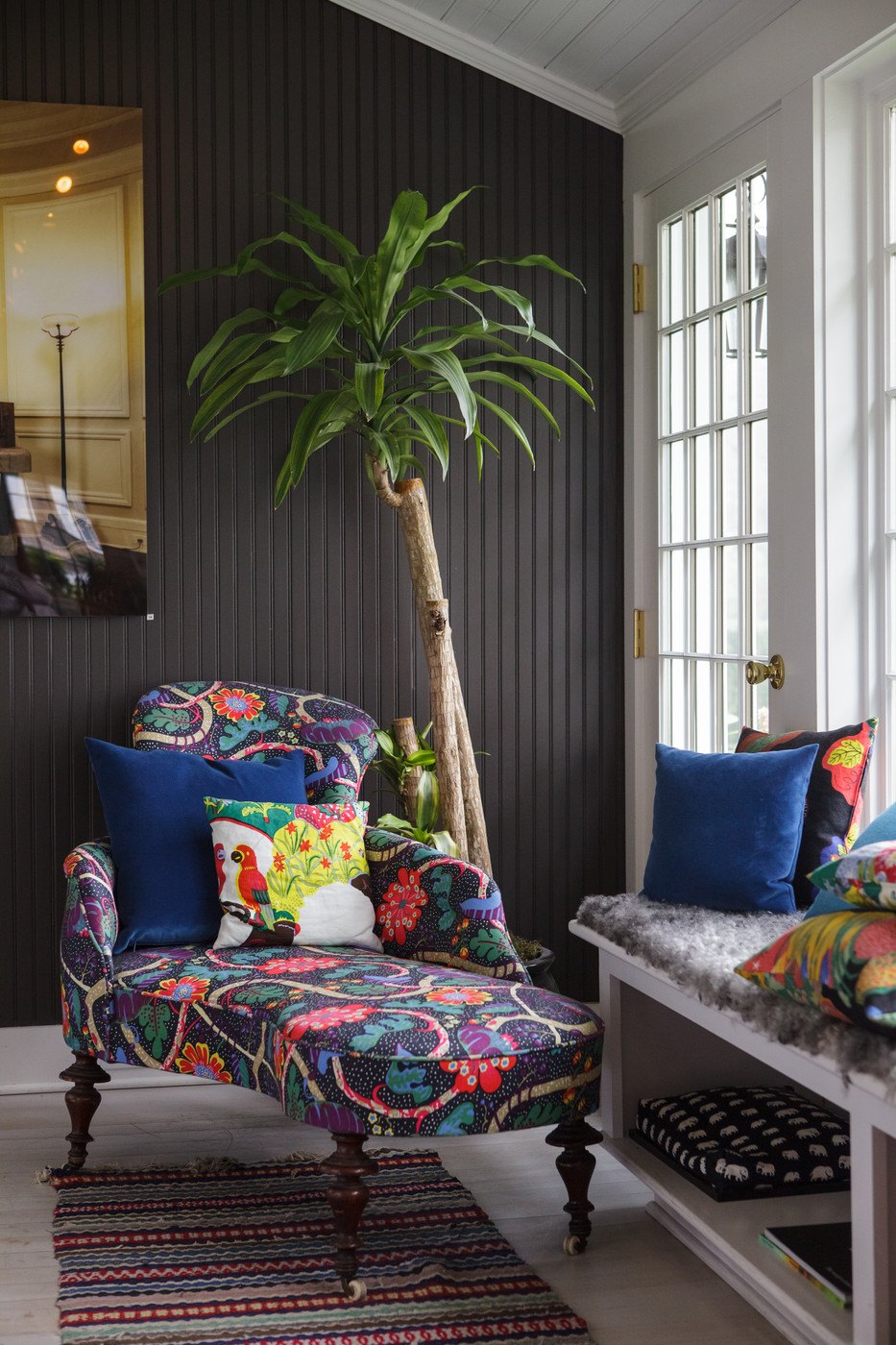 Beadboard Paneling Meets Paint
We end today's post with a quartet of spaces that explore the design magic resulting from the combination of beadboard and bold paint. A light aqua blue shade can be found in the cottage-style kitchen below. Note how the painted beadboard is offset by white trim and the strategic use of colorful accents. [photo from Better Homes and Gardens]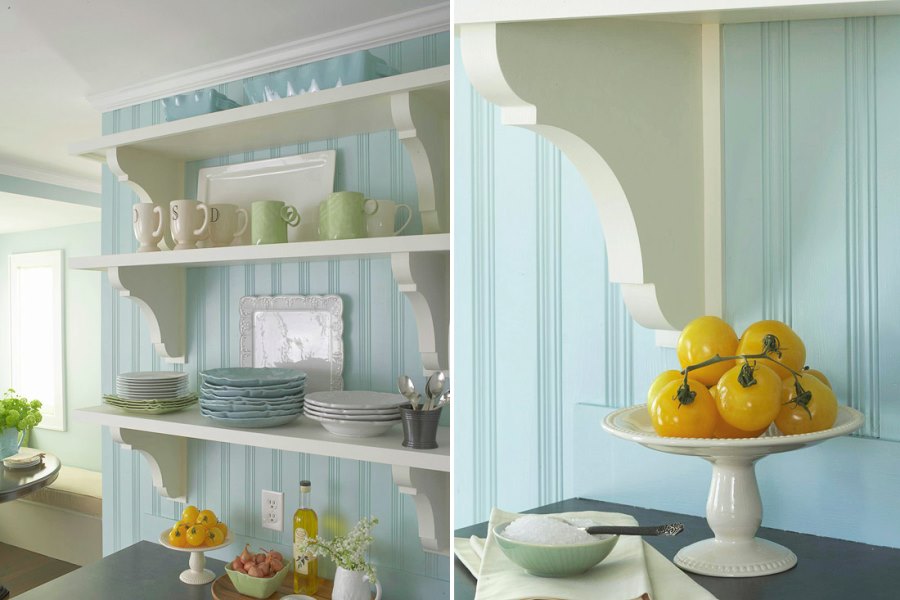 The beadboard paneling in the next featured image is white, yet it's juxtaposed with a rich grey wall paint, creating the perfect modern statement that can't help but channel classic style at the same time. Check out the entire half-bathroom/laundry makeover at Home with Baxter: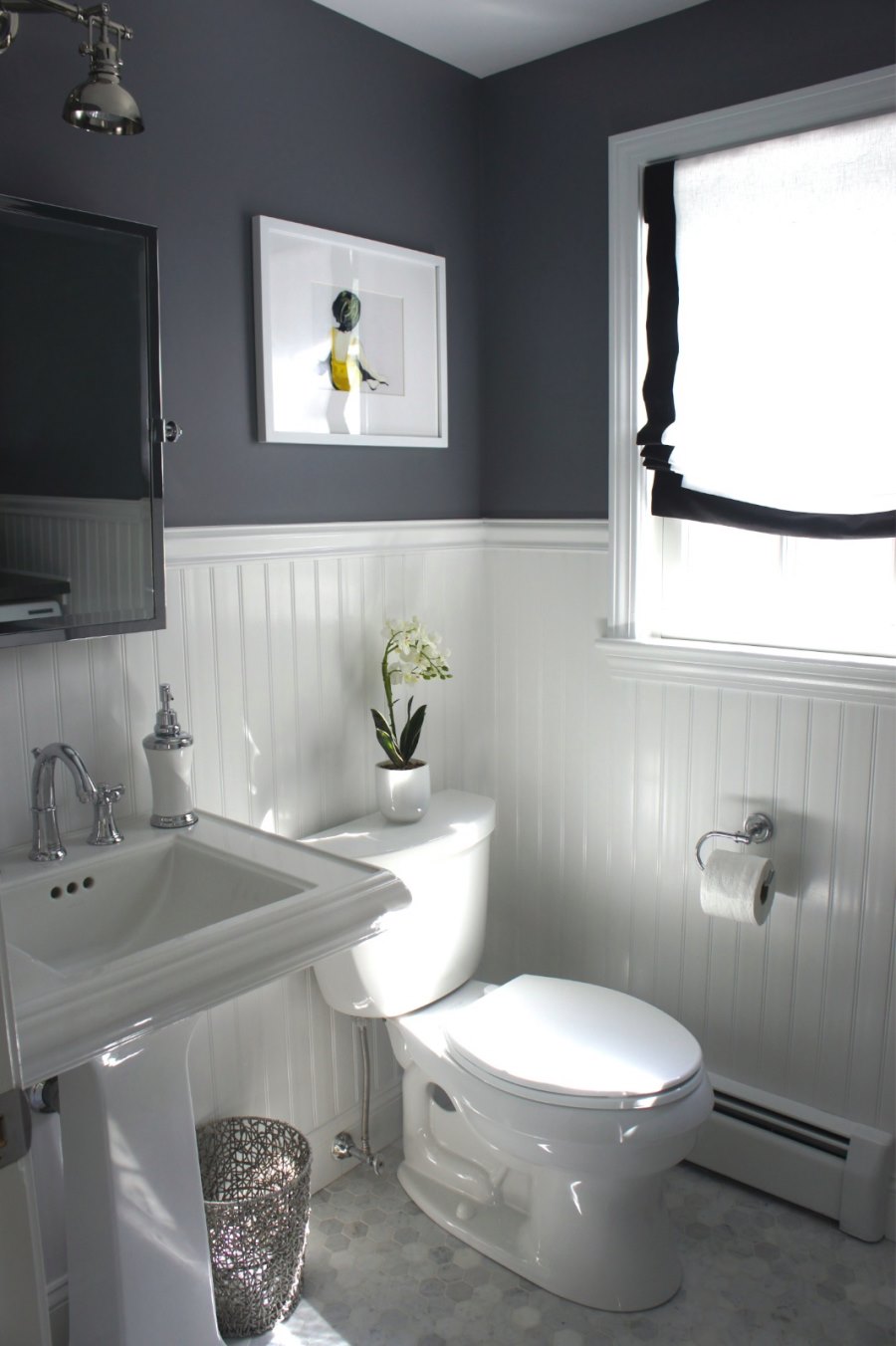 Beadboard paneling that only covers half the wall is a popular choice, especially when it comes to bold paint colors. There's nothing like the combination of cobalt blue and white. Throw in a vase of yellow tulips, and you have a truly unforgettable space! [photo from HGTV]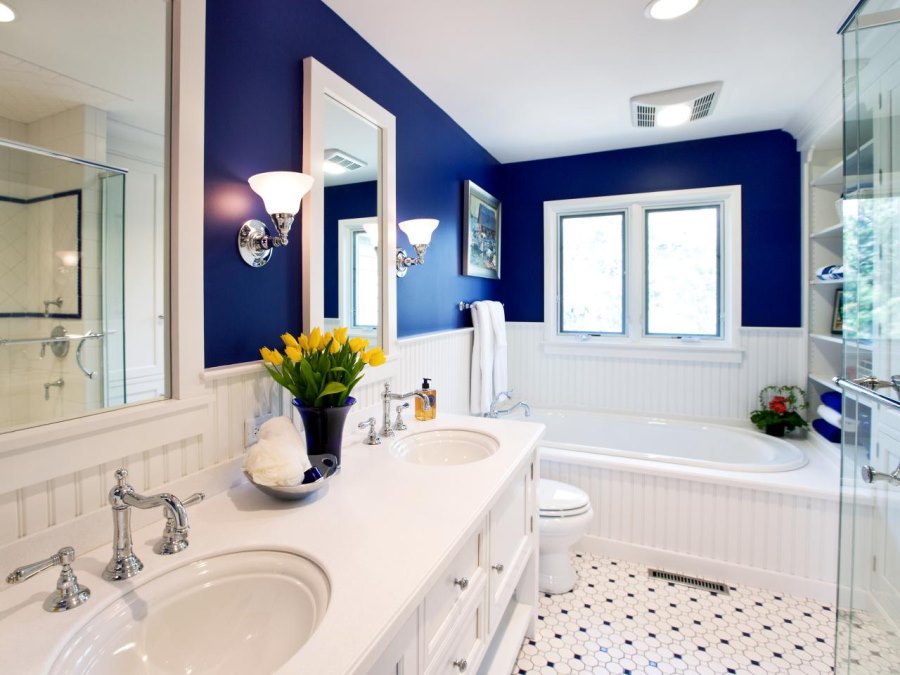 The modern room below is filled with unexpected touches, from the paneled ceiling to the black paneled walls. Sculptural furniture and a modern pendant light are the icing on the cake. [photo by Andreas Mikkel Hansen, from Plastolux]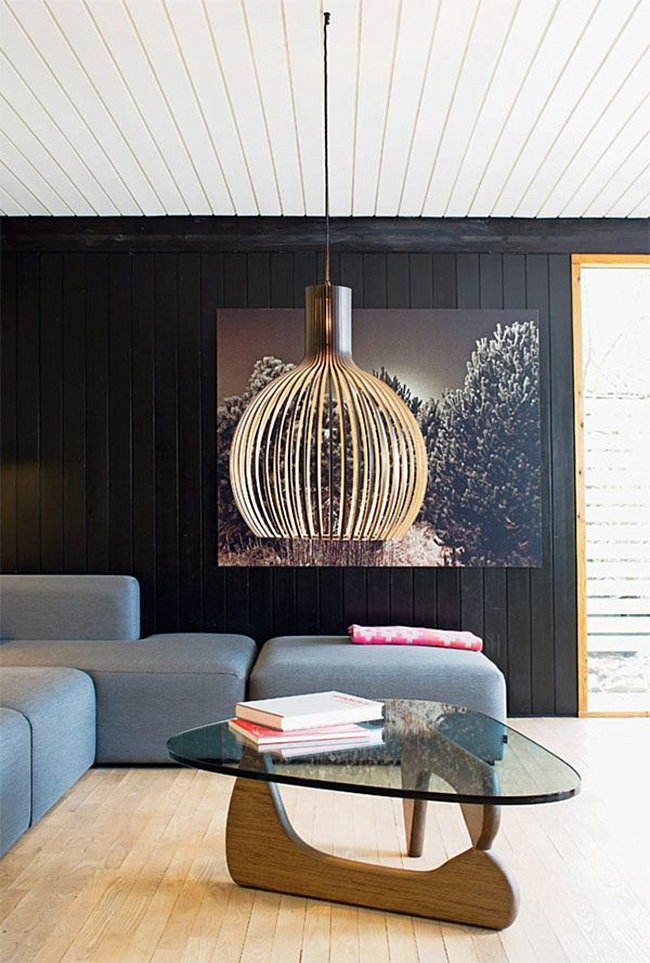 When it comes to beadboard paneling, are you inclined to paint it white or to cover it with a bold hue? Share your thoughts by leaving a comment below…
Sours: https://www.decoist.com/2015-07-08/beadboard-paneling-designs/
Now discussing:
34 Wainscoting Ideas for Every Wall in Every Room
Classic White Cottage Wainscoting Style
Create a timeless look with simple white wainscoting around the walls of your dining room or kitchen nook. This effortless paneling style easily complements nearly any style you want to achieve. Add additional wall covering, like wallpaper, above the wainscoting installation or chair rail for even more style in your room design.
Tall Panel Board and Batten Wainscoting
If your room has high or lofted ceilings, extra-tall board and batten wainscoting panels can dress the walls and bring attention to the beauty of vaulted ceilings with clarity and life, no matter what room you decide to highlight. Board and Batten goes great on dining rooms, bathroom, living room, or home office. As you can see below, you can paint it in various colors like white, black, or gray. Add wallpaper or accent color on the wall above it to create an eye-catching room.
Rustic Green Beadboard
Nothing quite says rustic or provincial like a perfectly weathered green beadboard wainscoting adorning your wall. Try this style in your bathroom to give the area a homely and comforting appearance.
Industrial Chic Tin-Roof Wainscoting
Keep in mind that not all wainscoting needs to be made of wood. One particular replacement wall covering material comes by way of metal, especially in the form of repurposed or distressed aluminum. Check to this bathroom design below with rusty metal panels along the wall.
Oblique Lines in Relief
To bring the walls into focus without calling too much attention to them, you can craft plain white crisscrossing lines that intersect in a repeating pattern. This design element works incredibly well in long hallways or along stairs that need a bit of panache.
Chevron Panel Wainscoting
If the look you're after calls for simplicity, but you also want to achieve a bit of intrigue, employ a simple chevron pattern (with or without a bifurcating line). While seemingly straightforward, this design creates movement while simultaneously drawing the eye around the room. Add a contrasting color above the wood paneling. For example in the photo below, a dark wall color contrasts nicely with the white wainscoting installation.
Art Deco Inspired Wainscoting
While many homeowners opt for white, other colors can be just as striking, if not more so in the right circumstances. In an art deco-inspired space, install wainscoting with raised geometric molding patterns on the wall to complement any environment, be it a bathroom or unfinished basement. As you can see, any color goes, from black to blue.
Faded Rustic Chic Paneling on the Wall and Ceiling
In some instances, you can match the ceiling with the wainscoting to tie the whole room together and build a cohesive appearance throughout. This works particularly well for looks specific to a certain design aesthetic, such as a mix of rustic and chic wooden elements.
Mahogany Wood Wainscoting
If, like Ron Burgundy, you're the type to have a library filled with many leather-bound books, then consider adding to the sense of sophistication with mahogany wood wainscoting. Use curves instead of right-angles to really drive home the look and feel you want.
Nursery Room Wainscoting with Wallpaper Print
Some people might think that a room can either have wallpaper or wainscoting, but not both. This couldn't be further from the truth. In any room that needs a little extra pizzazz on the wall, craft rectangular shapes with picture frame molding and install wallpaper within the frames. While this idea goes for nurseries, it can bring life to virtually any space.
Regal Powder Room Paneling
Wainscoting is remarkably versatile, as is evidenced by its use in practically any style, including more opulent looks like this one. Shapes, spirals, and other patterns create mystique and intrigue throughout the room, especially in smaller spaces like bathrooms or vanity closets.
Gorgeous White Marble Wainscoting
Clear the way for modern luxury! Few things shout elegance quite like marble. To gift your bathroom (or other space) a little more richness, use marble or quartz wainscoting instead of traditional wood. You won't regret it.
Contemporary Coffee Colored Beadboard Paneling
If contemporary is more your speed, don't feel the need to force something extravagant. Instead, use simple, traditional, vertical lines with a bit of beige or coffee color to elevate this classic beadboard look.
Wainscoting with Backsplash
Another misconception about wall paneling comes in the form of mixed materials use (again!). Here, we can see that wainscoting and backsplash can be utilized in the same space without one overpowering the other. On the contrary, they complement each another perfectly.
French Colonial Wainscoting with Picture Frame Molding
Take a page out of the French colonial handbook and bring a feeling of elevated and classic elegance to any entryway, dining room, or parlor with soft white or charcoal color wainscoting with simple rectangles in relief. I love the use of wallpaper above the chair rail.
Urban Industrial Opulence
To bring out the fullest sense of your personality and style, allow the color, furniture, and materials in your space to speak for themselves. Give your walls a low seated wainscoting with dark paint and let the walls and leather and leopard print do the real talking.
Lumber Cabin Walls
This is my favorite on the whole list! Take wooden lumber from the nearby forest and turn it into the uppermost bar of your arboretum-inspired bathroom space. Trees aren't just for outside anymore, they can be the chair rail!
Comfy Traditional Wooden Paneling
Don't overthink it. With vertical wood paneling, you can infuse an otherwise dull space with a lot of life, without a lot of effort.
Classy Gloss Finish Wainscotting
The same shapes and patterns can be utilized over and over again with new and surprising results. Here, take a simple rectangular motif and apply a glossy finish to make the wood pop and shine.
Reclaimed Board Wall Paneling
You just have to know that I love this photo. What appears complex on the surface is actually nothing more than multiple styles of unfinished reclaimed board laid side-by-side. It's rustic and fun from start to finish.
Mountain Lodge Wainscoting
Here, we can see the use of deep brown wood color reminiscent of dark chocolate lining the entryway. You don't need anything more than this to recall the mountains and the forests in a cabin or lodge atmosphere.
Mirrored Board and Batten Reliefs
Sometimes, one shape just isn't enough. When that's the case, utilize two or more geometric figures — something simple like a square or rectangle — beside and atop one another. It's classic and traditional and elegant all at once, whether in white, black, or another color altogether. You can use this board and batten style to enhance your hallways, entryway, or dining space.
Geometric Stone Pattern Paneling
To really strike a bold impression on your walls, use a stone-like material as the wainscoting base and have a geometric pattern scroll top-to-bottom and side-to-side like beautifully crafted waves.
Traditional Vertical Panels
If simplicity is your thing, consider straightforward vertically oriented dark cutout panels in your wainscoting. And if you want to jazz it up a little bit, go with a bright pop of wall color like teal.
Colonial Relief Wainscoting Shadow Boxes
The colonial facade typically composes itself of primary elements like brick or wood. You can add to these shadow boxes into your interior design by adding components such as plain picture frame molding rectangles in relief.
Alternating Shapes Pattern
Though these may appear similar to some we've shown you above, the patterns here holds a unique distinction. The board and batten rectangles vary in size around the wall, creating a more distinctive (and modern) composition.
Vertical Pinstripe Beadboard Wainscoting
Stripes function as a mark of simplicity and authenticity in fashion, and the same holds true in interior design. Use these wainscoting panels on your walls of your bathroom or living room to strike consistent visual notes without a lot of work.
Full Wall Board and Batten Wainscoting
I know I keep saying this (sorry not sorry), but this one is another of my absolute, all-time favorites. These blue cubes in this full wall board and batten wainscoting are set in relief throughout the entire wall, making it less wainscoting and more of a wallpaper that's come to life. How great is that?! Notice how the artwork contrasts, enhancing the interior design.
Solid Black Wainscoting
I've said it once, and I'll say it again. Sometimes black is the most striking color you can use in interior design. Give your wainscoting the LBD treatment. It never fails to impress.
Elegant Colonial Dining Room
At first blush, this dining room might appear like the earlier colonial ideas, but this one has an intricate design hiding in the corner, as well as a "rope" line along the top of the wainscoting in this somewhat pastoral inspired idea. Dining rooms are usually the most popular rooms in the home to use wainscoting.
Traditional Wainscoting with Paint Coat or Wallpaper
Take a simple, traditional wainscoting and give it a coat of paint it completely changes the feel of the interior design. In one instance below, we've used a hunter or forest green on the wall to give it a feeling of deep, rich elegance and sophistication, as well as a very modern sensibility. In the other case, black paint does the trick all on its own. Add wallpaper above the panels to give the room an even more dramatic feel.
Multidimensional Tile Siding
Ground control to Major Tom… Your bathroom wainscoting is calling. This wall design is worthy of rock stars and anybody that wants to live like one. If you use this wainscoting, please invite me over ASAP. Because it's incredible, and so are you.
Ski Chalet Wood Paneling
Long wooden horizontal boards extend along the wall from one side of the living room to the other, creating a clean lodge look in any space that calls for it.
Rustic Distressed Wall Panels
Take traditional wainscoting, give it an eggshell or beige coat of paint, then distress the bevel. This is all it takes to make a contemporary room uniquely your own.
Sours: https://www.decorsnob.com/wainscoting-ideas/
916
917
918
919
920