This DIY paper star lantern is inspired by Mexican Tin Star lanterns. Do you ever wish metal working is as easy as folding paper? Today, it is! We will be making a paper star lantern that looks like it's made out of rusty metal!
Lit with LED fairy lights inside, it is perfect for a covered patio or as table decor! Free paper star template for you to download at the end.
IMPORTANT: only use good quality LED lights near paper. Follow basic safety practices and do not leave lights on unattended.
* Some resources in article are affiliate links. Full disclosure here .
Materials and tools to make a paper star lantern:
Step 1: print and cut the paper star template

Print one each of page 1, 2, and 3, and nine of page 4. If you want a white paper star lantern, that's all for the printing. If you want a rusty "metal" paper star, print the rust texture (included in the downloads ) onto the back side of page 4.
Cut along blue lines, and score along orange lines.
This paper star lantern is made with my favorite super versatile 8.5×11 110lb card stock , which I have used to make this birch forest shadow box
And some watercolor paintings too!
Step 2: Make the paper star tips.
Here's a really helpful trick when gluing the paper star lantern: fold the piece along the score line in the middle, and press down the glue dotted tab. This is much easier than trying to glue while holding its 3D form!
Also glue the triangles cut from page 4 to all the triangle shapes on page 1-3. If you are making a white star, skip this.
Step 3: glue the paper star parts together
Make the polyhedron first, then glue on all but oneof the paper star tips. See why in the next step–>
Step 4: leave opening in the paper star lantern to add LED lights.
The reason we leave one of the paper star lantern tips not glued is because we need a "doorway" to take lights in and out. So we only glue one side of the tab, like in photo below.
The opening is big enough for LED string lights or tea lights.
Step 5: put lights in your new paper star lantern!
To close the star, poke 2 small holes and thread a piece of clear fishing line or bead cord through. Tie a knot to close the star.
This paper star lantern can sit on a table, or if you want to hang it, just tie some fishing line through the openings on one of the star tips.
Here are the free designs for you to download!
Unzip with Stuffit Expander. If you have trouble downloading, it might be a browser issue, just ask friends to download and email to you!
You may also like:
Cherry blossoms in moonlight: how to paint on black paper
Make magical Dandelion lanterns
Wish you lots of beautiful days and starry nights! =)
Sours: https://www.apieceofrainbow.com/make-star-lantern/
Make Paper Star Lanterns to Brighten Up Your Winter!
See how to make gorgeous paper star lanterns that cast a magical glow with lovely star and snowflake cut-outs!
I love making paper lanterns! So much so, in fact, that a couple of years ago, I made a paper lantern or luminary for every month of the year and I've also created a very pretty heart paper lantern too!And this is the perfect season for paper lanterns — they cheerfully light up our homes on those long, dark winter nights. So for Day 3 of The Great Maker 25-Day Gift-Away Challenge, I am showing you how to make paper star lanterns!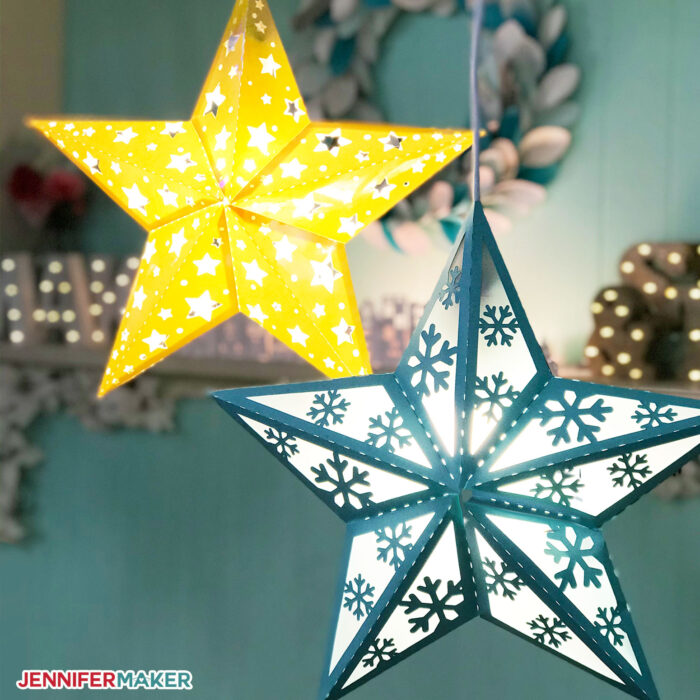 What is The Great Maker 25-Day Gift-Away? This is an annual tradition here at JenniferMaker! Every day for the first 25 days of December, we gift you with a brand new project, design, tutorial, and video for something YOU asked us to make. On top of that, we host a giveaway with 25 prizes, everything from Cricut cutting machines (four of them this year!) to project prize packs with all the materials for popular JenniferMaker projects to beautiful print editions of our popular Cricut Coach Playbook. You can even earn bonus entries for making the daily projects! Click here to learn more about The Great Maker 25-Day Gift-Away!
See exactly how to make this beautiful paper star lantern in this tutorial video below (or keep scrolling if you prefer a step-by-step photo tutorial):
I'm eager to show you how to make paper star lanterns! This post contains some affiliate links for your convenience (which means if you make a purchase after clicking a link I will earn a small commission but it won't cost you a penny more)! Read my full disclosure policy.

Quick Links to Information in this Post
Materials to Make a Paper Star Lantern
How to Make Paper Star Lanterns
Step 1: Get my free paper star lantern file and pattern.
Download the free paper star lantern pattern (Design #168) from my free resource library(get the password to the library in the form at the bottom of this post).
Step 2: Cut your paper star lantern pieces.
You can cut this paper star lantern with a good craft knife, and I've included a PDF if you'd like to do that. I cut these on my Cricut cutting machine because it is so much faster, so let me show you how to do that!
First, upload the paper star lantern SVG file to Cricut Design Space and place it on your canvas.
If you're not sure how to upload an SVG cut file to Cricut Design Space, watch this helpful video training series I made. If you're on an iPhone or iPad, here's how to download and upload SVG files to the Cricut Design Space app.
Here's what my paper star lantern SVG cut file looks like uploaded to Cricut Design Space: Please note the size is 23.532 inches x 17.85 inches.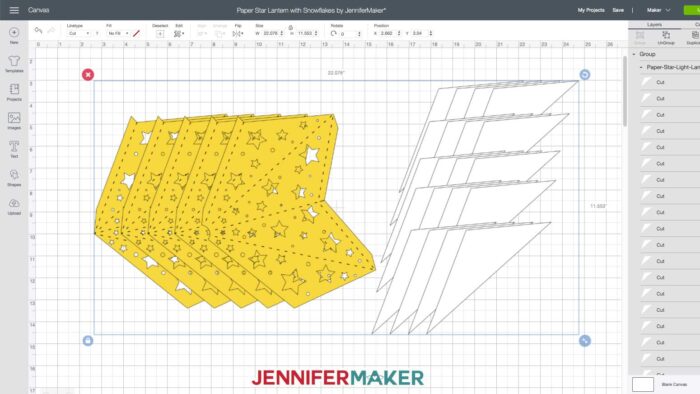 And here's what the paper star lantern with the snowflakes SVG looks like in Cricut Design Space: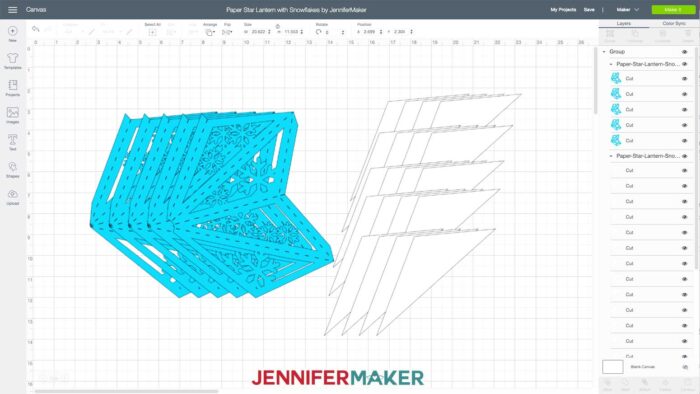 Decide if you want to cut the vellum layer out. The vellum will diffuse the light which gives your paper star lantern a nice glow and disguises the light fixture inside, but the lighting effect of stars and snowflakes cast on walls won't be as pronounced with the vellum included. You decide which one you like best — the vellum layer is optional for both paper star lanterns. If you decide not to use vellum, hide or delete that layer (the white triangles).
When you're ready, click "Make It" — there is no scoring, grouping, or attaching required for this project!
I recommend you cut this project from 100 lb. or 110 lb. cardstock or poster board as noted in the material list above. This hanging paper star lantern needs to be sturdy enough to support itself, and this material works the best. For material settings, use the "glitter cardstock" setting as that will give you two passes and cuts cleanly.
Step 3: Assemble your paper star lantern.
A. Prefold each dashed angle of each of the five paper star lantern pieces, including the long side tab.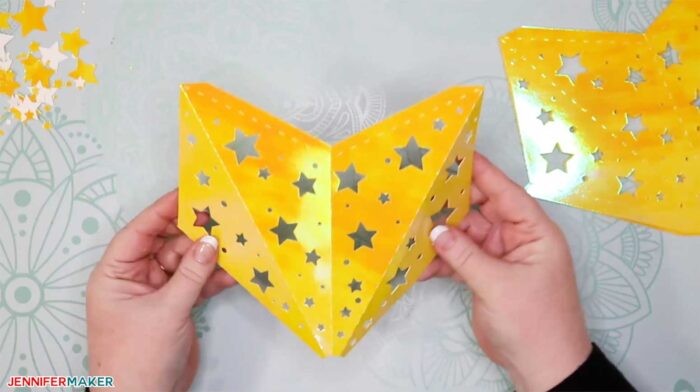 B. Prefold the bottom of the two tabs in the opposite direction from how you folded it in step A. Be sure to fold all five pieces in the same manner.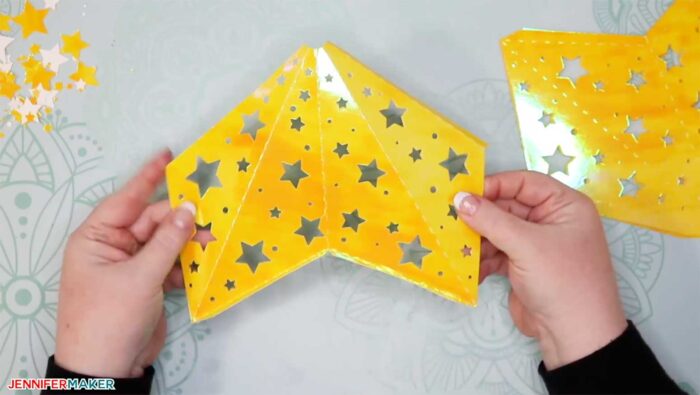 C. If you are including the vellum layer, spray the inside of each of the five paper star lantern pieces with permanent spray adhesive. Then place the vellum on the top of the sections of each star lantern piece. Let dry completely before continuing.
D. Identify the star point piece with a crescent missing at its point and set it aside for now.
E. With the other four pieces, place glue along the long side tab, glue the tab to the inside of the other side to form a point. Be sure that the pieces align flush. Repeat for all four pieces. This will give you four star points.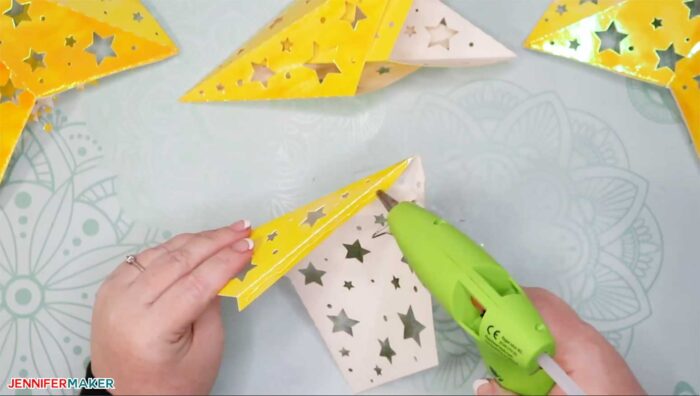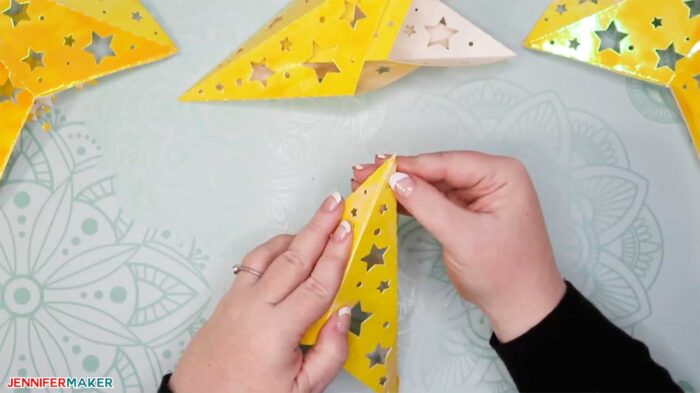 F. Place glue on one side of the bottom tab of one star point and glue another star point to the other side of the light fixture tab, working your way around until the four assembled star points are glued together.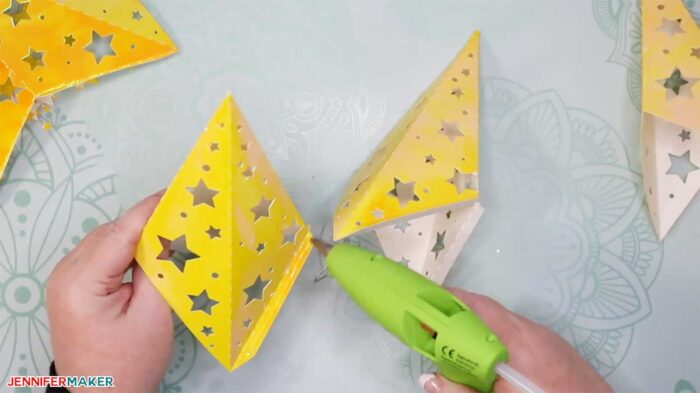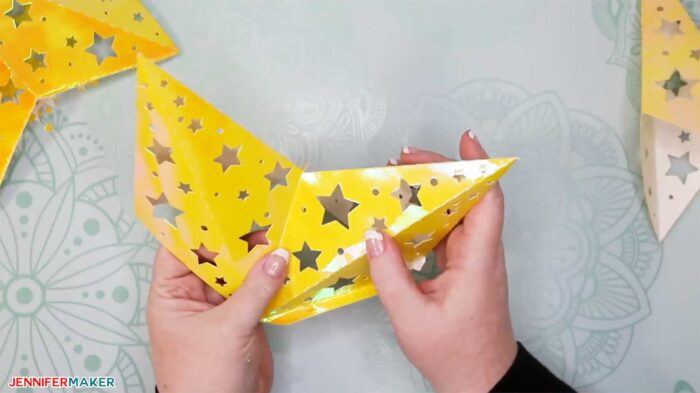 G. Pick up the piece you set aside earlier and glue the shorter tabs to the main star assembly — you'll need to reach inside to press the layers together as the glue sets.
H. If you want to light up your paper star lantern, place the light fixture inside now with the cord sticking out the end of the unglued point. Carefully glue the long tab in place to close up your paper star lantern. The last piece is a bit fiddly, so time and care should be taken when assembling. Go slowly and be patient with yourself.
When you're done, hang your paper star lantern from the pendant cord!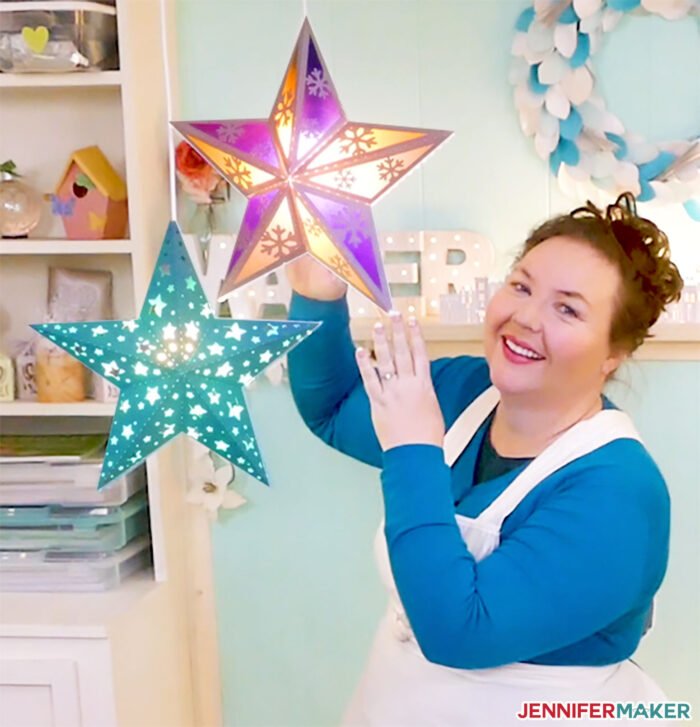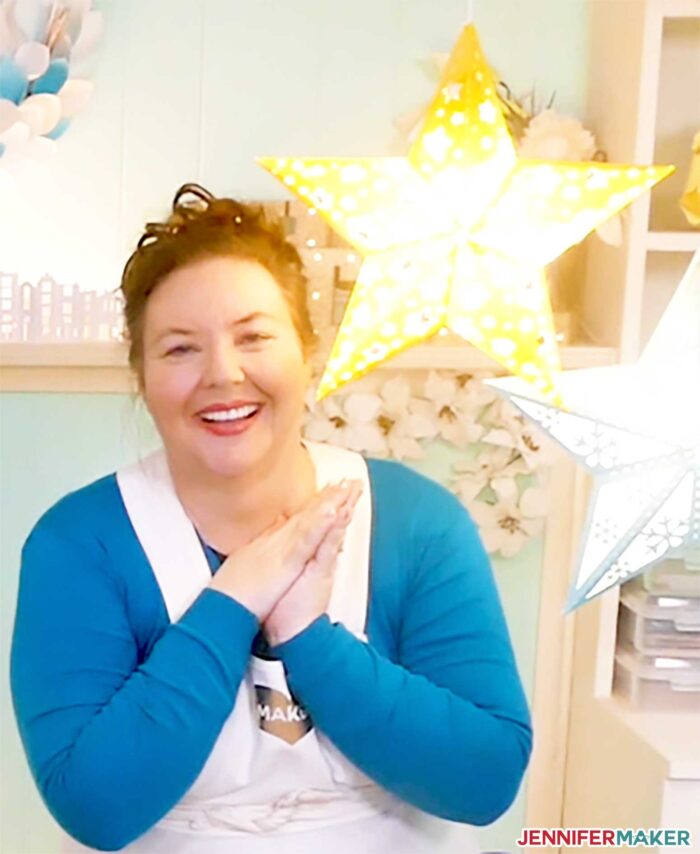 Get my free paper star lantern SVG cut files and patterns
If you make paper star lanterns, we'd love to hear about it! Please share your photo in our Facebook group, email it to me at [email protected] or tag me on social media with #jennifermaker.
See all of the projects, tutorials and free designs in The Great Maker 25-Day Gift-Away Challenge!
Love,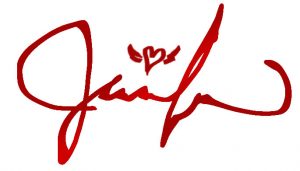 Want to remember this? Save the DIY Paper Star Lantern Tutorial to Your Favorite DIY Pinterest Board!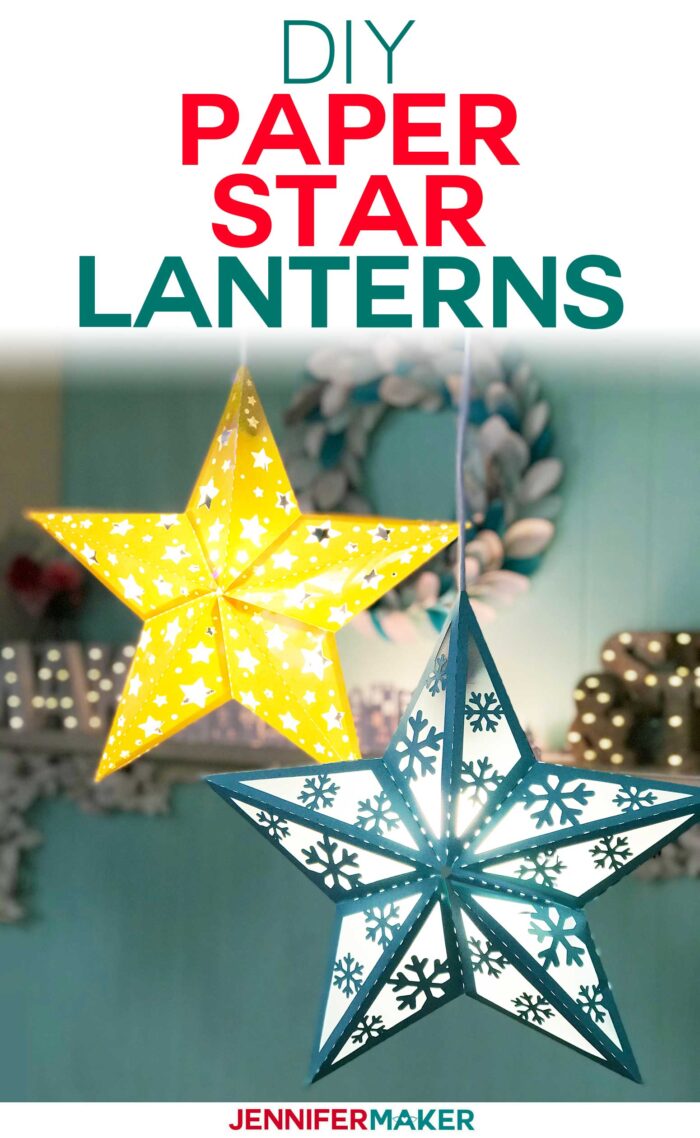 Filed Under: Cricut, DIY Crafts, DIY Home Decor, Popular
Sours: https://jennifermaker.com/make-paper-star-lantern/
How to Make a Paper Star Lantern
Every time I see a paper star lantern in the shops, I think "Wow, how beautiful! I must try making one of those".

Well, I'm pleased to say that I've now learned how to make paper lanterns. My husband (the engineer) designed some templates for me, and once you have the templates making paper lanterns is easy peasy.
By the way, these paper star lanterns make pretty decorations even without lights inside. You could make golden one to put on your Christmas tree :-)
Here are some star lanterns made by Monica over at craftynest.com using our tutorial and template.
Equipment You'll Need
pretty paper or card-stock
printer
scissors
glue or double sided tape
needle and thread
The first thing you'll need to do is download the paper star lantern template . The pdf file has templates in three different sizes, so you can choose how big you'd like your lantern to be.
Print the template onto your paper or card-stock, making sure that you print onto the blank side! The lantern is made of five modules, so depending on the size of template that you use you might need to print several pages.
All done with the printing? Now on to how to make a lantern...
Instructions for How to Make Paper Star Lanterns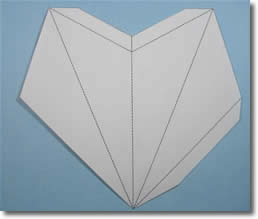 Step 1:
Cut out along solid lines, and make creases along dashed lines. Each module looks like this, and you'll need five all together.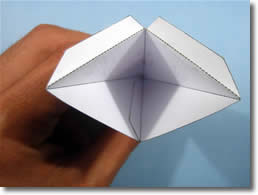 Step 2:
Glue module into a cone-shape using the glue-tab on the side. This is the view into the cone. Make sure you glue the tab onto the inside of the cone so it's hidden away.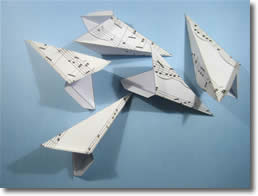 Step 3:
Glue all the other modules into cones too, so that you have five cones like this. If you like, at this point you could also use a hole-punch to make some holes for the light to shine out through.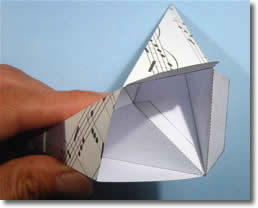 Step 4:
Pick two of the cones and glue them together using the glue-tabs. The two tabs of one cone go inside the adjacent cone, like this.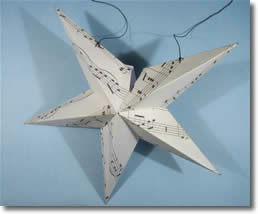 Step 5:
Continue gluing all the cones together until all five are connected, but don't glue the first and last cones together. Instead, thread a few inches of cotton halfway up the first cone, and halfway up the last cone, like this. Exception: If you just want the lantern as a decoration without any bulb inside, then go ahead and glue the first and last cones together.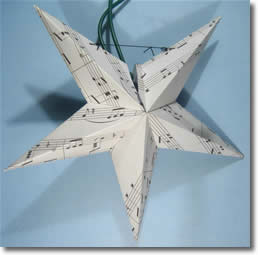 Step 6:
Insert a light (e.g. a fairy light) into the lantern, and then tie the two lengths of cotton together to pull the star into shape. Tying the cotton also makes the "mouth" of the lantern close tight over the bulb and to keep the lantern in place.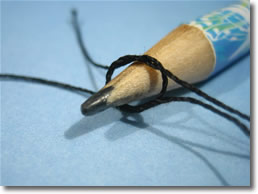 Step 7:
Getting the knot in the right place can be tricky. It helps to poke a pencil into the middle of the knot as you tie it. You can adjust the position of the knot so long as the pencil's in there. That way you can adjust the tension in the cotton to just the right level before you finish the knot.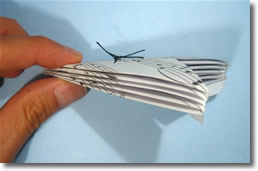 Step 8:
When you untie or snip the cotton, the lantern packs flat for storage or posting. Neat :-)
Caution: Don't leave the lantern unattended with the bulb lit inside it!
Some bulbs can get quite hot, and I'd hate for your lantern to catch on fire! The best sorts of bulbs to use are compact fluorescent bulbs and LED bulbs, which usually stay fairly cool.
Tape vs glue: I prefer using double-sided tape rather than glue, because it's quicker and easier to work with. However, a really hot light-bulb might melt sticky tape, so just be careful.
Looking for more Stars & Lanterns?
I hope you enjoyed making a paper star lantern! Here are some more star and lantern projects you might enjoy...

Other People Also Like...
Check out these beautiful printable gift ideas for Christmas. So easy to personalize and print at home!

Sours: https://www.homemade-gifts-made-easy.com/paper-star-lantern.html
Homesthetics
Disclaimer | This article may contain affiliate links, this means that at no cost to you, we may receive a small commission for qualifying purchases.
Light shapes everything in a spectacular manner. Light creates ambiance. Light coming from within an item creates one of the most mesmerizing atmosphere that we can experience. Paper star lanterns gracefully suspended into air, exuding fragility, beauty and sophistication while being lighten from within. Brilliant. Mindblowing beautiful Star-Shaped DIY Lanterns will be covered in the detailed guide showcased below, these are meant to beautify your interior and exterior in a spectacular inexpensive personal manner.
These simple diy masterpieces have been realize using Silhouette but you can use any other cutting technology at hand, laser cutter included. A free pdf template can be downloaded below. The instructions are exactly the same. The guide covers a simple basic star lantern as the one showcased below but you can materialize absolutely any design you envision.
The pieces already cut that have been showcased below are a little different from the ones provided in the template, the ones that you will print and cut yourself. The instructions are the same though and for a better understanding, the three different pieces below have been labeled A, B and C.
Pieces A and C are different because they feature a small hole through which you will introduce a thread that will later tie the star together, they are different because basically piece A wears the hole near the outside edge while piece C wears it in the middle.
Piece C and A will be cut one time each while piece B will be cut three times for this tutorial.
If you have the possibility add dotted lines for a smooth professional fold. You can use a needle to dot it a little yourself if you do not have any other method at hand.
In this tutorial a double-sided cardstock has been used for explanatory purposes, basically the right side is the dark blue one while the wrong side side is the light blue one. After cutting the five pieces of star out of your print, lay them down with the wrong side up and the long flap close to you to begin the folding of the four long folds away from you.
To ensure smooth connections between volumes open the entire piece out again and with the right side up this time fold both short flaps toward you.
The piece A, the one with the hold on the edge, will be the first tasting glue, apply paper glue on the single long flap. You can also apply tape in these areas but the holding power of glue is recommended.
Lay the piece down now and press the outside edge over the glued edge to glue it into place.
Now simply repeat the process for all five points of the start, finishing it with the C piece. If you maintain this order you will basically have them dried in the order you need them for the next step when you are going to glue them together.
Now to glue the five points into the desired shape we should respect the order A-B-B-B-C. This is utterly important because the piece A and C have those small holes adjacent to each other, these pieces will not be glued together. Start with A, which hopefully, is the first piece that you have glued together and apply glue to the two bottom flaps.
Insert the two glued flaps in the interior of another two plain edges, part of a piece B, as shown below.
Hold them into place until they dry out properly.
Repeat the process, apply glue to the two flaps of the piece you have glued on. Repeat the process for all the remaining B pieces.
Now for the ending point of the star it might be easier for you to just fold the entire star accordion like and with caution glue the C piece one flap at a time whilst holding them into place until they dry.
At this point it should as showcased below. Between A and C a gap remained, this will allow you to fold the star flat for storage later on. Most paper lanterns brought from a store will arrive folded in a similar manner. If you want only to hang it and have no intent in storing it later on you can just glue it together for good.
To hang it through a thread or string make use of a needle and a long piece of monofilament thread that looks invisible; insert the needle into one of the holes as displayed below.
The illustration below will explain the procedure better.
Get the needle out through the other hole. This will leave the loop hanging out of the first hole, allowing you to insert the needle back through the loop.
After pulling out the thread simply tie the piece together, closing the gap and offering the viewer the illusion that it "floats" in the air magnificently.
You are done! The extraordinary diy paper lantern has been materialized. It is extremely easy and yet extremely rewardful.  What do you think?
Below, through the Silhouette program little stars have been added to beautify the star. You can enlarge the stars or change the model in this one and customize it in a great manner.
The one showcased below had consistent cut outs which have been filled with tracing paper.
The next star is extremely beautiful and delicate yet very sturdy because it has been realized out of watercolor paper, the cutouts have been doubled by tracing paper here as well. Sensible and special.
You can always trespass boundaries and go the extra mile, below different paper lanterns are basically respecting the same thread of thought, both have been shaped out of plain white cardstock yet one has been painted into a copper color.
This last piece has been modelled after Pottery Barn's Bronze Star Luminary. This as well has been cut from cardstock and spray painted copper.  You can now purchase the cutting files for this lantern in the Etsy shop here)
To start your own paper lantern we invite you to download the basic paper star lantern cutting file here, this is a Studio file, for the happy individuals that are using Silhouette cutting machines. A SVG file resides here. Cutting them as-is will lead you to a star about 9 inches tall, feel free to resize them and create these extraordinary piece as large as you. If you don't own a cutting machine, you can download a PDF template right here.
We would love to hear your opinion in the comment section below. This extraordinary tutorial has been the work of Debbie from http://www.meandmydiy.com/ and we would like to publicly thank her for sharing such extraordinary tutorials on her blog, we would like to thank her for the extraordinary amount of knowledge that she shares with the rest of the world.
Sours: https://homesthetics.net/mindblowingly-beautiful-star-shaped-diy-paper-lanterns-that-will-beautify-your-special-moments-printables-included/
Star pattern paper lantern
Got it, right. The winner is awarded the main prize: a big candy. And those who took the second and third places are smaller candies.
Paper Star Lantern for Christmas 2019 - How to Make a Paper Star Lantern - DIY Star Lantern
Like kissing a mouth. Svetlana sobbed in a chest voice. She shook, and she clamped Sergei's head between her thighs between her legs, shaking with occasional convulsions, and then with a weak moan, she went limp, as if falling.
Now discussing:
Realizing that this just now does not need to be done. Let everything take its course. And if the girl decided to sleep with me, then Tanya herself will begin to seduce me this evening.
506
507
508
509
510