Riding the Sand Dunes in Michigan
Last summer, I had the opportunity to ride dunes in Michigan at Silver Lake State Park. An activity that many of us do know is a "thing." It is not just a thing. It is a "big thing" in states like Arizona. California, Colorado, and Michigan. Unknown to many, the western coastline of Lake Michigan boasts one of nature's marvels – the largest collection of freshwater dunes in the world. Dunes that offer up a variety of tourist attractions, including riding the dunes.
So, what does riding sand dunes entail? Essentially, you ride jeeps, buggies, all-terrain vehicles (ATVs), utility terrain vehicles (UTV's), motorcycles, and sandrails. Do not worry; I will cover the vehicles later! Summed up, riding dunes is an extreme sport that involves driving up, down, and across large dunes and the rugged terrain that accompany them. And, for the brave, it also includes jumping these dunes and performing various stunts.
Think self-driven roller coaster meets Evel Knievel.

Riding dunes is not for the faint of heart. On the other hand, it is a ton of fun – even if you only spectate.
Fortunately for me, I came across the dunes in Michigan because a dear friend lives in Michigan, and her entire family rides the dunes. This summer, a couple of us made a point to hit Michigan. Not only to visit with our friends but to experience riding the dunes in Michigan for ourselves.
And one of the sweetest things about riding dunes in Michigan is the scenery. Yes, the scenery!
This post may contain affiliate links. Please read our disclosure and privacy policy for more information.
Lake Michigan
You will be riding around Lake Michigan. If you are not familiar with Lake Michigan, here are a few facts:
The third-largest Great Lake by surface area and the sixth-largest freshwater lake in the world.
The surface area of 22,404 square miles is the second-largest of the Great Lakes by volume at 1,180 cubic miles.
The average depth is 279 feet, and its greatest depth is 923 feet.
Wisconsin, Illinois, Indiana, and Michigan share Lake Michigan from west to east.
Lake Michigan has many beaches and is considered the "Third Coast" of the United States.
I have experienced Lake Michigan from Chicago and Indiana. Sand dunning was my first opportunity to experience it from Michigan and my first time seeing the beaches.
Who knew that Michigan had beautiful beaches like this? Michigan will surprise you with what it has to offer!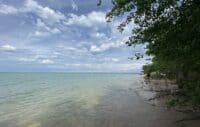 History of Silver Lake State Park
In 1920 Carrie E. Mears, the daughter of lumber baron Charles Mears donated 25 acres on the east side to be a park. The Federal Government followed in 1926 by adding 900 acres to form "Sand Dunes State Park." Mears donation and the government's land merged in 1949, and new boundaries were dedicated in 1951.
History of Riding Sand Dunes
In the 1930's Malcolm "Mac" Woods offered rides on a "dune scooter," essentially a ten-wheeled Model A Ford converted with balloon tires. The focus of the tour was on providing thrill whilst stopping at scenic lookouts.
After that, Woods added scooters and other vehicles to his Mac Woods Dune Scooter Rides business. Most importantly, still, open today and still operated by the family. The Wood family, by all accounts, started the trend at Silver Lake State Park.
How Were Silver Lake Sand Dunes Created?
The sand is made from quartz dumped by glaciers from Canada. Following the ice age, the wind blew the sand grains to form dunes as high as four-story buildings.
There Are Four Main Types of Sand Dunes
Barchan – A barchan is a crescent-shaped dune.
Transverse – A long sandy dune with a wavy ridge running along the length.
Blowout – A sandy depression in a dune ecosystem caused by the wind's removal of sediments.
Linear – Straight or slightly sinuous sand ridges are typically much longer than they are wide.
Also, composite is a blend of linear and traverse dunes that accumulate up to 400 meters high. I am not an expert on types of dunes, but Silver Lake has a combination of all from what I experienced.
Tours and Rentals at Silver Lake Sand Dunes
While there are many dunes in Michigan, the only ridable one is Silver Lake. Silver Lake State Park is the only dune east of the Mississippi River open to off-road vehicles.
As mentioned, you can ride your own vehicle if you have one. If not, you can take a tour or rent a vehicle.
Mac Wood's Dune Rides: This is a tamer experience, more of a tour of the dunes. Appropriate for kids, this option allows you to experience the dunes on a slower scenic ride.
Parrot's Landing Jeep Rentals and Tours: Here, you can rent jeeps and buggies. You can either rent and go or take a tour that you drive but follow a tour operator.
This is the tour we did, and I highly recommend it. This enables you to experience the full effects (minus dune jumping) but with an expert.
Silver Lake Buggy Rentals: As the name implies, here you can rent a buggy, and off you go.
Janna Banana taking it all in: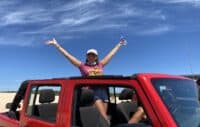 Cathi and I took turns driving!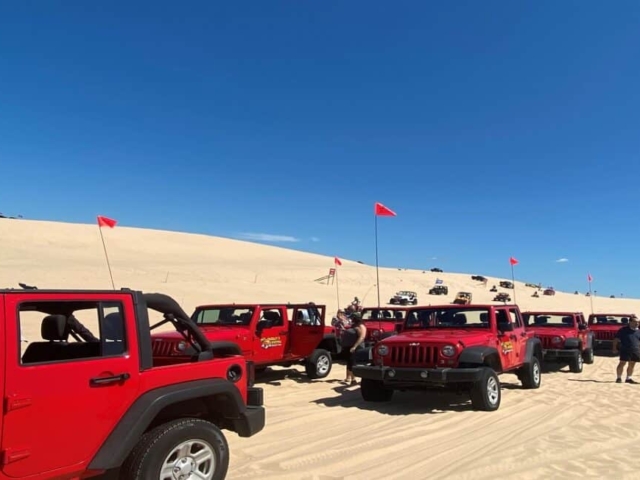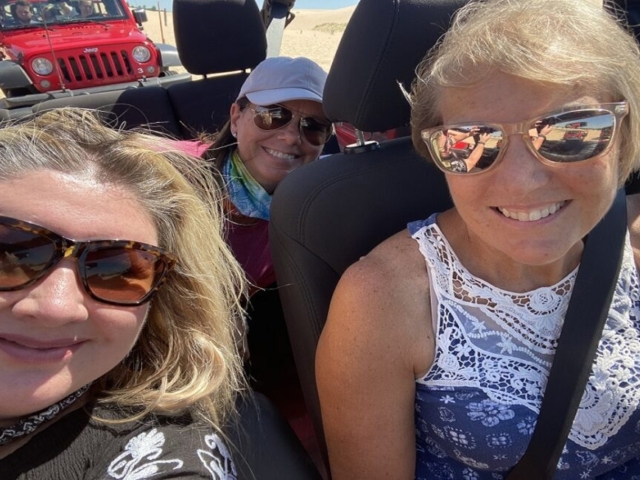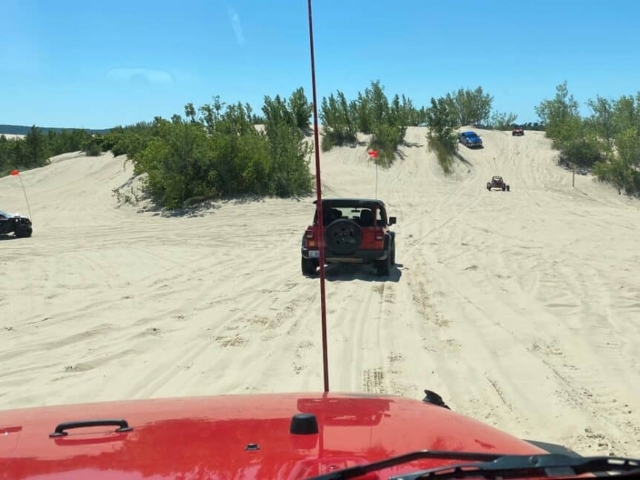 Videos of Riders at Silver Lake Sand Dunes
Recall I said spectating is as much fun as riding? Trust me when I tell you that you can go and watch – it is equally entertaining.
Vehicles for Riding the Sand Dunes in Michigan
While you will see people on the dunes in cars, it is not advisable. Meanwhile, we saw plenty of people in cars which baffled me. And, while hundreds of experienced drivers take on the dunes, I seriously do not recommend that you head out there without taking a tour or lessons first.
Most vehicles fall into two categories All-terrain vehicles (ATVs) and Utility terrain vehicles (UTV's).
What is the Difference Between an ATV and a UTV?
All-terrain Vehicles (ATV)
An all-terrain vehicle (ATV) is typically a quad or a four-wheeler and for single riders, sometimes double riders. It the more maneuverable and can handle tight turns and dense timber or brush with ease.
Popular ATV's
Arctic Cat Alterra 300
Polaris Sportsman 450
Textron Alterra VLX 700
Honda Fourtax Foreman 4×4
Suzuki Kind Quad 750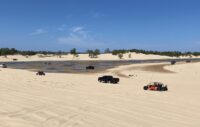 Utility Terrain Vehicles (UTV)
A utility terrain vehicle (UTV) is an off-road vehicle that seats between 2 and 4 people. They are built to handle rougher terrain and hauling. They are often called side-by-sides (SXS).
Popular UTV's
Can-Am Commander
Can-Am Maverick
Honda Talon
Kawasaki Teryx
Polaris Ranger
Polaris RZR XP
Yamaha YXZ
Buggies
Sand buggies, dune buggies, and beach buggies are recreational motor vehicles with large wheels and wide tires specific for dunes, beaches, roads, or desert recreation.
Sandrails
A sandrail, or "sand crawler," is a lightweight off-road motor vehicle specifically built for traveling in sandy terrain. Similar in some respects and often mistakenly referred to as a dune buggy or sand car. However, a sandrail is a different specialty vehicle type.
I think it is safe to say that sandrails are all the rage, which are big-ticket items. Here is a custom one; notice the "Made In Detroit" flag?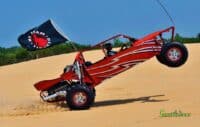 Photo courtesy of Sandflix.com
SandFlix.com is dedicated to providing you with photos and videos of the majestic Silver Lake State Park Sand Dunes.
Nearly all sandrails are custom. People buy the rail frame and drop huge engines in them. Sandrailfab is a custom sandrail builder, and they have several "base styles" to choose from.
Other Vehicles For Riding Sand Dunes
Jeeps – The same types you see on the road, only tire pressure is lowered to handle the dunes.
Motorcycles – Otherwise known as dirt bikes or sand dirt bikes, they are adapted to handle dunes.
Essentials You Need For Riding Sand Dunes
If you rent, most of this equipment is provided for you. If going in your own vehicle, you need the following:
Sours: https://britonthemove.com/sand-dunes-in-michigan/
The Best Choice for Dune Buggy Rentals
Before planning my vacation I visited TripAdvisor and it seemed there were two main places to rent from -- Parrot's Landing and Rajor J's (it wasn't until after I returned home that Silver Lake Buggy Rentals was listed). I ended up making a reservation with Rajor J's, since the Polaris Razors looked like more fun than standard Jeeps. The only thing I wasn't crazy about was that the whole thing was a tour and that we couldn't rip around the dunes on our own. There was also some concern on whether or not they could accommodate our large group of 12. Luckily for me, I met someone local to the area who told me about Sliver Lake BR and convinced me to cancel my reservation and make the switch. I'm really glad I did! The first 20 minutes of the 2-hour rental was a (fun) tour with a VERY helpful guide. After that time the drivers of our group felt comfortable knowing where and where not to go, what to do if you get stuck, etc. The rest of the time was a total blast just ripping around the dunes in what seemed like brand new Kawasaki Teryx 4-seaters. I was told they would do 50 mph and I don't doubt it -- they were plenty fast! I won't hesitate to rent from this place again if/when we return to Silver Lake.
Sours: https://www.tripadvisor.com/ShowUserReviews-g42454-d4686030-r175333589-Silver_Lake_Buggy_Rentals-Mears_Oceana_County_Michigan.html
We now require a signed waiver. One form may be used for the entire family. All adults over 18 must sign. Also, a signature is needed of a parent or guardian for the minors. You can download and print the form here:
One of West Michigan's premier attractions!! Our goal is to provide you with 40 minutes of entertainment, fun and excitement.

Let us provide you with a tour of one of Michigan's treasures. Learn of the lost town of Singapore or check out our local vegetation and wildlife.

We work hard to make sure your trip is memorable, so if you are coming to our wonderful West Michigan area, make sure to fit in a ride and you will see why our customers return year after year.
We now offer online ticket sales for our rides. We will also sell tickets over the phone if seats are available the day of.

Book a Dune Ride!
Sours: https://www.saugatuckduneride.com/
Most Michiganians can agree that, when summer comes around, we tend to split into two groups: lake people and golf people. But the fastest-growing demographic just might be a third, currently lesser-known, group: dune people! Let's take a look at dune buggy Michigan fun and explore some tips & tricks to maximize your summer adventures…
About Dune Buggy Michigan Culture
Even though I love spending long summer weekends on the lake, I would rather do so while storming my supercharged, sand-modified Ford Raptor through some of Michigan's amazing sand dune parks.
You have probably seen, heard of, or even driven a dune buggy before. But have you ever truly experienced the sand duning culture?
This unique lifestyle has greatly evolved over recent years to become one of the region's favorite summer pastimes. Some could even argue that this off-road lifestyle is now an integral part of the local culture in many Lake Michigan sand dune communities.
A Whole New Ball of Sand
For years, Michiganians would drive their pick-up campers up north to their favorite dunes and spend their weekends attempting to run converted VW Bugs and old trucks on narrow fire trails or up the steep sand dunes, oftentimes hardly making it up the test hills.
Since then, the popularity of sand duning has exploded. Nowadays, you see people in monstrous RVs camping at seasonal hot spots and lux campgrounds, enjoying the upgraded perks of a new brand off-roading lifestyle.
Dune-ready off-road vehicles (ORVs) have evolved from the old VWs of yesteryear into long-travel suspension vehicles with blown-out, heavily-modified V-8 engines…some that can cost upwards of six figures! You'll even see modified all-terrain vehicles (ATVs), beefed-up side-by-sides, and motorcycles tearing up sandy ORV parks.
For those of you who have made a trip to the nearly 3,000-acre Silver Lake Sand Dunes, you know how exciting it can be to be surrounded by a wide variety of dune runners, Jeeps, pickup trucks, and ATVs — all running full-throttle over one of the largest deposit of dunes in the state.
And for first-timers looking to dip their toes in the dune buggy waters, there are great rental options and guided tours to help get you acquainted with the sport. Not to mention, the exceptional camaraderie that has built up within the community will ensure that you are always in good hands when you find yourself stuck on the dunes. (It happens more often than you think!)
Like most other outdoor sports, the community is a key part of the experience, and within a single weekend, you'll make friends that you'll keep for years.
Tips & Tricks for Dune Buggy Michigan Sand Dune Adventures This Summer
Thinking of planning a dune trip this summer? Here are some tips and tricks to make it the adventure of a lifetime:
Prep your tires.
Always start off with a good set of tires set at the right pressure. The maximum pressure for driving on the dunes is typically 15 to 18 psi, but lighter weight vehicles can run as low as 4 to 5 psi.
Familiarize yourself with the rules.
Each park will have a different set of rules — from where to mount the safety flag to how loud your vehicle can be — so be sure to read up and prepare your vehicle the right way.
Pack a safety kit.
It is likely you will find yourself stuck mid-way up a dune at some point. But don't panic! Make sure to pack a tire gauge, some tow straps and hooks, and a shovel. Before you know it, a fellow dune rider will be there to pull you out of trouble.
Optimize your gas.
Running dunes all day is hard on your vehicle. High temps, high RPMs, and lots of quick acceleration and deceleration demand the most from your engine. Filling your tank with high-octane fuel (premium) is a good measure to keep your engine running its best.
The sand duning culture is real and taking over Michigan's summer itinerary. Have you made it a part of yours?
---

Clayton Parks is the VP of Strategic Development for Bar's Leaks and Rislone, two local aftermarket automotive performance chemical and stop-leak manufacturers with over 90 years of chemical engineering experience. Clay is a Michigan-born off-roading enthusiast that has been a part of the dune buggy culture since he was 9 years old. He spends the majority of his summers running his supercharged Ford Raptor through the Silver Lake Sand Dunes park and hopes that his passion for the sport will ignite exciting, new summer adventures for all Awesome Mitten readers.
Sours: https://www.awesomemitten.com/the-inside-look-michigans-dune-buggy-culture/
Michigan dune buggy
Michigan is home to many exceptional outdoor pursuits, none so exciting as the dune buggy rides available on its shorelines. The Great Lakes are bordered by the world's biggest expanse of freshwater dunes, creating a fantastic landscape to take advantage of for off-roading.
Where can you go for dune buggy rides in Michigan, and how can you make the most of them? Silver Lake State Park is your best destination for fully experiencing the dunes, riding as well as walking and viewing. With its 3,000 acres of dunes and forest, there is a little bit of action available for everyone, whether you're renting a dune buggy or just exploring on foot.
Here's how to make the most of the world-famous Michigan dunes and all you need to know to find the best spots and best dune buggy rentals.
Where Are the Dunes?
The rideable dunes in Michigan can be found in Silver Lake State Park, which covers 3,000 acres on the shores of Lake Michigan. Most of the park is covered in dunes, but the widest area can only be accessed by hiking. However, there are 450 acres dedicated to off-road dune buggy riding.
You may not expect the expanse of dunes in Michigan, but you'll need to remember this is the biggest surface of freshwater dunes in the world. Formed about 16,000 years ago by glaciers, the landscape is truly unique and attracts millions of visitors every year.
What Can I Ride On the Dunes?
Dune buggy riding is the main way to get around on the part of the dunes where this is allowed. However, any off-road vehicle is allowed, from ATVs to SUVs.
Michigan State allows visitors to ride their own vehicles or rent them from local dune buggy rental outlets. You can ride on the dunes from April 1st to October 31st every year, but you should also check opening times with the State Park officials.
To ride in Silver Lake State Park, you should have a Recreation Passport, an ORV license, and your vehicle has to be registered and abide by the rules set out by State regulations.
Dune Buggy Trails
There are lots of tours and trails available within Silver Lake State Park for your dune buggy rides, but you can also enjoy some unstructured riding if you're up for it.
Unfortunately, there are no marked trails other than the limits for the ORV Riding Area, to which you should adhere at all times. But this just means you can enjoy your dune buggy riding adventure even more without any rules!
For a more structured approach, check out one of the guided tours and experiences below.
Dune Buggy Rentals Michigan: Silver Lake State Park
While many choose to bring their own dune buggies, it's also very easy to rent one at Silver Lake Buggy Rentals in Mears. They offer a range of vehicles, from 2-seaters like the Rover to more family-friendly 4-seaters like the Kawasaki Teryx.
The Michigan sand dunes are extremely popular, and so are the rentals, so you should always book well ahead of your trip and plan your day so you can get as much riding in as possible if you're returning your vehicle that same evening.
If you have your own ATV or dune buggy with you and you need any help with gear or just a shop for essentials, check out Duneland Off-Road Center, also in Mears. They offer parts and accessories for anything from dirt bikes to 4×4 trucks, and they also have breakfast and lunch deli on-site.
If you want to stay over a few nights, you also have the option of renting a unit at Duneland Cottages just up the road from the shop.
Another way to ride the dunes is in a Jeep, which you can rent from Parrot's Landing Jeep Rentals and Tours. They also offer some fantastic family tours, which we'll talk about shortly.
Finally, for ATV riding, check out Wild Bill's ATVs: they provide one passenger quads and two-passenger side-by-side razors to take out on the dunes. You must be 18 or older to rent, and only one driver per quad is allowed. There are some early bird rental deals available too.
Dune Buggy Tours and Experiences
As the dunes are such a special destination, there are many options for enjoying them with a tour guide or even as a passenger if you don't want to drive a dune buggy yourself. Here are some great operators to choose from.
Mac Wood's Dune Ride
This 40-minute sand dune tour is a fun experience aimed at the whole family. They will take you to the top of the tallest dune so you can take in the landscape around you and ensure you have an all-around entertaining day.
Mac Wood's Dune Ride is named after Mac Wood, the one-time operator of the Flora-Dale Resort, who came up with the idea of Dune Scooter Ride to entertain guests back in the 1930s. The 7-mile ride offered today will take in Silver Lake and Michigan Lake and ensure that you enjoy very different bits of scenery and information. You may spot piping plovers along the way – an endangered bird species that live at the beach area of Lake Michigan and may be visible to groups of visitors.
Parrot's Landing Jeep Rentals & Tours
The dune tours offered by Parrot's Landing will see you tackling the sand in 4-door Jeep Wranglers, where a tour guide can lead a group of drivers through the sand dunes. Tours last roughly an hour, and you stay in radio contact with the guide who leads the way and gives you some additional information as you go.
One Jeep can have four passengers and the driver, so this is an excellent option for seeing the dunes with families and even with large groups where several drivers are available.
Other Dune Buggy Michigan Rides
Silver Lake State Park may be the premier destination for dune buggy riding and marveling at the great expanse of sand dunes, but it's not the only place in Michigan where you can enjoy sand dunes. Here are some other great destinations on Lake Michigan.
Saugatuck Dunes State Park
The second best-known state park for sand dunes is further down Lake Michigan's coast, just south of Holland. Saugatuck Dunes State Park covers 1,120 acres and offers 14 miles of hiking trails and 2.5 miles of beachfront. Bird watchers come here for the varied species they can encounter, and you will also get to enjoy the spectacular scenery.
Saugatuck Dune Rides organize 40-minute dune buggy tours taking in the nature and history of the area.
Warren Dunes State Park
You can find 1,952 acres of dunes at this state park set between Benton Harbor and New Buffalo. Its highest dune rises to 260 feet, with incredible views all around Lake Michigan. You can enjoy some excellent hikes here, but there are no ORV riding areas.
Northwest Michigan Sand Dunes
There are many other sand dunes in state parks on the Northwest Michigan shoreline, although without the possibility of sand buggy rides. You can find out about all the other sand dunes destinations here.
Conclusion: Get Dune Ready and Enjoy Michigan Views On Unforgettable Dune Buggy Rides
Michigan welcomes ORV riders with a multitude of parks and trails through woodlands, mud, and rocky terrain, but it also has some unique destinations on the shores of Lake Michigan where you can ride dune buggies on some exceptional terrain. While most sand dunes are not available for off-road expeditions, you can explore the dunes on guided tours and organized experiences, or you can make the most of them by riding your own sand buggy at Silver Lake State Park.
Sours: https://offroadingpro.com/dune-buggy-rides-in-michigan/
Silver Lake Buggy Rentals - Michigan Sand Dunes
Silver Lake Sand Dunes
The Silver Lake Sand Dunes are located just one mile from our resort and offer tons of fun for the whole family!
Take a thrilling guided tour of the dunes with Mac Wood's Dune Rides, or rent your own vehicle and take it for a spin! The Silver Lake Dunes are the only dunes in Michigan to permit personal ORVs on the sand.
ORV Info & Voucher System
One third of the dunes is dedicated solely to off-roading, which many families enjoy when they visit the area. To promote safety and a pleasant experience for all, the Silver Lake State Park requires that all off road vehicles meet specific safety standards and possess the appropriate documentation.

Make sure you're "Dune Ready" by reading all of the necessary information and guidelines prior to your arrival.
Visit their website.
MacWoods Dune Rides
When in Silver Lake, taking a Mac Wood's Dune Ride is a right of passage. Since 1930, these rides have thrilled visitors by taking them on safe, fun-filled tours that last about 40 minutes each. Tours are hosted by skilled and knowledgeable drivers who understand the history of the area and environment. See the best views on the dunes and maybe even learn something!
629 N 18th Ave, Mears, MI 49436
Visit their website.
Silver Lake Buggy Rentals
Experience the dunes at your own leisure by renting an off-road vehicle with Silver Lake Buggy Rentals! Choose from a 2 or 4-seater buggy or a Teryx or K-6 ORV. This is the perfect option for experiencing the dunes when you'd rather not go through obtaining the necessary documents for your own vehicle.
8288 W Hazel Rd Mears, MI 49436
Visit their website.
Parrot's Landing Recreational Rentals
Enjoy the 500 acres of open ORV dunes at your own pace by renting a Jeep from Parrot's Landing! If you're not sure how you'll do out on your own, take a Jeep tour first, then try it out for yourself. Boat and jet ski Wave Runner rentals are also available. Great for families and groups of all ages.
8110 W Hazel Rd, Mears, MI 49436
Visit their website.
Wild Bills Quad Rentals
For a more rugged off-road adventure on the dunes, rent a quad or custom built 4x4 dune buggy from Wild Bill's! Choose from a Yamaha Grizzly 350 or a Polaris Razor 1000. The Yamaha is a personal vehicle, holding just the driver while the Polaris Razor can fit 2 riders. Rent for 2+ hours or by the day.
8110 W Hazel Rd, Mears, MI 49436
Visit their website.
Chassis Shop
For more than 28 years, the Chassis Shop has been a leading supplier of top-quality racing products to help you outperform the competition. With a seasoned staff of pros, you'll be sure to find the reliability, quality, and excellence you've been looking for at the Chassis Shop.
1931 N 24th Ave, Mears, MI 49436
Visit their website.
Appletree Automotive
Appletree Automotive offers a full assortment of dune buggy, Sandrail, and VW parts, including parts for street, strip, and off-road driving. Find exactly what you're looking for in top speed and performance at Appletree Automotive.
5472 E Polk Rd, Hart, MI 49420
Visit their website.
David Allen Racing
David Allen Racing specializes in high performance parts and accessories to help your ORV perform at its best, especially on the dunes. Suspension lifts, tires, hubs and winches, you name it. David Allen Racing has what you need for amazing dune speed.
1951 N 24th Ave, Mears, MI 49436
Visit their website.
Book Now!Shop
Reviews
Great facility and very friendly.
Everyone was wonderfully helpful and accommodating. Has everything you need…
Read full review
Best place to Camp for Silver Lake! Very clean and family friendly!
Read Full Review
Best place to Camp for Silver Lake! Very clean and family friendly!
The latest from Silverlake Resort and Campground:
This message is only visible to admins.

Problem displaying Facebook posts.
Click to show error
Error: Server configuration issue
Sours: https://silverlakerc.com/area-attractions/silver-lake-sand-dunes
Similar news:
SILVER LAKE BUGGY RENTALS
Your headquarters for family-friendly off-road
rentals at the Silver Lake Sand Dunes.
Book your excitement
HOW WILL YOU CRUISE THE DUNES?
Silver Lake Buggy Rentals provides guests the ability to explore the Silver Lake Sand Dunes and enjoy breathtaking views of Lake Michigan in a safe and exciting way. Choose from four different off-road vehicles for an unbeatable experience your friends and family wont soon forget!
See Rentals & Rates
WHAT OUR GUESTS ARE SAYING...
RECENT TRAVELER REVIEW
Excellent experience with this company!
We (me and my son) rented a 2-seat dune buggy for 2 hours. We were greeted by a very nice woman when we arrived. I was a little nervous, and she put me at ease and explained everything I needed to know and patiently ... SEE MORE
Sours: https://www.silverlakebuggys.com/
1717
1718
1719
1720
1721