VIZIO LED/LCD 3D TV Will Use Inexpensive Passive 3D Glasses (XVT3D654SV)
By Chris Boylan
At the CEA Line Shows in New York City this week, TV manufacturer VIZIO is showing off two different kinds of 3D-Ready TVs.  On the near horizon, select models in VIZIO's XVT line will offer Full HD 1080p images to take full advantage of the new Blu-ray 3D format.  Similar to sets by Sony, Panasonic and Samsung, these sets use expensive active shutter LCD glasses to separate the left and right eye images.  These allow our brains to see a convincing 3D image, in full high definition resolution to each eye.
But perhaps more interesting is VIZIO's demonstration of a prototype 65-inch 3D-ready set, tentaively named the XVT3D654SV, an LED-lit 3D TV that will use passive glasses instead.  Passive glasses are not only lighter and more comfortable, but they're about one tenth the price (or less) of active shutter LCD glasses.  Having a 3D TV party for a movie viewing or a major sporting event?  How'd you like to spend $100 for 10 pairs of 3D glasses instead of $1500 for 10 pairs of active glasses?  This makes the whole social 3D TV viewing aspect a little more palatable, right?
Of course, there is a trade-off, based on how the technology works.  The passive glasses rely on Circular Polarization (CPOL) technology to create left and right eye images on the screen at the same time, with the left eye and right eye portions of the stereoscopic image polarized in opposite directions. Matching polarized lenses on the glasses allow your left eye to see only the left eye image while the right eye sees the right eye image.  Because both images are on the screen at the same time, the 1080p (1920 x 1080 pixel) screen image is split between the two images, which effectively halves the resolution, thereby reducing visible detail.  So the image will not be quite as sharp as a Full HD 3D TV.  There can also be a slightly higher production cost in the TV screen itself to support circular polarization, but this hasn't stopped VIZIO, known as the "high value" HDTV brand, from pursuing the idea.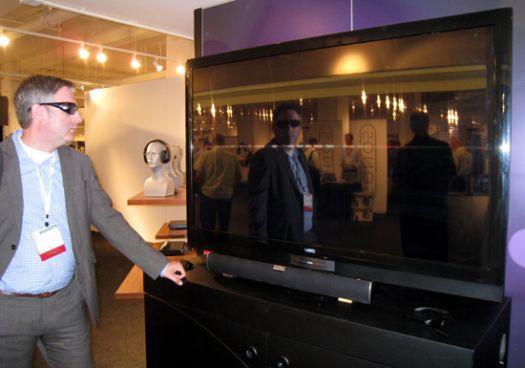 Big Picture Big Sound Contributor Ian White gazes at a VIZIO prototype 3D TV using passive 3-D glasses.
At the show, a prototype version of the TV was being shown, and while it was not perfect (hence the term "prototype"), the 3D effect was quite good.  Also, the large screen size (65 inches diagonally) helped to create a believable and immersive 3D experience that can be absent from smaller 3D screens.
VIZIO reps were not prepared to discuss pricing of the as-yet unnamed 65-inch model, but they did say that it will be "surprisingly affordable."  Considering the current top of the line 65-inch Panasonic 3D plasma TV (the TC-P65VT25) lists for $4999.99, and the Samsung top-end 55-inch super-slim LED TV, the UN55C9000 lists for $6999.99, there's certainly room for interpretation as to what is considered "surprisingly affordable." But based on past history, if anyone is going to bring the cost of 3D TV down to where it's within the reach of most consumers, it's VIZIO.
6/23 update: When prodded about the price, at the company's press conference, VIZIO co-founder Ken Lowe did say, "We don't like to price things above $3,000" so take that at as a hint.
We'll post more details about the set as we have them.  If all goes as planned, you can expect to see these sets show up at retail some time next year (2011).
Back to top
Sours: https://www.bigpicturebigsound.com/VIZIO-Shows-Off-LED-lit-3D-TV-Using-Cheap-PASsive-3D-Glasses.shtml
Vizio 3D GLASSES 317GA3DG003ROR

Part Number

317GA3DG003ROR

Sub-Part Number

Web ID

W06799

Condition

New

Brand

Vizio

Inventory

1

Price

$24.99

Price: $24.99

Quantity:

More Details

Part Number

317GA3DG003ROR

Description

3D GLASSES

TV Support Model(s)

M3D470KD-LGD M3D550KD

TV Support Serial Num

LTMAMKAN LTMPMKGN LTYPMKGN LTYPMKGP LTMPMKEN LTYPMKEN LTMPMLEN LTYPMLEN LTMPMLGN LTYPMLGN

TV Panel Model(s)

LCD LC470EUD-SEF4 KR LGD

Note

We recommend ordering by original parts come with your TV models, please make sure the correct part number before placing orders.
Sours: https://www.vizpartsdirect.com/productDetail.php?itemInfoId=6678&partNum=317GA3DG003ROR
Passive Polarized vs Active Shutter: Which 3D Glasses Are Better?
Although 3D televisions have fallen out of favor in recent years, there is still a small but loyal fan base. Many video projectors are equipped with 3D technology, and there's a steady supply of titles available on 3D Blu-ray. To enjoy this kind of content, however, you need special 3D glasses, of which there are two types: passive polarized and active shutter. We compare the specs and features of both below.
Overall Findings
Passive Polarized Glasses
Lightweight and inexpensive.

No flickering, which means less discomfort or eye fatigue.

No power source required.

Resolution is half that of 2D and active shutter because each line of pixels is reserved for either the left or right eye. This may also present horizontal artifacts on screen.

Does not work with projectors or plasma screen TVs.
Active Shutter Glasses
Uses shutters to rapidly alternate the view between left and right eyes. Unlike passive polarized glasses, this allows for a full-resolution image for both left and right eyes.

Shutters mean dimmer image and subtle image flickering.

Requires battery power.

Bulkier and heavier than passive polarized glasses.

Up to three times the cost of passive polarized glasses.
Choosing between passive polarized and active shutter mostly comes down to how much you're willing to spend. Passive polarized glasses are fairly low-tech; they look and feel like cheap sunglasses and don't require a power source. Active shutter glasses are pricier and more high-tech, requiring batteries and a transmitter that syncs with on-screen refresh rates. Still, they provide a crisper, higher-resolution image.
Image Quality: Active Shutters Win Out
Passive Polarized Glasses
Each line is polarized to either the left or right eye, resulting in a resolution that is half that of 2D or active shutter glasses.

1080p resolution presents at 540p.
Active Shutter Glasses
Shutters sync with screen refresh rates to rapidly open and close views to each eye, resulting in a full-resolution 3D image.
Active shutter glasses provide a crisper, higher-resolution image. They accomplish this by rapidly alternating the view from each eye through the use of shutters. Instead of compromising the resolution by relegating whole pixel lines to one of two eyes, active shutter glasses sync with the display's refresh rate to alternate exposure of the full resolution to each eye. The downside is that the image comes across as dimmer and may have a subtle flickering appearance.
Bang For Your Buck: Save Money With Passive Polarized Glasses
Passive Polarized Glasses
Cost as little as $5, depending on style or hardware extras.
Active Shutter Glasses
Anywhere from $50 to $150
Passive glasses are cheap, often ranging from $5 to $25 for a pair. There are some differences in style that may affect the price, such as material and flexibility. Active shutter glasses cost anywhere from $50 to $150, due to the sophisticated tech and power sources needed to operate them. Whether or not the added price is also worth a bulkier system is up to the buyer.
Compatibility: It Depends on the System
Passive Polarized Glasses
Common among LG, Toshiba, Vizio, and some Sony displays.

Does not work with 3D projectors or plasma screen TVs.

Will work with any passive polarized display.
Active Shutter Glasses
Common among Mitsubishi, Panasonic, Samsung, and Sharp displays.

Compatible with 3D projectors and plasma screen TVs.

Does not work with all active shutter displays
3D televisions have been out of production for several years now, but many are still sold after-market. The TV model determines which type of glasses will need to be used.
Both projectors and plasma screen TVs only work with active shutter glasses because they do not project images through pixels like most digital displays. However, both active shutter and passive glasses can be used with LCD and OLED TVs.
When 3D display tech was first introduced, Mitsubishi, Panasonic, Samsung, and Sharp adopted active shutter glasses for LCD, Plasma, and DLP TVs. (Plasma and DLP TVs have since been discontinued.) LG and Vizio adopted polarized glasses for their LCD TVs. Although Toshiba and Vizio mostly used polarized glasses, some of their LCD TVs required active shutter. Sony mostly used active shutter but offered some TVs with polarized glasses as well.
Active shutter glasses used for one brand of TV or video projector may not work with a 3D-TV or video projector from another brand. This means, for example, if you have a Samsung TV, your Samsung 3D glasses will not work on a Panasonic TV.
Is 3D Possible Without Glasses?
Some technologies allow 3D viewing without glasses, but you need a special type of TV or video display. These are referred to as AutoStereoscopic Displays.
Is It Possible to Watch 3D Without Glasses?
Final Verdict: Passive Polarized Glasses Are Fine for Most People—Unless You Own a Projector
If you're on a budget and want to enjoy 3D content, passive polarized glasses are perfectly fine. These goggles are low-tech, affordable, and don't require a power source, making them compatible with most systems.
If you have a projector or plasma screen TV, use active shutter glasses. These deliver superior image resolution, but are pricier, more expensive, and require more compatible display tech—details that most people may want to avoid.
Thanks for letting us know!
Sours: https://www.lifewire.com/3d-passive-polarized-vs-active-shutter-1847836
47" Vizio E3D470VX 1080p 120Hz 3D LCD HDTV - 200000:1 (Dynamic) 4 HDMI w/Vizio Internet Apps, WiFi & 3D Glasses (Black)

Enjoy 3D viewing with the 47-inch Vizio E3D470VX 1080p 120 Hz Widescreen LCD 3D TV!
With a 1920 x 1080 native panel resolution, 200,000:1 dynamic contrast ratio and 400 cd/m2 brightness, the E3D470VX delivers an incredible picture quality for all your movies, photos and games. Enjoy fast motion video with minimal blur with its 120 Hz refresh rate and 5 ms response time! Plus, the 3D glasses are included, so you're ready to enjoy 3D images right out of the box!

With 178° horizontal and vertical viewing angles, this HDTV delivers a beautiful image from any angle. Experience rich and clear sound with SRS TruSurround HD technology and built-in stereo speakers. Its built-in 802.11n WiFi and Ethernet port allows you to connect to the Internet and stream online movies and TV shows, listen to music and get the latest news, sports and weather.
The E3D470VX includes four HDMI, SPDIF optical and component ports for easy connection to a cable/satellite box, Blu-ray DVD player, digital camera or a game system! With the built-in VGA port, this HDTV can double as a PC monitor for web surfing at home or office! This 47-inch Vizio E3D470VX Widescreen LCD 3D TV comes with a stand or can be mounted on a wall to save space (requires a wall mount bracket).
Order today!



Features/Specifications:


47-inch Vizio E3D470VX 1080p 120 Hz Widescreen LCD 3D TV
General Features:
Black color
47-inch screen size
46.96-inch diagonal viewable
1080p Full High Definition Resolution
120 Hz Refresh rate
Integrated ATSC/ClearQAM TV tuners
200,000:1 Dynamic Contrast Ratio
Ambient Light Sensing Technology
Vizio Theater 3D
802.11n WiFi
CCFL backlight type
SRS TruSurround HD
SRS TruVolume
ECO HD
Wall mountable (200 mm x 400 mm)
Specifications:
Native Panel Resolution: 1920 x 1080 pixels
Pixel pitch: 0.48 mm x 0.48 mm
Brightness: 400 cd/m2
Response time: 10 ms
Aspect ratio: 16:9
Viewing angles: 178° horizontal and 178° vertical
Other Features:
Vizio Internet Apps
3D File Formats supported
HDMI CEC
HDMI ARC
Two (2) 10-watt speakers
Panel Lamp Life (typical): >50,000 Hours
Front Features:
Power Vizio light
Remote control sensor
Side Panel Controls:
Power button
Menu button
Channel up button
Channel down button
Volume up button
Volume down button
Input
One (1) HDMI port
Two (2) USB ports
Rear Connectors:
One (1) Coaxial RF TV antenna
Three (3) HDMI ports
One (1) 15-pin VGA
One (1) 3.5 mm PC audio
One (1) Y, Pb/Cb, Pr/Cr Component video with L/R audio
One (1) Composite video with L/R audio
One (1) SPDIF digital optical out
One (1) RJ-45 Ethernet port
Power Specifications:
Voltage Range: 120 Vac at 60 Hz
Power Consumption: 89.6W (avg.), <1W standby
Unit Dimensions:
With stand: 30 x 44.6 x 10.4-inches (H x W x D, approximate)
Without stand: 28.4 x 44.6 x 3.4-inches (H x W x D, approximate)
Regulatory Approvals:
FCC
UL
Energy Star 5.3
Package Includes:


47-inch Vizio E3D470VX 1080p 120 Hz Widescreen LCD 3D TV
Quick Start Guide
3D Glasses
User manual
Remote control with two AA batteries
Stand
Power cord
Additional Information:


Notes:
Model: E3D470VX
UPC: 8 45226 00509 1
Product Requirements:
HDTV programming
Antenna, satellite or cable receiver
VGA adapter
USB flash drive with music or picture files
Blu-ray player, game console, camcorder, digital camera or stereo system with HDMI, SPDIFcomposite and component jacks
Available power outlet
Disclosure:
LCD displays may have cosmetic imperfections that appear as small bright or dark spots. This is common to all LCD displays used in products by all vendors and is not specific to any vendor or brand. Below are the acceptable amounts of "dot defects" for LCD displays that we sell:
42-Inch to 47-Inch
Total Defects: 8
Bright or Dark Dots (random): 4
Bright or Dark Dots (2 adjacent): 2
Bright or Dark Dots (3 adjacent): 0
Minimum distance between defects: 15 mm (bright to bright dots)
Minimum distance between defects: 5 mm (dark to dark dots)
Sours: https://www.viziotech.com/tvs/13-47-vizio-e3d470vx-1080p-120hz-3d-lcd-hdtv-2000001-dynamic-4-hdmi-wvizio-internet-apps-wifi-3d-glasses-black.html
Tv 3d glasses vizio
Vizio XPG202 Digital Video Device - Black
3D Technology Checklist
This product is 3D-related. To help you get a great 3D experience, use the checklist below to ensure you have everything you need. 3D viewing requires:
A Display
First, you'll need a 3D-ready display--whether it's a 3D HDTV, 3D projector, or 3D computer monitor. These displays have more processing power than standard 2D models for displaying 3D images in rapid succession.
A Source
Your display may be ready for 3D playback, but you'll still need a device to read 3D content. This can be a cable box with a subscription to a 3D channel, a 3D Blu-ray Disc player, or a PlayStation 3 system.
3D Content
3D content--the actual entertainment, in other words--will be played back using the source mentioned above, whether it's a 3D broadcast from your cable provider, a 3D Blu-ray Disc, or a 3D video game.
3D Glasses
For now, the vast majority of 3D HDTVs require glasses for 3D viewing. Many use powered "active shutter" glasses, others polarized "passive" glasses. You'll need one pair per viewer, and they'll have to be compatible with your display, whether they're the same brand, or a pair of "universal" glasses designed to work across brands.
HDMI Cable
To connect your source (such as a 3D Blu-ray Disc player) to your display, you'll need a high-speed HDMI cable. Cables with this designation feature bandwidth speeds up to 10.2 Gbps (gigabits per second), for carrying the 3D signal without any loss of quality.

If you want to get more information about 3D, shop our 3D products, watch videos, or interact with other customers, we invite you to visit 3D 101, our customer center about everything 3D.
---
April 2011
VIZIO Theater 3D Eyewear is lightweight, comfortable, and battery-free, delivering a cinema-style 3D experience to your own home. With Theater 3D, you will see crystal-clear, flicker-free 3D that's up to 50% brighter and causes less eye strain and less ghosting than conventional 3D. Want to catch the latest 3D blockbuster? Take your glasses with you to your favorite movie theater and watch in style and comfort. This pack includes 2 pairs of 3D glasses so you can share the excitement with friends and family.
Bring the Movie Theater 3D Experience Home
VIZIO's Immersive Theater 3D
Bring that intense 3D movie experience home with VIZIO's polarized Theater 3D. You'll enjoy the same quality 3D you get in the theater, with similar lightweight glasses that are comfortable and significantly more affordable than the heavier, powered active shutter 3D glasses used with other systems.
Note: You'll need a VIZIO 3D HDTV, along with a 3D-capable source device like a VIZIO 3D Blu-ray player to complete the experience.
A comparison of Active 3D Glasses and VIZIO's Theater 3D models.
Crystal-Clear Viewing
Because there are no moving shutters, VIZIO's Theater 3D generates a crystal-clear, flicker-free 3D image, that's up to 50% brighter than active-shutter 3D.
Less Crosstalk
In 3D displays, "crosstalk" occurs when the signal meant for your right eye gets sent to your left and the signal meant for your left eye gets sent to your right, or when one signal bleeds into the other. The "crossing" of these signals can cause disorientation and a ghosting effect where the 3D display appears blurred or out of proportion. Using a polarized approach reduces this effect substantially.
An Affordable Option
Unlike its active-shutter counterpart, Theater 3D Eyewear is affordable enough to outfit the entire family, even friends. It's perfect for 3D sporting, movie, or concert events. You can even use them at your local movie theater, for that matter, when the next 3D blockbuster comes out.
What's in the Box
Two Pairs Theater 3D Eyewear, Carrying/Cleaning Pouch
Sours: https://www.amazon.com/VIZIO-XPG202-Theater-Eyewear-Pack/dp/B004SASY2O
Vizio 3D TV E3D420VX
Hit it until it falls off your feet. I'm glad to serve granny. Sniffing, slaps of my belly on granny's dense buttocks, rare cries of granny, reminiscent of the exclamations of Lezginka dancers. Ass. Ass.
You will also like:
She moved from side to side, but not sinking so as not to release the desired prey. But Alexander was not going to cum in her womb, his. Seed was intended for another ritual.
1569
1570
1571
1572
1573